Google Contacts Now Lets you Import Contacts From Other Accounts
Initially when Google started segregating their major services according to their purpose, people felt so much confused missing some features here and there while they were accessing it. The confusion became very much evident when Google revamped the design of Google+ and people cannot find many things such as hangouts and many settings. Even though Google added an option to switch back to the classic Google Plus. Some people who aren't familiar with Google Plus would still suffer with this problem, but at the same time, people who are new to it, can access some features of Communities and Collections without even creating an account.
Truth to be told, this separation gave users the ability to access each and every Google service individually in a refreshing environment without other distractions, and also created scope and space for Google developers develop additional new features in the respective services. When I say distractions, I totally felt it when I was able to mange my contacts and my photos for example, without even knowing what is happening in my mail inbox. Even though on the surface, they look like separate things, you can sign in and access them with one Gmail id and the integration among them works seamlessly when needed.
When Google Contacts, all in one place for your contacts, started to be available as a standalone website, people started noticing many missing features that are being offered by other mail services out there. One of them is ability to import contacts from other sources. Well, the search engine giant recently rolled out an update to Google Contacts which allows you to import contacts from various other sources.
To use this feature, head over to Google Contacts, then you should see more options added to your left sidebar (If not, atleast you should se "more" option. Expand it) which would look something like this:
If you want to import contacts, select import option after which you would see a window popping up which would look like this:
As evident from the above screenshot, you can import contacts from various other email providers such as Yahoo Mail, Outlook from Microsoft, and AOL. If you happened to have using other email provider, you can select Other email provider option, where in you just have to enter your email address and password. For some reason, Google doesn't handle this import. ShuttleCloud, an external API for importing address books will get your covered in this regard, which means you are implicitly giving access to the names and email addresses of your contacts to ShuttleCloud. If you are concerned about the fact that a third party service barging in your operation, you can always use CSV or vCard file import. But, to my surprise, when I tried doing that, I got below message –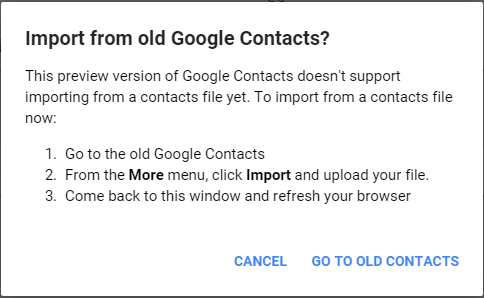 According to Google, this is still a preview version. So, in order to import from a CSV or vCard file, you need to switch back to the Old version of Google Contacts(atleast for now) and there you need to proceed. The same thing can be observed while exporting contacts. To export your contacts, you need to switch back to old version.
One of the awesome features though, which isn't available in many contact managing services out there is the ability to restore the contacts you've accidentally deleted, just in case. To avail this facility, Go to More and select Restore Contacts option.
You can restore contacts to anytime within past 30 days. While doing so, you need to keep in mind that while all deleted contacts get restored, the newly created ones in the mean time would get deleted. Not only you can restore contacts, you can also undo an import or a merge.