What's New In The Re-designed Google+
Social Networking became a part of people's lives. People sharing their experiences, achievements, events, information with their near and dear ones and with the world using Social Networks. You can see what's people are talking using Trending topics, Celebrities opinions, Business ads, learning etc are can be found on Social Networking sits like Facebook and Twitter.
Tech giant Google created Google+ by allowing it's users find a place to get connected. If you look at figures, in the Facebook dominated world, it didn't pick up well. If you look at Google Plus that way, you may think it as a failure. But there are some people who love to use Google+ like me. If you observe closely, Google+ is not about personal data sharing to friends, tagging in photos etc or create information with limited amount of characters. It's about connecting people who are willing to share random information, or form like a group with similar interest. This collaborative environment might not interest some people, though.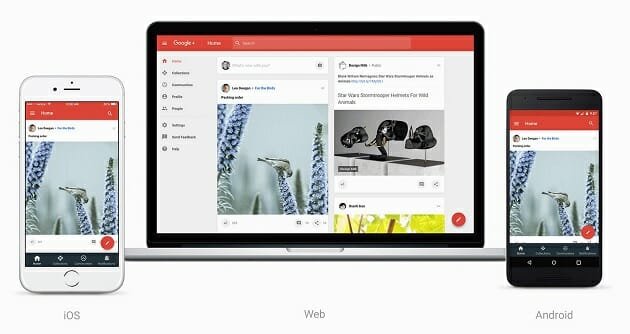 To make this theme more evident to it's users, Google revamped the design of Google+. If you already have an idea about Google Inbox, you would find this new design reminiscent of that.
Whats New in Re-designed Google+?
I tested web version of it, and find it's interesting.
UI changes
As I said, it does look like Inbox design. The left menu bar comes with minimized options. Since Google had separated Hangouts, Photos, Contacts as standalone websites, you wouldn't find them on Google+ any more. What I liked about new Google+ is that it's material design. You can feel every click with your mouse by nice animation. It loads faster than before, differentiates content and sections with nice colors – as a whole you would get a cool Material Design graphics feel.
Google+ profiles, pages, communities are also changed, giving a refreshing look. If you want to go to your friend profile you would directly find posts by that person. To know about him, you have to select "i" icon on this cover photo.
On posts, you would see a preview of the post with one comment bar changing one by one. You can click to expand it if you find its interesting.
The explore section is always on the home screen, with improved search interface, allowing you to find information very easily than before.
Overall, the unnecessary information got removed, keeping it clean and faster.
The "Collection – Centric" Approach
Google collections, a recent feature added to the site, allows you to create and share content across with similar people. With collections, the information would be more organized than ever before, which would give you better ability to search and explore to the information you want.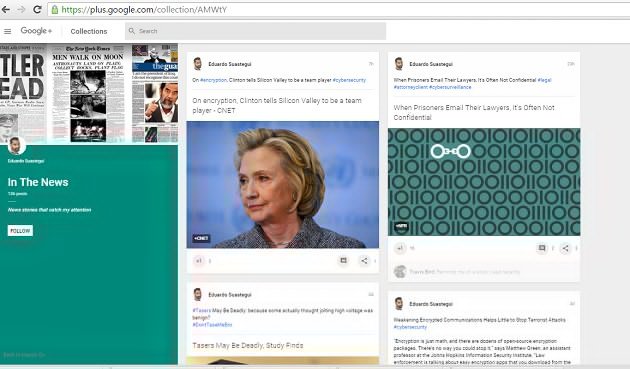 Keeping this in mind, if you go to new Google+, you would directly get launched on "Featured collections" page containing random collections from different people. But I think this would get changed in future with displaying most popular collections that are followed by most people. You can also create your own collection and share information you have with world.
Communities are another feature by Google+ like groups of people with similar interest. You can find interesting communities you like on communities and join them.
Your Profile
Now your profile on Google+ only displays posts by you on home page. No tabs like about, posts, videos, +1 now. Cover Photo got bigger, looks pretty neat. To edit your profile, you have to click on "i" button on the cover photo, which will redirect to your Aboutme page. Changes you save there will reflect on all google services.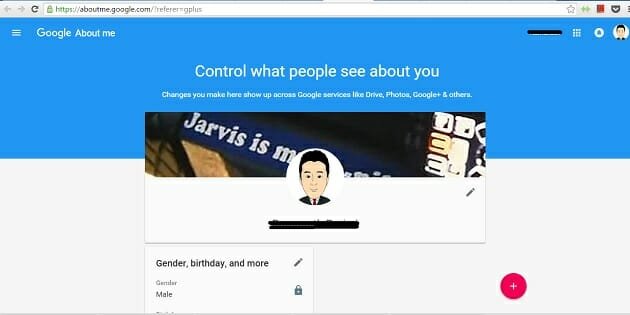 Settings
The settings section also redesigned. General settings such as who can comment on your posts, photo and video settings, profile settings, detailed notification settings where you can manage your email notifications, Google activity settings, Location sharing.
Even though you don't find all settings you would find on previous Google+, this clear shows that Google is trying to make the site minimal with appropriate content.
Conclusion
The new design is not complete yet, Google is trying to add appropriate features to the users. If you don't like the new design, you can switch back to Classic G+ by using option present on bottom left. Google is trying to make the site compact by isolating services such as Photos, Hangouts, contacts etc. You can always find them integrated though. But there is a possibility that they might get added here too.
Clearly, this is not another Facebook or Twitter. Google+ now is about connecting with people sharing information regarding particular interest. Of course, you can as always share multi media content, do comments on posts.
What do you think of this new look? Do let us know in comments.