10 Best Photo Editing Apps For iPhone4
With the latest release of iPhone 4, it is no way a communication gadget alone. With the rise of so many apps for iPhone, you can take great snaps with your iPhone's camera and process them with image effects like a pro.  Here is a quick list of free photo editing apps for iPhone:
Dynamic Light: Dynamic light is just wow. The simple app, with stunning effects that has just set a new standard in single photo HDR apps. It does an excellent job of expanding the dynamic color range and luminosity of iPhone photos. To edit the image using this app, you can just use the built in camera or load an image from the album.
Diptic:  This app just combines multiple photos in single frame. You can easily combine multiple photos from your iPhone, Facebook or Flickr account. Finally, when you are done combining all the images into one single image, you can share the combined photo on Facebook, twitter or email the same to your friends. It has 19 different layouts with brightness, contrast, and color saturation adjustment supporting high resolution export image quality.

SwankoLab:  SwankoLab comes with everything you need to turn any image into a retro misprinted masterpiece. Choose chemicals, process photos, and experiment. This image editing app for iPhone includes 8 magical photo-altering chemicals with a formula book to store your favorite chemical recipes.
FX Photo Studio: The award winning photo editor FX photo studio has more than 187 high quality photo effects such as lomo, sketches, vintage, hipster, grunge, tiltshift, color, bizarre, art paint, blur, glow textures and many more. You can apply single or multiple effects to one image. This app has more than 40 other great filters and effects available.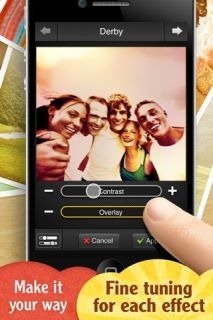 Color Splash : One of my favorite app that lets the photo completely in a black and white style and allows us to get back the old color at the specific place that we need.
Photo Mess: Make a mess of your photos by adding multiple photos together to a bigger picture. Just add the picture and move around with your finger. Double tap brings the options.
MyEyes Free: Easily switch the eyes in your image and create new looks by choosing from different color, silly, and unique eyes.
FilterFX: This is another filter effects app for iPhone. It allows the user to enhance their photos using different filter effects like using the filters on photoshop, lightroom, camerabag etc.
SPPhotoFixL: This is certainly one of the best and basic photo editing app for iPhone which can be used to fix your photos' brightness, contrast, sharpness, hue, saturation and more. Comes with basic and advanced options so even a beginner can handle the options easily.
iRetouch Free: Advanced and feature rich photo editor for your iPhone/iPod Touch. It is highly optimized to allow usage of numerous photo editing tools, all in one app.
What's your favorite photo editing app for iOS devices? Which one you liked the most and which one is not as good? Share your ideas in the comments section.
This Guest Post is written by Srivathsan G.K, who writes about Best iPhone apps for Shopping and also reviews iPhone, Android apps at MobiGizmos. You can follow him on twitter @dangerdiabolick