Samsung Galaxy S7: Full Phone Specifications, Features and Price
Not after a quite long time, Samsung have launched a brand new mobile to extend their flagship. This time, it is none other than Samsung Galaxy S7, which comes with lots of awesome features and super camera. YES! Samsung has finally launched a brand new mobile called Samsung Galaxy S7 at MWC 2016 in Barcelona. If you are a Samsung Galaxy Sx user, you should definitely check out the specifications and features of this new mobile, which has lot more things to give to the users. Previously, it was Samsung Galaxy S6, which stole the show. But now, it has been changed to Samsung Galaxy S7.
Samsung Galaxy S7: Full Phone Specifications and Features
As mentioned before, Samsung Galaxy S7 has a lot more things to give to the users, you will certainly get some awesome configurations and new features in this mobile.
Excluding the LTE support, the very first thing is looks. This time, Samsung's mobile is looking different and this is because of the polish over existing coating on the body. The design of Samsung Galaxy S7 is simply awesome and there is no doubt that Samsung engineers have spent a lot of time to build this new mobile to extend their flagship. The golden edition of Samsung Galaxy S7 looks really beautiful as it is. On the front side, you can find the same home button, which becomes a tradition of Samsung mobiles. On the back side, you can find camera, flash etc. – as usual. The back panel would be really strong as it comes with Corning Gorilla Glass 5 back panel.
The very next thing is dimension. Talking about the dimension, this mobile is not too large as Micromax or other Chinese mobiles. However, the dimension is quite good and you can grip the mobile and use it using one hand. The dimension of Samsung Galaxy S7 is 5.61 x 2.74 x 0.31 in, which is not too big, as mentioned before. On the other hand, it weighs 152gms.
The next thing is display. As usual, you will get 5.1-inch Super AMOLED display with capacitive touchscreen. The 5.1-inch display is not too big but it is not too small either. You can do all the things what a smartphone should do. At the same time, you can get a resolution of 1440 x 2560 pixels, which is pretty large. On the other hand, the pixel density is 577PPI. This is needless to mention that you will get multi-touch support. But the interesting thing is you will get Corning Gorilla Glass 5 with this display for protection. This is certainly a plus point.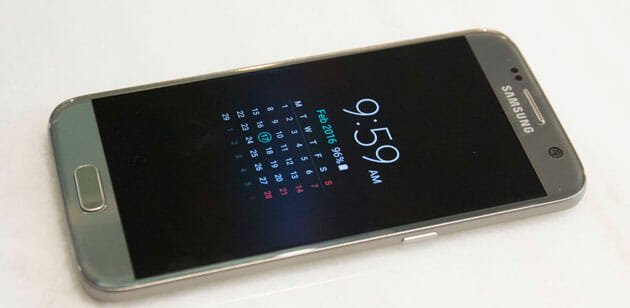 Talking about the CPU, you will get a really good performance from this mobile as it comes with Qualcomm MSM8996 Snapdragon 820 chipset. This is needless to mention that how good this CPU is. Previously, Snapdragon 810 was rocking the show. But, now it is one step ahead of that. The Snapdragon 820 is far better than the previous edition and that is why it is included in Samsung Galaxy S7. On the other hand, you will get either Adreno 530 or Mali T880 MP12. Both are equally awesome and you can get them according to the carrier and region.
On the other hand, 4GB RAM is included in this mobile, which should be more than enough for you. Nowadays, a very few mobiles are running with 4GB RAM and Samsung Galaxy S7 will be one of them. 4GB RAM can handle more apps and games and more importantly more multitasking. On the other hand, there are two variants of Samsung Galaxy S7. You can get either 32GB or 64GB internal storage, which can be extended up to 200GB using microSD card.
The next feature is camera, which is a plus point of this mobile. Samsung's camera is always a plus point but this time, this is Samsung Galaxy S7. You will get 12GM rear camera along with phase detection, OIS, LED flash, geo tagging, touch focus, panorama and more others. Auto HDR is also included along with 2.6" sensor. Not only that, you can record 2160p video at 30FPS using this camera. Alongside the rear camera, you can find a 5MP front facing camera, which is pretty good in terms of quality of image.
Talking about the battery, you will get Li-Ion 3000mAh battery along with Samsung Galaxy S7. Although, it seems lower than usual, but it will provide a good backup in the initial days. The plus point of this mobile is you will get fingerprint sensor along with accelerometer, gyroscope, proximity, compass and more others.
Although, it can vary from region to region, but the initial price is set up 700 Euro for this mobile. So, what do you think about this mobile? Is it just good or awesome?