Send Secure Encrypted Email for Free – Gmail
Mail users often send sensitive information to others regularly. Gmail is a free email service provider. It does not have any support of encrypting personal data. So, Gmail can't be a trusted source for sending private and sensitive email securely. Though it uses secure SSL encryption for its connection, yet, the data leaves Google's server in an unencrypted formation. So hackers can effortlessly intercept that secure and sensitive information anytime.
By installing complicated desktop application or using some third-party web-apps one can somehow send email data in an encrypted format. However, surprisingly, there is no proper encryption method available for most of the email provider so that they can provide email encryption to both sender's and receiver's end. To bypass it, Google has been working on an end-to-end email encryption technology, but the tool has not been released yet.
Some browser extension provides a solution for sending secure email and encrypting files via email. This is a free of cost and hassle-free technique, which only requires a password to encrypt and decrypt the email. For this, the email sender has to provide 'password' to email recipient separately.
Send Secure Email with Gmail
Secure mail for Gmail is a chrome extension which is very much similar to Google's end-to-end email encryption technology. 'SecureGmail' encrypts and decrypts all emails in your machine and thus, the unencrypted email never reaches Google servers. This method is pretty useful to Government and company emails. For this, the sender and the receiver of the email have to use Gmail and Google Chrome browser.
Once you add the extension to chrome, you will see a brand-new lock icon next to the 'Compose' button of Gmail. The 'Compose' button let you compose new email in a Gmail's regular interface. Whenever you click the 'Lock Icon', you will get a new secured email compose window (with red 'Secured' header) that let you create any email securely.
Step by Step Guide:
When you enable the chrome extension, you can send email with an encryption. For this, follow below mentioned steps.
Click 'Lock Icon' to open secure Gmail compose window.
Now, normally type your email and click on the 'Send Encrypted' button.
As soon as you press the 'Send Encrypted' button, a new window will pop-up with an 'Encryption Password' field. Just type your password there and click on 'Encrypt & Send' button.
The recipient will receive an email with a number of encrypted text and 'Decrypt message with password' option will be there.
When the recipient clicks on the 'Decrypt message with password' link he will be asked for the 'Decryption Password'.
To decrypt the email, the recipient will have to put the right password. You will get a "Message successfully decrypted" message.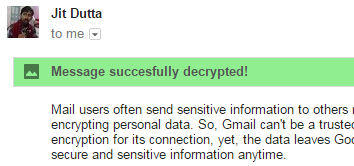 Otherwise, he/she will get a 'Wrong Password' alert.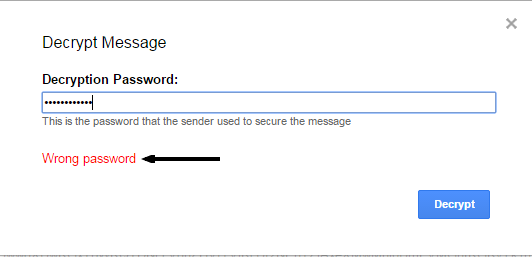 Limitations:
This extension is browser specific. It works only with Google Chrome.
This method can only encrypt Gmail message.
Overall, this works great until Google develops end-to-end email encryption technology for every Gmail user.