Sending Webpages From Google Chrome to Android Is Coming Soon [Chrome To Mobile]
There are situations when you may want to quickly send a webpage from your desktop computer to your Android browser. There are a couple of different ways to handle this situation, I will share the three ways I often use myself:
Generate a short URL of the long link on your desktop browser and then manually type in the same address on your Android browser.
Email the link of the webpage from the desktop browser, open the Gmail app on your Android, switch to inbox and refresh. This is my preferred way of sending links and URL's from desktop to Android and from Android browser to desktop as well. The best thing regarding this technique is that it requires no additional installation of apps or extensions and works universally across any browser you're using at any given moment.
Generate a QR code of the web address on your desktop browser and use a bar code scanner app to open the same link on your Android phone.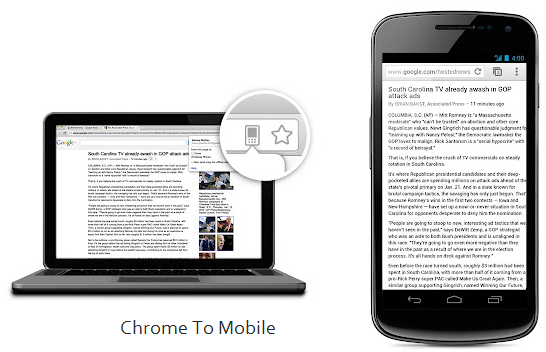 While both the above solutions solve the problem, there is another smart workaround which I am sure many Android users haven't heard of. It is called Chrome to mobile  – a brilliant extension which can be used to send webpages from Google Chrome on desktop to Chrome for Android. The only catch is that this extension works only with Google Chrome and Android devices running the latest version of Android operating system, Ice Cream Sandwich.
To send webpages from Google Chrome on desktop to Google Chrome on Android, simply install the extension in desktop Chrome and sign in to Chrome for Android on your Android device. When you are through with the above two steps, click the tiny mobile icon on the desktop omnibox and a copy of the same webpage will be sent to your Android phone or tablet.
Additionally, you can also download the webpage directly on your tablet by checking the selection "also send copy for offline viewing". This is useful as you can quickly access a cached offline copy of the webpage (includes text and photos only) on your Android tablet or phone, when you don't have internet access.
This Chrome to mobile feature is a lifesaver but the disappointing part is that it supports only Android 4.0 phones and tablets, Froyo and Éclair users are out of luck. However, here is some good news.
The Chrome to mobile feature will be soon built into Google Chrome, as announced by François Beaufort, one of the engineers working in the Chromium project. According to this project page, the Chrome to mobile feature will be implemented via Google cloud print server and users will be able to send a link or any URL from desktop Chrome to the default browser in An Android phone or tablet device. Here is a screenshot:
How to Send Web Addresses or Links From Google Chrome To Android
If your Android OS is not Ice cream sandwich and you want an easy way to send web links from Firefox or Google Chrome to your Android browser, here is a simple workaround. Go to the Android market and install the Chromemarks lite application. Alternatively, you can scan the QR code on the right.
Chrome marks lite is a free Android app which automatically syncs Google Chrome bookmarks from your desktop browser to your Android browser. Using this app, you can open chrome bookmarks in Android's default browser, opera mobile, Dolphin browser and so forth.
Once the Chrome marks lite is installed, you will see an empty bookmark database. Hit the "Sync" button in the middle, approve the app to access your Google account and you are through.
Chrome marks will download all your Google Chrome bookmarks in batches and will sync bookmarks between your Android browser and Google Chrome at regular intervals. This is by far the most easiest way to sync browser bookmarks between a desktop browser and Android's default browser.
Now comes the real fun. When you want to open a web link or a URL from desktop to Android, simply bookmark it under a new folder "Android", for example. Chrome marks lite will automatically download the chrome bookmark in your Android phone via Google Chrome sync and then you can open the same link in opera mobile or Android's default browser. The sync is not instantaneous and takes a little while to go through.
Note: There are some extensions in Chrome web store (example) which promises to be able to send links from chrome to Android but upon testing, I found that the Android app was incompatible in most old Android phones and tablets. Hence, the bookmark sync workaround.
How do you share or send links from desktop chrome to Android and vice versa? Share your ideas in the comments below.