How to Setup Chromecast Guest Mode
Chromecast is a great innovation by Google that lets user stream online videos over WiFi connectivity. You must have the Chromecast, a HDMI port enabled TV (which is pretty much common in present days) and a mobile or tablet or PC to set that up. What does Chromecast do? The workflow is simple. Suppose, you have watched a video on YouTube about latest cars or any movie trailer. Or, the entire movie.
You know that there are some people, who love to share what they have seen. If you are one of them and want to share that video with few couple of people, here is a solution. Obviously, you can use your mobile to help your friends or relatives to watch that video. But, this is actually time consuming and you have to spend a lot of data to stream a particular video again and again. Isn't it?
Therefore, that is where Chromecast steps in. Chromecast is such a device that can help you to stream that YouTube video on your HDMI port enabled TV from mobile. It requires a little bit of set up to run and that's it. First time Chromecast users should remember some important things.
Chromecast runs only over WiFi connection.
You supposed to have to be connected to the same WiFi network as the Chromecast.
You must have to know the password of that WiFi network to be connected.
Although, there are some other requirements but those are silly. However, the third requirement is pretty much problematic. This is okey if you want to show a video to your friends. However, just think what will happen if your friend wants to show a video over Chromecast?
That is where Guest Mode comes in. the latest update of Chromecast app for Android lets you create virtual guest account (actually, not an account.) to stream video over Chromecast. That simply means, you do not have to know the password of the WiFi network to stream any video.
How to setup Chromecast Guest Mode?
This is however very easy and not much time consuming. However, before getting started, you should something that is very important;
Although, you do not have to know the password but you must have to be connected to the same WiFi network as the Chromecast.
If, you are not getting Cast icon on your Google Cast Ready apps, that means you device is not ready to cast in guest mode.
As of now, Guest Mode is available only on Android 4.3 and higher Android devices. You cannot get this feature on iOS device.
You can manage Guest Mode (enable/disable) from Chromecast device settings.
Now, come to the actual setup. At first, update your existing Chromecast app on your Android device. Then, open it and tap on Devices.
After that, you will get Guest Mode under Device Info.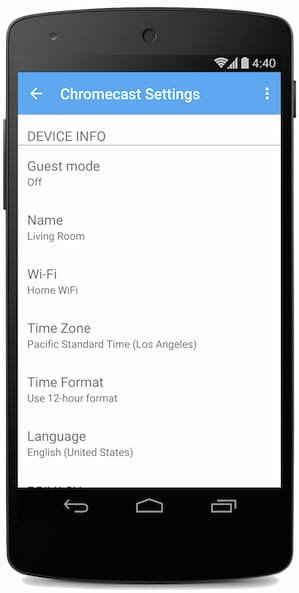 Just tap on it and turn it on by sliding.
That's all! Now, whenever, you will go to stream any video in Guest Mode, you will get 4 digit PIN code for verification. To know more about the workflow of Guest Mode, do check this out.