Snail Driver : Easiest Way to Update Windows Drivers
Nowadays, people often face trouble due to having outdated software and driver. Many times, people face the black screen error because of having outdated display driver. At the same time, you can get several other problems for outdated software. Just like an anti-virus, you should update your drivers as well. Many times we have seen that people are getting into problem for out dated software. On the other hand, attackers can also attack on your computer with the help drivers. Whenever, a driver gets vulnerable, the developer updates that driver with proper patch. Now, if you do not update your driver, you can get into trouble any time.
But, most of the drivers do not offer any option to update it. Therefore, you may have to go through several steps to just update a software whenever an update is available. You can go through Device Manager of Windows to update a driver. Otherwise, there is no such user friendly method to update your installed driver.
But, here is a tool that will let you find and update Windows drivers easily. You do not have to go through any complicated step in order to update any installed driver. Introducing Snail Driver, which is a free software available for Windows and it will assist you to update Windows drivers within moments.
How to update driver using Snail Driver?
As mentioned before, this is probably the easiest method to update a driver. Finding and updating become easy with the help of Snail Driver. Generally, we get problem to find the updated driver or the latest version of any installed driver. But, this software makes it very easy to update drivers. You can even download and install new driver as per your requirement with the help of Snail Driver. This is tiny but very useful tool for Windows.
Snail Driver is available for Windows Vista, 7, 8 and 10. There is no other system requirement that you need for install Snail Driver on Windows. As driver is mandatory for experiencing a smooth PC, you can download and install Snail Driver on almost all the computers having low end configuration.
After downloading and install Snail Driver on your Windows computer, you can find a window like this,
Just hit the SCAN button to start the scanning. Therefore, you can find another result window like this,
This list contains all the drivers, what you need to update or the update is available for. Therefore, select drivers that you want to update and hit the Update button.
That's it! Now Snail Driver will download and install the latest version of that selected driver(s). It comes with some settings as well that are required to run it according to your wish. You can launch it automatically when Windows startup, minimize it to system tray when clicking the close button and start to scan automatically when Snaildriver is launched.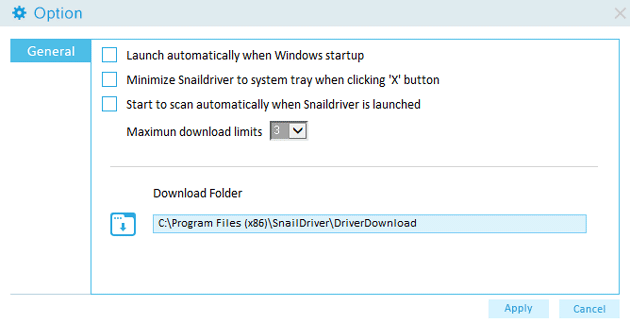 This is a truly awesome software for Windows to update Windows drivers automatically and easily. If you like, you can download Snail Driver from here.