How to Stream Music from Android to PC
No matter how bad situation you are in, your favorite song can easily help you to forget everything within minutes. Thousands of singers are doing their best to entertain you. In fact, some films get popularity because of having great music. Every type of people listen to music. No matter whether you are a businessman, student, teacher or anybody, I am sure that you listen to music frequently.
Now consider this.
Suppose, you are at your home and you have got a fantastic music that you want to play loudly so that other people can listen to that. It can happen with your friends or family members. Now, obviously if you play the music, not all of the people can listen to that because you have to play that loudly and most of the phones do have such a loud speaker.
Therefore, you have to play that music on your PC. If so, you need to transfer that music from mobile to PC and then you can play that on your computer. If there are ten or fifteen songs you want to play, it will take some time to transfer. Now, if you do not want to transfer those files to your PC and wish to play them without transferring, here is a small trick.
These following methods would certainly assist you to stream music from Android to your PC. You can also use a Mac to stream music. How one method doesn't work with Mac when the other one would be working smoothly.
Stream Music from Android to PC using Bluetooth
Bluetooth streaming is the fastest and simplest way to stream music from Android to PC. You do not need any third party software. Just connect your mobile with your PC via Bluetooth, pair them and connect them.
Now, A2DP enabled mobiles will show an option to play music over Bluetooth. Just open Bluetooth Device Operations and Settings panel to get it started. You can search for this settings in Control Panel.
Stream Music from Android to PC using AirSong
AirSong is a free Android app that is available for Android 2.3 and later version. This is another method to play audio files on your PC. You do not have to copy those files from Android mobile to your computer. Just install this app, connect both devices and play your favorite music right away.
AirSong works on WiFi network. That means, your devices must be connected with same WiFi network. Otherwise, it won't work. As, nowadays, WiFi is very common aspect of every home, there should not be any issue.
Therefore, install AirSong on your Android mobile. After installing this app, open it from menu drawer. You will get a screen something like the following picture,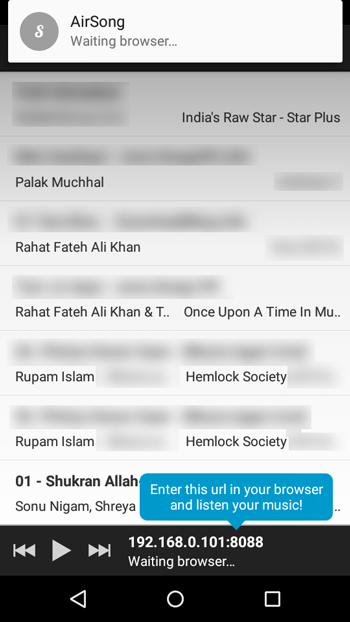 Now, you have to enter the IP in your PC web browser. The URL looks like this,
http://192.168.0.101:8080
After entering this URL, you will get all the music of your Android mobile on your PC's screen. As AirSong scans your SD card after installing, you should get all the files under one roof.
Just click on the music file on your browser to play. You can adjust volume, change music and do other things.
Instead of using any other hectic method, use AirSong to start streaming music from Android to PC. Just install it, enter the IP in your browser and play your favorite song right away.