100% Charged in 5 mins: Portable Smartphone Charger
How much time you usually invest to complete your breakfast? I guess, somewhere around 30 mins. Ok, for morning coffee? I guess, 10 mins. Ok, fine. Do you know that, you could fully charge your portable smartphone charger, twice, within that 10 mins? Sounding weird? Ok. I think it's the time to get used to it. Stay tuned. Now, I'm going to walk you through a beautiful real story.
You own a smartphone and you believe that, it's a smart thing. Personally, it is. 100%. Conversely, you don't own a portable smartphone charger with it. Then, it's for sure that, at times, when the battery gets drained in the middle of a critical conversation or else, you feel defeated by this same smartness. The dead brick kills the last drop of your hard earned serenity. Then, you actually start to believe that, smartness consumes energy. Appallingly, a substantial amount of energy.
Present day's portable smartphone chargers offer a tad of a solution to this mess. Firstly, they are lithium- based, alike our phone's or tab's batteries. For this reason, they demand the same amount of time to get charged. If you are not blessed with the word, 'planning', I bet, you are a not the reason for which portable smartphone chargers have been developed. Secondly, the size of these types of portable smartphone charger is not that pocket friendly. You really have to carry these power scuttles.
So, is there any smarter solution to this muddle? Yes. ZAP&GO. This 2 inch tall and 1.6 inch wide canister takes 5 mins to get charged and encapsulates ample volume of juice for your smart devices. Although, its weight is a bit of an issue as it's 350g heavy. Still, the 5 mins for a full charge affair makes it a hot buy to me.
In situations like these, ZAP&GO, the world's first ever graphene(nano carbon composite material) based supercapacitor powered portable smartphone charger. This splendid thing gets fully charged(0% to 100%) within a mere 5 mins. Then, on the go you can use this juice of this portable smartphone charger to recharge your phone, tab or else. Just think, 5 mins and your portable smartphone charger is ready. Thankfully, you will not have to invest any care to it as it will let you know with a confirmatory sound that it's full.Just find a power socket and plug in ZAP&GO.
I'm giving a small stats here about the quantity of it's charging for some of this planet's widely used smart devices. I believe, that these data is going to satisfy you.
This graphene powered supercapacitor draws a 1500mAh charge just within a dime of time. Moreover, it has been designed to charge your phone simultaneously, even when it's charging itself. The reason being the same. Your time is precious. At least, it's more expensive than to invest the same in charging your phone several times within a single day.
Added to this, this devices are going to be packed with almost every types of standard plugs used across the planet. That means, it will be known to every kind of power outlet points along the road when you are travelling to your best holiday destination.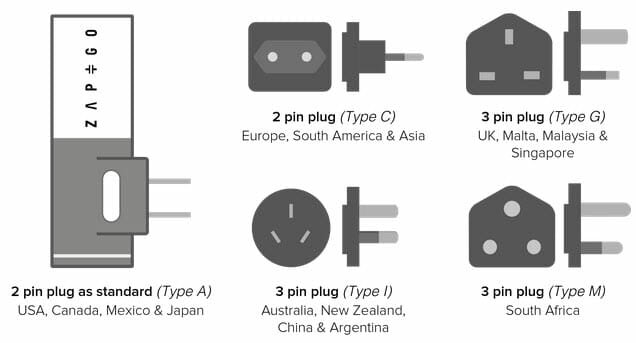 This smart device was launched back in October 13, 2014, as an Indiegogo Crowd Funding initiative and there, it was able to turn heads towards it. The initiative, on its way, got forged with the trust and money(a staggering 382% of its primary goal of $30,000) it needed to turn this dream into a reality. According to its developers, proudly led by  Stephen Voller, shipping of the product will start from October 2015.
Convinced? You can pre-order it, now. Else, you can always spread these words. Presently, this device costs $149, well within the reach of smartphone holders. If not, try to measure the real value of those 5 mins, when you got dead with your phone, cluelessly, in the middle of something, you can't relish again, ever.