5 Telegram Settings You Need to Check Out before Starting Conversation
Over the past few years, hundreds of developers have tried to create various instant messaging apps for different platforms, but only a few of them have been succeeded. Telegram is one of them, which is being used by more than 100m people from across the globe. Telegram is just like the WhatsApp, but with some more security layers, those make it even better. Almost all the things of WhatsApp are also available in Telegram. However, the security functions are much better than the other competitors. Anyway, if you are about to use Telegram for the very first time, here are few settings you need to check out before starting a conversation so that you can get better user experience as well as security.
Hide Last Seen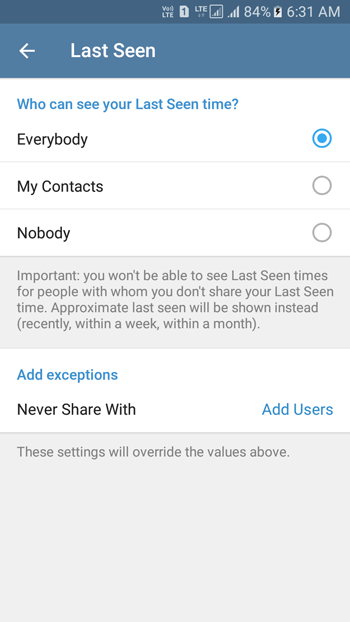 This is probably the first thing you need to change if you do not want to get distracted by people. "Last Seen" allows other people to find out the last time when you were online. Sometimes this is fine for few people but if you do not want to let others know about that, do follow these steps to turn it off. Go to Settings > Privacy and Security > Last Seen. By default, it should be set to Everybody. However, you can change it to My Contacts or Nobody as well. This is also possible to allow or block a particular user from checking your last seen timing.
Lock Telegram Chats with Passcode or PIN
Security is one of the main concerns of most of the people. Let's assume that you often talk to some employees or team members about your next plan or plan for the company, and you do not want to let others know about that. Anyone, who has your phone access, can easily check your conversations. However, to prevent them from doing so, you can lock Telegram chats with a passcode. After that, you need to enter the correct passcode to unlock conversations. For that, go to Settings > Privacy and Security > Passcode Lock. Enter a passcode or PIN to get the thing done. You can also set auto-lock time, which will let you lock your chat down after a certain amount of time. For your information, if you forget your passcode, you need to reinstall the app and hence, you locked conversations will be removed.
Self-Destruct Account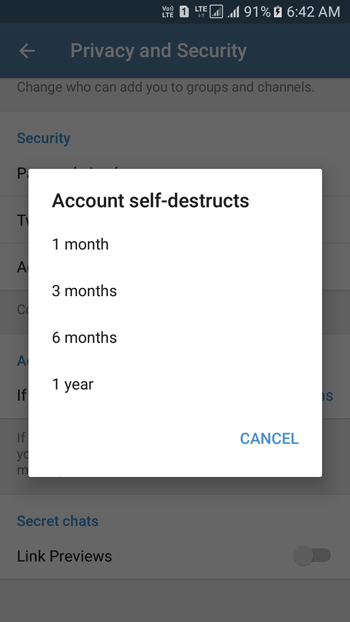 Sometimes we create an account on some apps or websites to use that for checking few things, and after that, we completely forget about that. For security purpose, you should delete such inactive accounts instead of keeping them. Telegram has a very useful option that allows users to remove the account if someone isn't able to be online for a particular amount of time. There is no need to take any manual action since Telegram can do it in automation. However, you should know that all the chats, groups, and everything will be removed along with your account. To set it up, go to Settings > Privacy and Security > Account self-destructs. By default, it should be set to 6 months. You can change it from 1month to 1 year.
Automatic Media Download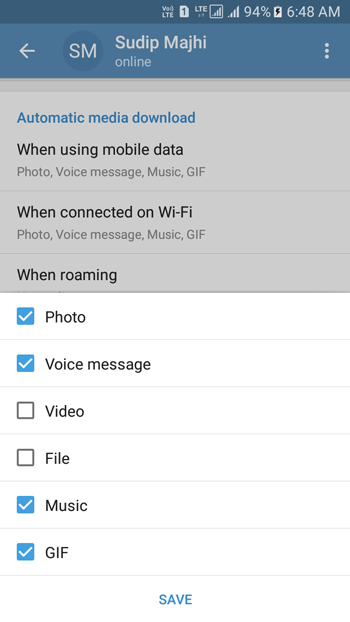 If you have an unlimited internet connection, there is nothing to worry about. However, if you have a limited cellular data, you might not want to waste your bandwidth by downloading high volume of media files. Like WhatsApp, you can setup what to download and what not while connected to mobile data or Wi-Fi. As Telegram does support image, video, voice message, music, GIF as well as other files, you would get all the options to manage them accordingly. Go to Settings > Automatic media download. Here you should get three options i.e. When using mobile data, when connected on Wi-Fi and When roaming. Tap on each option and select what you want to download. All the marked things will be downloaded automatically.
Install New Stickers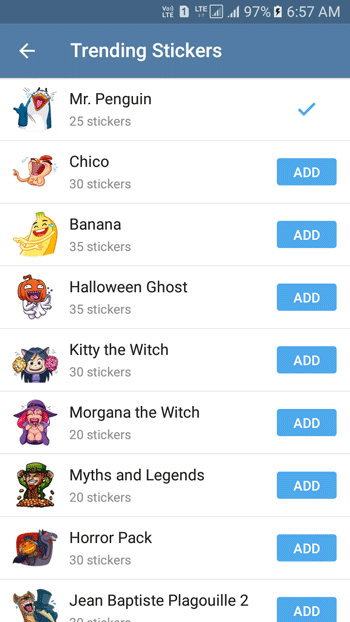 Nowadays, we use more stickers than earlier. Whenever we need to say something or express our feelings, we take the help of stickers. By default, Telegram comes with only fifty stickers. However, it includes more stickers in the repository that can be installed right from the app itself. Not only stickers but also you can download masks. For that, just go to Settings > Stickers > choose either Trending Stickers or Masks. Select sticker and hit the ADD button. It takes few moments to be installed. Following that, you can use those stickers in chat.
More other things can be done on Telegram. However, hope these tips and tricks would be helpful for a beginner.