20 Best Apps and Tools to Improve English Grammar
In this ever globalizing world, not being fluent in the English language can be a major work setback, or maybe even kill your career before it even starts. Moreover, all major examinations in the world, especially those offering international placements, like to check your English skills along with the niche subjects. So whether you are just starting out or looking to improve upon your existing knowledge in the language, immediately grab these best tools to improve English Grammar, Writing Skills and Comprehension –
Apps and Tools to Improve English Grammar And Writing Skills
1. The Grammarly Handbook (Web)
Grammarly is probably the best tool on the market right now to proof read your written content for detailed Grammar mistakes. Therefore it has it's very own grammar handbook which teaches you all the basics as well as the intermediate level of English Grammar. The interface is quite rich and stands out from all others. Even the teaching style is unique as it gives you an example first and then proceeds with the explanation.
Image Source – Grammarly
2. Road To Grammar (Web)
Once you are done with the theory on the Grammarly Handbook, use this website to practice your skills. It has hundreds of quizzes of different levels ranging tens of topics. Additionally it also has 'Notes' on each grammar topic which can be used prior to the quizzes. But for best results use The Grammarly Handbook for notes and Road To Grammar for quizzes.
Image Source – Road To Grammar
3. Grammar Up (Android – $.2.99, iOS – $4.99)
Selected by Apple as one of the apps among the "High School Survival Guide", Grammar up is worth investing your money in if you are serious about your grammar issues. You can prepare grammar on the basis of topics, first reading the theory and then attempting the accompanied quizzes which span a total of about 1800 questions. And when you think you know it all, grab one of the mock tests which covers all the topics and provide you with a detailed analysis of your performance, revealing your weaknesses.
4. Practice English Grammar (Android – Free, iOS – Free, in-app purchases)
It was a nominee for the '2014 Best Educational App' Award, has over a 1000 questions, over 750 flashcards and at least a 100 games, and the basic features are free (advanced material through in app purchases). I mean what more can you wish for? But the free version will offer you only 2 basic grammar tests, therefore any advanced material will have to be bought through the in app purchases.
Image Source – Practice English Grammar
5. Grammar Police (iOS – $0.99)
Although the app is only available on the iOS store, it is worth the mention as it has a unique way of engaging – it teaches grammar but it is also a game! It teaches you basic to intermediate level English Grammar through a game of 'catch me if you can'. The tense gang are criminals that have escaped (from the prison probably) and hence the Grammar Police is out to do the job. Please note that the game is playable again and again as the sentences are randomly generated, so don't worry about gameplay redundancy.
6. NoRedInk (Web)
NoRedInk is a website that is meant for students to improve their grammar under the guidance of their school teachers as well as the website. It generates unique and fun content that is in line with the thought process of children like questions based on their favorite bands and movies. As soon as you sign up, the very first thing the service asks is to select at least 5 out of your favorite movies, TV shows, games or celebrities. You can then head onto the practice session to start your drills One of the best tools to improve English grammar and writing skills for all students!
Image Source – NoRedInk
7. Grammar Girl (Web, iOS – $1.99)
This auspicious blog will develop your overall skills in the English language, including grammar, writing skills and comprehension. Posts range from as subtle as "How to Write a Sentence" to as extravagant as "Does a Subject in Parenthesis Affect Your Verb Choice". All you need to do is find the articles that are relevant to your level of understanding and current progress in the language, and hop on the ride.
Image Source – Grammar Girl
8. Mad Libs (iOS – Free with in-app purchases)
This famous iOS word game has been in the market for long and has established it's position as one of the best educational tools for adults and kids alike. The concept is based on a game which teaches you to make the right word choices while framing sentences. It consists of a collection of 21 stories which are filled with incomplete sentences and you have to use the most appropriate word that fits in. Mad Libs would go a long way to improve your writing skills.
9. The Grading Game (iOS – Free with in-app purchases)
Race against time to find grammatical errors and typos. One of the best attraction of the app is the hilarious writing style that it employs. The basic version has a free mode with no time limits and just meant for practice, along with 12 levels. Any subsequent advances will have to be bought through the in-app purchases that are mostly priced at $0.99 each and span a total of over 100 levels.
Image Source – The Grading Game
10. 7 Little Words (Web, Android – Free, iOS – Free, in-app purchases)
Crosswords fans can rejoice with this entry in the list. 7 Little Words is a puzzle based game that makes you master word finding based on the clues/meanings given. Mastering such a game will help you develop your writing skills and make your thought flow lucid, enabling you to come up with a word for every occasion. It has about 50 free levels. Any additional levels will have to be bought through the in-app purchases.
11. EngVid (Web)
If you are not a good self reader and always rely on teachers to learn, don't worry as this list is not all useless for you. EngVid is what will do the job. The website contains a host of videos in almost any topic in the English Language taught by about 10 different teachers based on their area of expertise. The course has been divided into 3 levels – beginner, intermediate and advanced. So analyze where you stand and get those lessons started!
Image Source – EngVid
12. English Grammar In Use by Cambridge (Web, Android – Free, iOS – Free, in-app purchases)
Ever heard of Raymond Murphy? He is the author of the book English Grammar In Use which is published by the Cambridge Press and regarded as one of the best books in the world to study intermediate level English Grammar. So I guess it made a lot of sense to launch the official app in this smartphone era. And it is bang on. With a tagline of – "Study Grammar, Anytime, Anywhere", it delivers the promise. The version contains a starter pack of 6 Units with others available through in-app purchases.
13. English Grammar Book (Android – Free)
As the name gives it away, it is a handbook on English Grammar ready to be referred any time on the go. And what's more, you can also put these lessons to the test using the exercises the offers. This is the best app for Android users if you don't want to spend any money for the cause.
Image Source – English Grammar Book
14. Sentence Builder (iOS – $5.99)
Although it is a bit costly for an app, Sentence Builder surely is a useful tool to improve the grammar of your children. The target users of the app are elementary school children and it makes use of various medias like pictures, animations and audio clips to make the experience rather interactive. Yet the best part is the Analytics feature which keeps a track of the child's progress and presents the data for self assessment. Also, it is safe for children to use as it does not ask for any details prior launching nor does it link to any social network. Perhaps the high price is justified, right?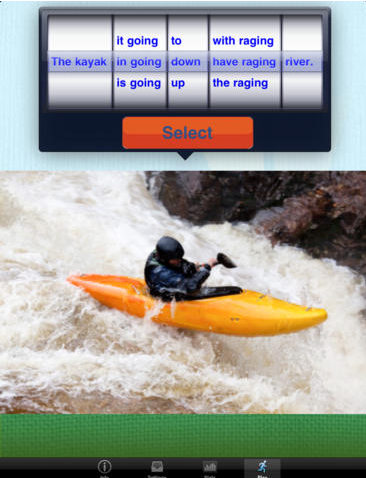 Image Source – Sentence Builder
15. Learn English Grammar by British Council (Android – Free with in app purchases)
Another great app in the niche, it is suitable for all age groups as it has 4 levels of usage, ranging from beginner to advanced, that tweaks it for anyone and everyone. It has thousands of practice questions but only 40 of them are available in the basic version, rest being paid. Also the whole app package is available in 3 languages, namely English, Spanish and Japanese.
Apps and Tools To Improve English Grammar With Comprehension
1. StoryBuilder (iOS – $7.99)
Now on to some tools and apps that will help you master Comprehension too, first in the list is an expensive but noteworthy iOS app called StoryBuilder. This is an app for children, and especially those suffering from autism spectrum disorders or sensory processing disorders. It makes use of audio recordings to stitch together clips into story narratives in the voice of the children themselves by displaying them images to narrate upon. There are also 500 aiding audio clips to guide the narrative. A unique app to improve English Comprehension.
Image Source – Story Builder
2. Reading Comprehension (iOS – $3.99)
This app can be used by all beginners. It also makes use of stories to teach the students the different idea grasping techniques as well as grammar as the users can also create and add their own stories along with the question tests. Therefore this feature makes it an ideal tool to be used by a teacher to facilitate quick learning by students. Even proper backup up of data can be continuously synced as the app can directly be linked to a dropbox account.
Image Source – Reading Comprehension
3. Word Dynamo (Web, iOS – $.2.99)
An official word play game app from Dictionary.com, this app covers all the age groups. It makes use of the powerful dictionary to teach the users about the various words through games which use audio, flash cards and/or definition matching. Here too you have the flexibility to create your own games with your own word lists. This makes it a viable tool to crack down a vocabulary list while preparing for certain exams.
4. Dictionary.com Flashcards (Android – Free)
This is the Android counterpart of Word Dynamo which consists almost all the features including custom word lists. In addition, you can also choose to sync your progress online and also choose to study offline in case of bad internet connections. Flashcards contents can be also shared to the various social medias right from the apps itself.
Image Source – Dictionary.com Flashcards
5. Rewordify (Web)
Rewordify has a simple concept, it converts your written content into something that is more apprehensive for the readers. In addition, it gives better word options for students and teachers alike which helps to improve the vocabulary as well as English Comprehension. And there is no registration or installation required, just head on to the site and start 'rewordifying' complex content. Alternatively, you can also choose to be a registered user.
Image Source – Rewordify
Improving upon a language in any aspect is an ongoing process and requires a lot of diligence and hard work. Though these tools and apps will surely help you to improve your English Grammar as well as your Writing and Comprehension skills, the task also requires patience and continuous efforts. So don't lose heart and hang in there mate!