The Ultimate Guide To Buy Wireless Car Chargers
If you set out to choose a wireless car charger that keeps you going on a road trip, then you are confronted with a wide range of options. To begin with, there are magnetic wireless car chargers, wireless car chargers with clamps, and more. However, the most recent addition to the list of wireless car chargers is that which comes with automatic clamps. This type comes with motion sensors that automatically open up as you take the mobile charger closer to the charging port.
However, in order to be compatible, it needs to match a certain set of criteria and that is what we are going to help you sort out.
Things to consider while buying Wireless Car Chargers
When you buy an auto-clamping wireless car charger, there are a few things that you need to watch out for. The most important ones are the sensor, compatibility and charging speed.
Since most auto-clamping chargers come with sensors and also a manual release button, you can get your phone out either way. However, you definitely wouldn't want to use the button, while you have paid for the sensor, which is the most convenient of the two options. This is only possible when you buy a wireless car charger that comes with powerful and reliable sensors that don't stop working in a couple of weeks.
You don't want to end up with an auto-clamping wire charger that gets screwed up, and the only option that you are left with is the manual button. Moreover, auto-clamping is extremely useful because you don't have to worry about your phone's safety while you drive. Once you put it on the charger, it is automatically secured by the clamps. So you know it won't fall off and can focus on driving. Also, you need to find a model that is compatible with your phone and supports fast charging. So, to ensure that you pick the most durable option, we tested some wireless car chargers and have listed down the best ones below.
ZeeHoo Wireless Car Charger
If you have a smartphone with a width between 60 and 80 mm then the ZeeHoo wireless car charger can hold it effortlessly. Plus, if your phone meets that criteria and can also charge wirelessly, then the ZeeHoo will charge it as well. It is 360 degrees rotatable and comes with adjustable claws that make it easier for the driver to use it. However, it is recommended that you find a hard surface to fix this wireless car charger and the best ones would be the dashboard or the windshield.
If you are quite particular about hygiene then this one meets that criterion, as well. It comes with a reusable gel that you can replace after washing the bottom part with warm water.
Squish Wireless Car Charger
Made from scratch and slip-resistant rubber, the Squish wireless car charger keeps your precious phone safe and secure. This wireless charger is easily removable and once you are near your office, you can take it in and use it there, however, your phone must be Qi-enabled. Speaking of the phone casing, the Squish wireless car charger can do its job well with phones that are put in silicone, plastic or hybrid cases.
The Squish wireless car charger has an extremely strong grip, which makes it ideal for bumpy roads, and woody areas. So, if you plan to drive your RV or your car through woody regions, then this one's for you. Besides the base and the clip, this wireless car charger also comes with a branded USB cord, which works well and can be plugged into any USB port.
Pleson Wireless Car Charger
The Pleson wireless charger is a Qi, CE, and RoHS certified product that comes with a highly intuitive smart chip that detects anything that nears it and also regulates the power supply. With a QC 3.0 fast-charging adaptor attached to this wireless charger, you are all set for its extremely fast charging. However, a point to note is that the clamp's claws open up between 5 to 7.5 inches, so check the size of your phone. Also, you can be sure that you don't have to take off your phone's case every time you want to charge it while traveling. On the whole, what we like the most about this product is its highly intuitive and powerful sensors.
CHGeek Wireless Car Charger
The CHGeek Wireless phone charger can detect metal objects and indicates that by flashing the red light. As soon as it detects that, it simply stops working in order to prevent any damage to your expensive phone. This wireless car charger comes with two buttons on it, one to expand the claws and the other to retract it. It is ideal for all smartphones that support wireless charging and come with a width between 40 and 80 mm.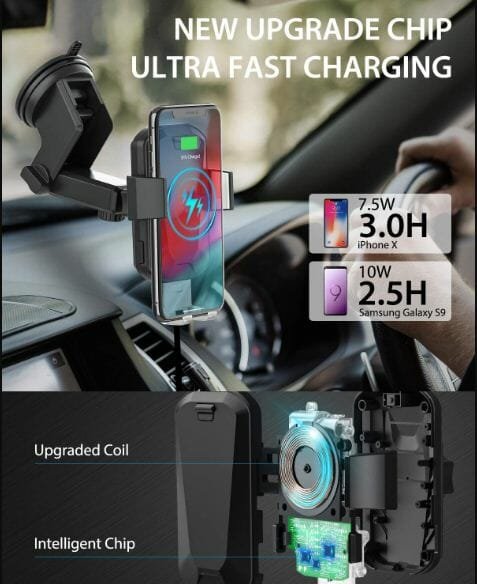 Unless you use a rugged phone case or one with an uneven background, you won't have to take it off while charging it on the CHGeek wireless phone charger.
Choetech Wireless Car Charger
The Choetech wireless car charger is a powerful gadget that can keep your phone charged, throughout the day. So, if you are someone who often takes road trips or travels in lot then this is a must-have car accessory. To enable the fast charging, you need to make use of the 3.0 QC adapter, which comes along with this product. Also, this wireless car charger comes with a 40-inch wire which is long enough to make it to the windshield.
This product comes with three different types of knobs that let you rotate and adjust its angle and length. So we'd like to conclude that this one has it all — fast charging, flexibility and a powerful sensor.
Koakuma Wireless Car Charger
The Koakuma wireless car charger comes with a sleek design, without any compromises on quality. So you can be sure that despite its fragile design, the powerful infrared motion sensor and the side silicone pads will keep your phone secure. Moreover, if you have an Android or Apple phone, the Koakuma wireless car charger will auto-detect the required charging power, and supply it.
This charger can deal with most phone cases that are less than 0.24 inch, which is around 6 mm in thickness. If you have a phone that is a little too big for most wireless car chargers, then try this product and you won't be disappointed. Another point to note is that unlike most other chargers, the maximum output of the Koakuma wireless car charger is 15 watts.
Zooaux Wireless Car Charger
Looking for a high-speed charger that can charge five percent of a 4000 mAh battery in less than ten minutes? Well, this high-speed wireless car charger from Zooaux won't disappoint you. However, to enable fast charging you need to connect it to the QC 3.0 cable, which you have to buy on your own. This product comes with a cut-out that lets you connect the cable directly to it. So if you are someone who isn't a pro at setting these things up, then this one's for you.
As it comes with limited width, the Zooaux wireless car charger is apt for mobile phones having a width between 4 inches and 6.5 inches. Now that covers up most of the wireless charging enabled phones available in the market these days.
Beben Wireless Car Charger
If your phone case is thinner than 8 mm and isn't made from metal, then you are all set to start using the Beben wireless car charger. This product is designed to handle phones as narrow as 4.7 inches and as wide as 6.5 inches. If you have one that's narrower than 4.7 inches in width, then you may consider other options available on this list like the one from Zooaux.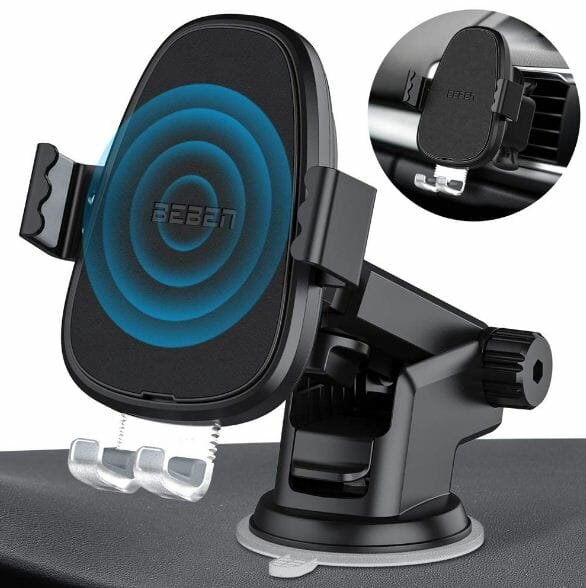 However, if this one works well for you, then you must note that it doesn't come with a fast-charging cable. That means you must pick a QC 2.0 or above, all by yourself. Also, this wireless car charger can function normally in temperatures varying between -10 and 60 degrees Celsius. So you can be sure that this one would work even on a road trip to Antartica.
We have picked the abovelisted wireless car chargers, on the basis of safety certifications, compatibility, and durability. Plus, if you have a car without Bluetooth and GPS, then a rotatable wireless car charger can solve a lot of problems. So, if you still use one of those old magnetic smartphone mounts or chargers that come with metal rings then it's time to upgrade. As you do that, make sure to first get rid of the metal rings, before you install your new wireless car charger.
As a matter of fact, these new car chargers that come with an infrared motion sensor don't go too well with metal. Unless you don't mind buying a new case for your phone, we recommend that you pick one that can handle the thickness of your current case. If you have a thick non-metal phone case, and really cannot decide which one to pick, then the CHGeek wireless car charger would be your best bet.