Best Wired Charger Sockets For Your Smart Devices
Planning a vacation in your brand new RV or your Sailboat? Whether you are on land or water, you definitely want to be able to charge your smart devices, without causing a short circuit. So, the first thing that you need to buy before you take off is a wired charger socket that can withstand the surrounding weather conditions. You also need to look for one that is compatible with your smart devices and can charge your devices quickly.
After all, you don't want to carry one that takes hours to charge, especially when you need it the most. Plus, while on a vacation, you don't want to spend hours charging your mobile phone or your Bluetooth speakers. So the best thing to do would be to pick one that does its job, while you freshen up and grab a sandwich.
While that sounds awesome, choosing from the thousands of wired charger sockets that are available online can be intimidating. So, to help you make a smart buying decision, we have listed down some of the best and most efficient wired charger sockets for your RVs, SUVs, Sailboats, Motorcycles, and any other vehicle that runs on land or water.
Ginsco Dual USB Wired Charger Socket
This wired charger socket is fairly easy to install in your car or RV and can perfectly replace the cigarette lighter. It comes with two USB ports and a 3.3 feet long wire with double insulation, which adds an extra layer of safety to this wired charger socket. You could always light your cigarettes without the electric lighter but just imagine how annoying it would be to run out of battery on one of your smart devices.
As it comes with dual USB, you can charge multiple devices at once, and when not in use, you could simply put the protector cap on it. So, if you have kids and are worried about spills damaging your in-vehicle accessories, then this one's for you. Just a word of caution! Although we say that it is fairly easy to install this, that largely depends on the model of your vehicle.
Quick Charge 3.0 Wired Charger Socket for Smart Devices
As the name goes, the Quick Charge 3.0 wired charger lets you charge your smart devices at least four times faster than the rest. Its smart IC technology lets you charge up to 80 percent in less than 35 minutes, which is a lot faster than most other wired charger sockets that are available for smart devices.
However, before purchasing this product, verify that it is compatible with your vehicle by confirming that your vehicle has a voltage between DC 12 to 24 Volts. If that criterion is satisfied, then installing this in your RV or Yacht is as simple as drilling an 11/8 hole, screwing it up from behind and connecting the wires. To save energy, you can even connect it to a switch that lets you turn it on or turn it down. As this wired charger is CE and RoHS certified, you can use it without worrying about possible hazards.
YonHan 36W Wired Charger Socket for Smart Devices
The YonHan wired charger is made from aluminum and PVC, so you can be sure that it would stand the tests of time. Well, it isn't just ideal for those who sail but can also turn out to be great when installed in RVs, SUVs and Golf carts. As you may have already guessed, the maximum power consumption of this wired charger socket is just 36 Watts. Also, this wired charger socket is compatible with most smart devices. However, you need to ensure that the cable supports 3.0 quick charge or below while buying the cable. By doing that you ensure that your socket charges your smart devices real fast.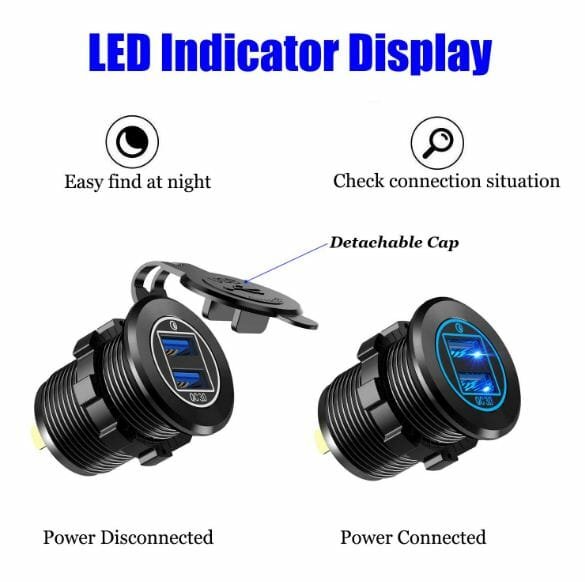 AI Share's Wired Charger Socket
AI Share's wired charger socket is one of the most promising products that charge at least 40 percent faster than the regular chargers. This product is designed to last longer on both land and water, as the inner part of this socket is made from pure copper. It is worth taking note of that most other products contain iron, which is prone to rust due to water and moisture. So replacing that with copper is a smart move by AI, which also makes it last longer. Also, we found this product to be water-resistant to a great extent as it can easily withstand some water splashes. So you can be sure that it can last pretty long both in your SUV and on your boat.
USMEI Wired Charger Socket
The USMEI wired charger socket comes with a smart IC that enables better performance and faster charging. It is a must-have for RV and boat owners, who spend more time traveling but need to stay connected. The dual USB ports let you charge multiple smart devices and it does the job pretty well. It comes with a real-time battery monitor that lets you keep a tab on the voltage.
As the product is water and dust resistant, it is ideal for sailing and camping as well. When not in use, you can always keep it secure with the elastic waterproof cover. The USMEI wired charger socket also comes with in-built safety features that can resist voltage fluctuations. In fact, this is something that you need to look for, especially if you plan to use the wired charger socket while sailing.
Rydonair Aluminum wired charger socket
This one is our favorites simply because it is one of the few wired charger sockets that come without an LED light. So if you've been specifically looking out for one to save up some of your vehicle's battery, then this one's for you. It also comes with a rubberized cap that keeps the USB ports safe from dust and moisture. As this product makes use of aircraft-grade aluminum, you can be sure of stable power output. In fact, that works great for your sailboat, especially if you have young and restless kids. The types who can't do without their tablets and other gadgets.
Blue Sea Wired Charger Socket
This wired charger socket comes with a circuit board that's ready to face the harsh marine atmosphere. The circuit board comes with a black conformal coating that can resist moisture. It also comes with a cap that can keep dust and debris out. This is essential for wired charger sockets used on boats because you don't use it all through the year.
This product also comes with additional security features that ensure protection against short circuit, thermal overload and reverse polarity. As it comes with dual USB ports, you can charge two devices at once, but the green LED light is something that annoys us. Also, the fact that you need to buy the 2A fuse separately isn't very appealing to us. If these two issues don't bother you then we'd say that this is a wonderful product and a great bargain.
Brea Deep
If you are fancy biking through regions like Houston, Miami, Orlando, or any other rainy regions, then here's just what you need. As you are probably looking out for a waterproof wired charger socket, this one by Brea Deep is completely waterproof, affordable and easy to install.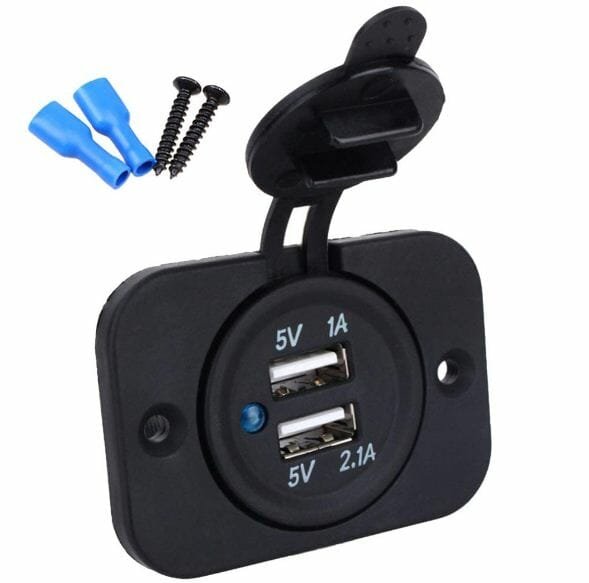 Also, it can resist high temperatures and is designed to stand through the test of time. It also comes with a stable IC, which enhances its performance and prevents hazards as it can deal with voltage fluctuations quite efficiently. The input voltage of this wired charger socket is between 12 to 24 volts and the output is approximately 5 volts. Due to the wide range of compatibility that this product offers, you can use it to charge your smartphones, portable cameras, Ipads, GPS and a lot more.
Blue Fire's QC 3.0 Wired Charger Socket
Want a wired charger socket that can work between -20 and 80 degrees Celsius? Try Blue Fire's wired charger which comes with aluminum alloy that's designed to withstand such adverse climatic conditions. With this IP66-rated product, you don't have to worry about dust or water. Now that makes it perfect for boats, RVs, motorcycles and more. Also, this product is certified by CE and RoHS and so you can be pretty sure of its quality standards.
Before you take off on a vacation, it is critical that you have access to your emails, social media, and all your other electronic toys. Especially, if you plan to travel with your kids, then you definitely need additional charging sockets. Nonetheless, it is equally important to ensure your safety, while you plan to spend days inside your RV or sailboat. So, we have pulled out some of the most efficient and durable wired chargers for your smart devices. Most of the products that we have listed adhere to certain quality standards, making it easier for you to decide.