How to Use Stock Market Trading App Edelweiss Mobile Trader?
Stock Market Trading is done by millions of people in India. It has evolved significantly from purchasing company shares by submitting physical paper forms to buying shares on broking firm websites online through few easy clicks. Taking this concept of easy stock trading one step further is the potential to monitor and trade stocks on the move i.e. through your portable smartphone or tablet using some highly efficient stock market trading app. A high-utility stock trading app named Edelweiss Mobile Trader has been launched recently for multiple mobile platforms like Android, Windows and iOS.
In this article, we shall discuss the features of this mobile trading app from Edelweiss that make it secure, easy-to-use and provide live streaming of Indian stock market i.e. real-time stock quotes without a trading account. Read more about this amazing stock market online platform for quick monitoring and easy stock transactions.
How to download Edelweiss Mobile Trading app?
It was developed by Edelweiss Broking Limited. This free to use trading app is available for installation on following 3 platforms:
Free Download Edelweiss Mobile Trader App for Android
Free Download Mobile Trader Application of Edelweiss for iOS
Free Download Edelweiss Mobile Trading App for Windows
Tips to Use Mobile Trader App from Edelweiss
Once you download the app based on your OS platform, you can start using it without any requirement for creating a trading account. This trading and investing mobile application is pretty user-friendly. You can start by checking out market indices (global as well as Indian).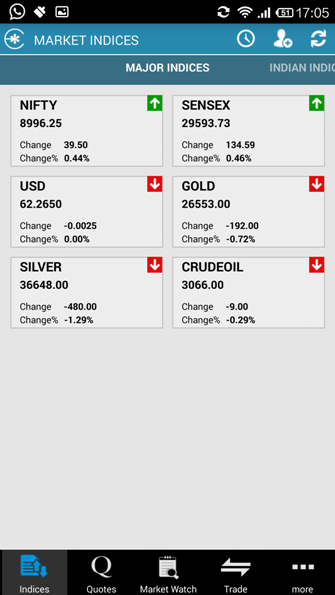 You can then move on to check real-time quotes of various stocks that you want to track or those stocks that you already have in your portfolio. You can use this app as your portfolio tracker. It empowers the app user to check different types of charts for stocks. You can view the line charts or OHLC charts or Candle chart patterns or Area chart patterns for your technical stock analysis.
This app has 'Market Watch sync' feature that enables one to save list of stocks created on Xtreme Trader, Website or Xpress on the smartphone device via Mobile Trader. The Insta News feature entitles you to correct information or news about the stocks you plan to buy, thereby assisting you in your stock purchase decision.
If you have been following few stocks for quite a number of days and thinking about buying them in future, then, the 'Recent Search History' feature for the 'Get Quotes' section of this app can help you as it smartly remembers the last 5 stocks you searched.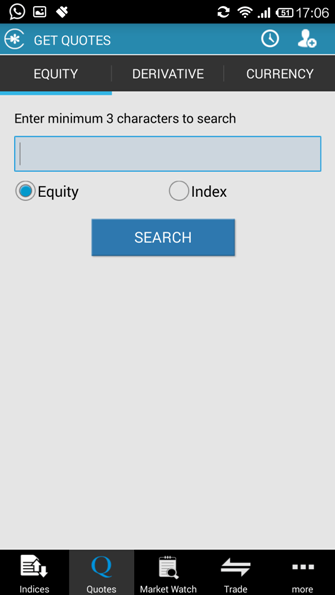 The 'Trading' option will seek your trading account login details. If you own a trading account, you can enter your login credentials and start accessing your dashboard. It is a one-step login process. You have to register for your PIN on your smart device (say Android device) once and use it for login next time. Also, one can use the same registered PIN on 5 different smart devices (say all 5 Android devices).
With a trading account, you can keep track of your stock portfolio, handle secured funds transfer (transfer funds from bank account to trading one from smartphone, manage trading fund limits and check fund transaction status), invest in Mutual Funds as well as invest in blue-chip company stocks via eSIP option. You can even check detailed reports of your cash flow statements, transactions, recent trades, etc.
With an authorized Edelweiss Mobile Trader account, you can even invest in IPOs, NCDs and bonds by applying online without the need to submit physical forms. Another useful feature is to set SMS or email alerts for stocks of your interest.
All in all, this is a great addition to the list of already available stock market apps for different mobile operating systems. We can see plenty of Mobile Trader app advertisements on Moneycontrol stock market website. Getting promoted by a leading stock market based website in itself is a great boost to this app. And the wonderful features of this app do make it a must-have app for every stock investor or trader. Please share your opinion about this share trading app from Edelweiss.