Use YouTube's Artist Page To Find All Music Videos Of A Singer Or Band
Just perform a simple search for your favorite music band or singer at YouTube and you are shown tons and thousands of music videos and playlists. Most of these videos are uploaded by other YouTube users across the globe while some of these videos may be official.
Although YouTube has an official music videos page at youtube.com/music, here is something more interesting for music fans who want to find all the information about a particular singer, music album or a pop artist.
It's the "YouTube Artist" page which is attached to every music video on YouTube related with a popular music album, band or singer. Whenever you are watching a promotional video or a very popular music video of a singer on YouTube, simply click the link to the corresponding artist page.
On the artist page, you will find more information about the band, can listen to auto playlists, watch recent live shows and learn more about upcoming events (see example).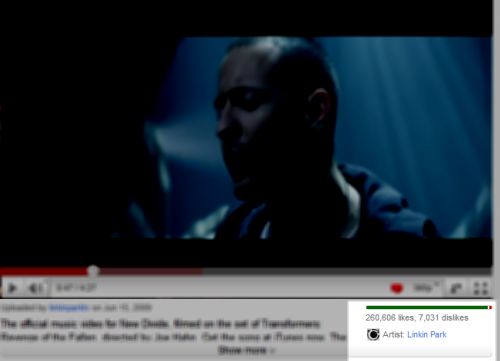 So if you are a fan of Linkin park and want to find out all the playlists of  this particular band on YouTube, click through the artist link and you can find all the music videos about Linkin park at one page. Additionally, the artist page will also contain a full biography of the singer or music band and you can read more information about their recent events or live shows.
Please note that the artist page of a singer or band is not curated or maintained by the channel owner. It's generated dynamically by YouTube so that fans of a particular band can find all the information about an artist on a single page.
Here is how an artist page of  YouTube looks like:
How To Use YouTube's Artist Page More Effectively
If you have never used YouTube's artist page before, here are some tips you should remember.
See All the videos of a band or singer: Instead of using YouTube's advanced search commands, go to youtube.com/artist/<artistname> and you can find all the videos, stage performances and live shows of a band or singer, all on one page. There is no need to recursively search for the artist name over and over again.
Add popular videos of the artist to your playlist: To add a particular video to one of your existing playlists, click the "+" drop-down menu and choose the playlist where you want to add the video to.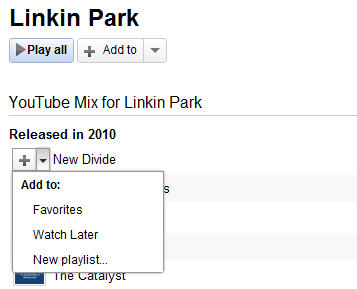 Additionally, you can also bookmark a video to your YouTube favorites, add it to the "Watch Later" queue or create a new playlist from a combination of videos on the Artist page. So one good way to download all the videos of your favorite singer is to add them to a unique playlist and then use this desktop utility to download an entire YouTube playlist on your computer, ready for offline viewing.
Find recent Live performances: Another good use of YouTube's artist page is that you can find out whether a recent live show or stage performance of the same artist is planned or not. If Yes, you can click through the "Events" link and find the location and date of the live performance of the same artist.
Related: More YouTube tips.