5 Best Games to Play in Google Chrome Browser
Google Chrome is one of the fastest and mostly used Web browsers. It offers you many features and functionalities which are missing in other web browsers. Google Chrome apart from being a successful web browser, it offers you many extensions to meet your needs. These extensions might be useful in many ways. If you are a game lover, then you can install games as extensions and play them right in your browser itself.
5 Best Games for Google Chrome Browser
In present days, we play games in smart devices and in desktop by installing them. Now, you can play games in your Chrome browser by just installing them as extensions. There are many such games and I will list down the 5 best games to play in Google Chrome web browser. You can install these games from the Chrome Web store for free of cost.
Recommended: 10 Best Google Chrome Tips and Tricks
1. Angry Birds
Angry Birds has become so popular and it does not need any introduction. Since, the day it was released by Rovio, it has bagged good reputation all over the world. It is being played in smart mobiles, Tablets, Play Station and what not; it is played in every smart device. It is even played in Facebook. Now, Google Chrome browser is not an exception for that. You can play Angry Birds in your Chrome browser for free by installing it from the Chrome Web store.
It has supports many levels which are not been shown if you play in other devices. So, there are more levels which are not been disclosed if you play in other smart devices. This is really one of the best games to play in Google Chrome browser.
2. Cut the Rope
Cut the Rope is also a popular game as Angry Birds. This Physics based game challenges you in every level and was developed in Objective-C and Java Script. Hidden surprises, collecting gold stars, unlocking hard levels based on your progress in basic level and many more like this made it's entry in to the best games to play in Google Chrome browser. It gives you good gaming experience and the fun. Apart from just fun, it is the most addictive game.
Install Cut the Rope in Chrome
3. Plants vs Zombies
Plants vs Zombies is the best Tower defense game. Main aim of you is to save your home from Zombies with help of plants. You can make use of cherry bombs, pea shooters and many more things from plants and need to defend Zombies. This is really a fun oriented game with little graphics which can be enjoyed by playing in Google Chrome browser. You can play the trial version for free in Chrome browser and if needed you can get the paid version.
Install Plants vs Zombies in Chrome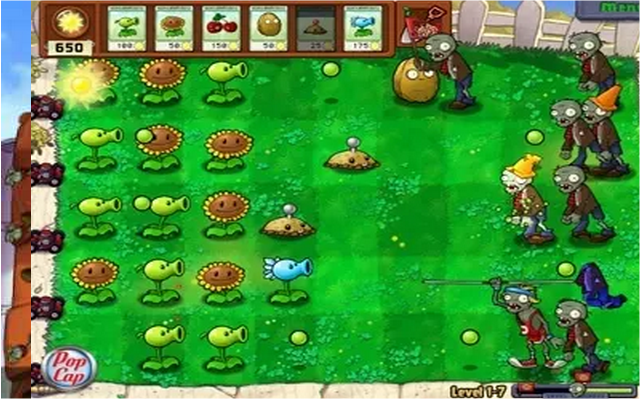 4. Bejeweled
Bejeweled is the popular puzzle game which was developed for Android platform. Bejeweled for Chrome browser has many features like Speed modes, Classic modes and many other. It was developed in HTML5 which is being supported by Chrome browser and you can play this game in desktop and Laptop as well. Visuals and background sound are highlights of this game to be played in your Chrome browser.
5. Rush Team
Rush Team has gained popularity because of it's graphics and way of playing it. It is very easy to play and has graphics similar to Battlefield Play4Free. It provides you two game modes as Classic All vs All and Team Death Match. It is one of the best multi player games. Game is very clearly seen in Chrome browser and weapons look realistic. Sounds of shots are clear and create you the ambiance of battlefield.
But, one thing to remember about this game is it takes a while to load in the Chrome browser, but that is not at all a negative when compared to the experience it gives us.
Install Rush Team in Chrome
Conclusion
These are some of the best games to play ion your Google Chrome browser. These are free and you can get them from Chrome Web store. Some of these games will also allow you to play online and with players on Facebook. Once installed in Chrome browser, you can play some of these games without even internet.
Have you played any of these games in your Chrome browser? If you have anything to add, please, do share with us through comments.