Best Android Apps And Tricks To Manage Your Contacts
Android users generally synchronize Gmail and Facebook account right after installing the app or getting a new Android mobile. This is actually the method to obtain an enormous problem. In case you have complied, I know how many problems you have encountered to get rid of unnecessary email IDs those have taken place as contact.
Consequently, here are some handy Android apps and little tricks, what you might not know. Nevertheless, today, you will find some nifty tricks, what you can do through those apps in order to cope with your endless contacts.
Best Tricks To Manage Your Contacts
The following list incorporates a couple of tricks, what may let you organize your contacts and deal with them in a better way. Don't stop until you get the best method.
Hide Unnecessary Contacts Based On Source
The most convenient trick to regulate endless contacts would be to conceal useless saved numbers according to source. Here 'source' represents Email ID, WhatsApp, Google+ or SIM.
If you have all of these, it is possible to hide or show phone numbers by distinct source. To do so, you do not have to install any kind of third party app. Stock Contact app is enough to deal with it.
To hide needless contacts or hide contacts those are stored temporarily, do follow the subsequent steps.
At first, open up your stock Contact app and tap on Menu button. Now, select Contacts to display.
After that, the following screen will be appeared and you need to select the source.
If you want to display only those contacts, who are connected with you on WhatsApp, select WhatsApp. If you want to display those contacts, who are connected with you on Google Plus, select Google+ and so on.
In this way, you can filtrate your contacts as per the source.
Remove Duplicate Contacts using Google Contacts
All of us have some friends and people those are hooked up in professional and personal life. At the same time, if you have two email IDs to handle your professional and personal life, you might have already experienced the most popular issue called "contact duplication".
Conversely, if you are using more than one Email ID on a single Android device, your contacts will be synchronized across all email IDs. That is why you will definitely get plenty of duplicate contacts and end up wasting your time to remove them. Additionally, those deleted contacts get wiped temporarily. That means your deleted contacts could appear later.
Having said that, here is a small technique that will assist you to delete your duplicate contacts forever from a particular email ID. This is known as Google Contacts Preview, which is available on Android 5.0+ or Android Lollipop as an app. But, in case you have later version, you can consider the web version of refurbished Google Contacts for getting things done.
Just head over to Google Contacts website and sign in with your email ID. Right after signing in, this tool will let you know about duplicate contacts.
Just click on View Duplicates, you will get a list of duplicate contacts on your screen. Now, you have two options. You can merge them either one by one or at once. If you want to merge them one after one, just click on the Merge button that is positioned on the upper right section of each box.
Alternatively, press the Merge All button to merge all duplicate contacts at once.
That's it! Now you will get an uncluttered UI on your Android's Contact app.
Note: If you have somehow missed the View Duplicates notification, you can find them later by clicking on Find duplicates button.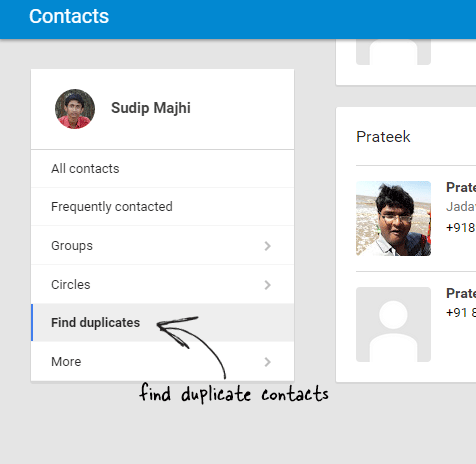 Read Also: Remove Duplicate Contacts In Gmail – Merge and Consolidate Contacts
Best Android Apps To Manage Your Contacts
Here are some useful Android apps to manage your cluttered Contact list.
1. Contact+ (Free)
Truly speaking, it was not as popular as it is today. After being messed up, a huge percent if people end up with Contact+. Contact+ have options of Google Contacts Preview as well as latest stock Contact app. Contact+ is available for Android 2.3 or later version and the app size varies on Android device. You can do the following things using Contact+,
Filter contacts as per source (i.e. Gmail etc.)
Find and delete/merge duplicate contacts
Integrate various social networking sites and manage them without clutter
Manage contacts on Android Wear
Filter contact as per priority
Block Call and SMS
The most beautiful thing of Contact+ is it shows all duplicate contacts right after setting up. You can find a notification on the status bar.

If you are an iOS user, you can download Contact+ from here. Download Contact+ widget to display frequently used contacts on your home screen and lock screen.
2. Truedialer – Dialer & Phone (Free)
Truedialer is a dialer app for Android, which is available for Android 4.0 and later version. You can use this free application to manage your contacts and find spam contacts. Getting unnecessary calls is a common problem among people. Therefore, Treudialer will help you to know whether a call is from a fake person or not. Treudialer gathers all reports and shows others, who often get calls from same numbers. Some other useful features are as follows,
Merge duplicate contact – merge phone number or person
Block unknown calls
Report unknown calls and let others know
3. Contacts Optimizer (Free)
This is probably the fastest way to delete duplicate contacts and organize your saved numbers. It can deal with various sources including Phone, SIM, Google+ etc. The UI is neat and clean. Hence, you will surely get better user experience with this app. Contacts Optimizer can do numerous things including
Erase duplicate contacts
Digitalize vanity numbers. Vanity numbers mean 1-800-IS-BIGROCK
Mass delete contacts
Show invalid numbers
Note: Not all the options are free. You need to pay couple of dollars or purchase the PRO version to get all features.
4. Simpler Contacts & Dialer (Free)
Simpler Contacts & Dialer app is available at free of cost and you can download it on Android 4.0 or later version. It not only comes with useful features but also the appearance is better than any other similar apps. This is why it has been downloaded more than 100 thousand times. Simpler Contacts & Dialer app can do the following things fluently,
Merge duplicate contacts
Use filter to show/hide contacts
Show contacts based on priority
Backup contacts and send that via email to anybody or anywhere
Show frequently used contacts
Delete contacts if it doesn't have a name/email/phone number (it works great if you have a large number of Google+ contacts)
Note: You need to spend $2.99 to get all the features including Theme.
5. Contakts Address Book (Free)
Contaks Address Book is a beautifully designed Android contact app that is available for Android 4.0 and later version. If you mainly try to get Google+ contacts, this app can help you with. By default, it shows only Google Contacts. However, you can certainly get all contacts, which will mess up your screen. Contaks Address Book can filter your saved contacts according to favorite, frequently used, recently connected and so on.
You can easily import your Facebook contacts without messing up. The UI looks quite good. The only bad thins is it shows third party advertisements on the free edition. However, you can get rid of all advertisements by spending only $1.
Wrap Up
Getting same contacts multiple times is the main problem for them, who have endless contact list. You can certainly create groups to organize your contacts but, eventually, you will get all your contacts under one roof. However, these aforementioned tricks and apps can deal with that particular problem cleverly. Try them and do let us know the best app.