How To Receive Your Android Notifications On PC Instantly
If you are an avid user of both your laptop and your Android like me, you must have been through those irritating moments when you want to quickly exchange things between them and end up sending an email to yourself. It may be simply links or files like images and documents. From now on, you can use PushBullet. It is an Android app plus a browser extension that makes pushing things between your computer and smartphone extremely easy and quick. And what's more, you can read your phone's notifications right from your laptop and even forward things instantly to your friends. You can download PushBullet for Android here and the browser extension here. Make sure to install them both and move on to the following tutorial to get you started.
How To Use PushBullet on Android
From the above given links you need to first install PushBullet both on your Android smartphone and as an extension for your respective browser to receive your android notifications on pc. I will be using Google Chrome for this tutorial. Let's start with the Android app first. Once you download and install the app on your phone, you will be asked to 'Sign in with Google' along with a preview of the app.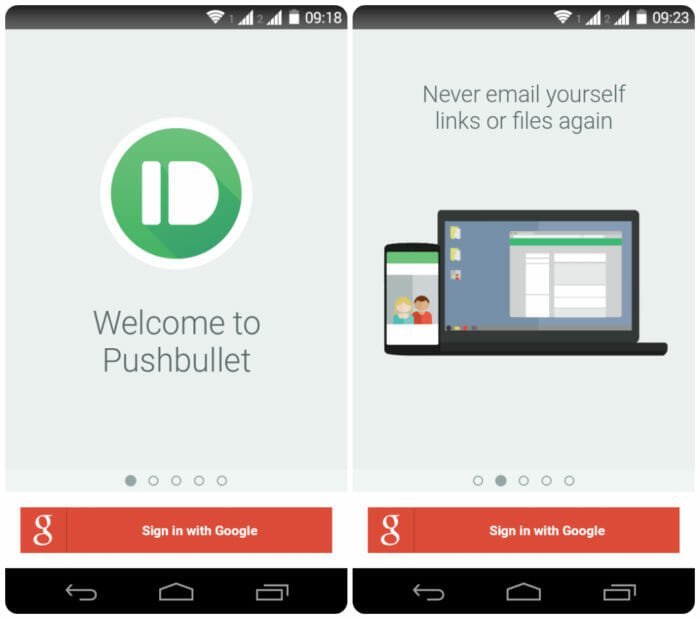 As this is your first time with the app, it will prompt you to enable it's Notification access in the settings menu. Notifications are important for the purpose of the app's functioning so go ahead and tap the check box in the settings menu that pops up.
The app then asks you to install the browser extension on your computer but we will get back to it's functioning later. Once the set up is complete, you can experience the sleek material design of the app.
All your pushes will be accessible in the central section of the app under 'Everything'. The left panel hosts the main functions including Pushes, Channels and the option to Add friends. Android and PC notifications can also be disabled/enabled accordingly. More personalization can be done by diving in the Settings menu. Under the channels section, you can add major channels to receive pushes on the latest news and advancements. In this way, PushBullet also acts as an RSS reader. If you want to add channels other than those mentioned, scroll down to the very end of the list and enter the tag for the target channel.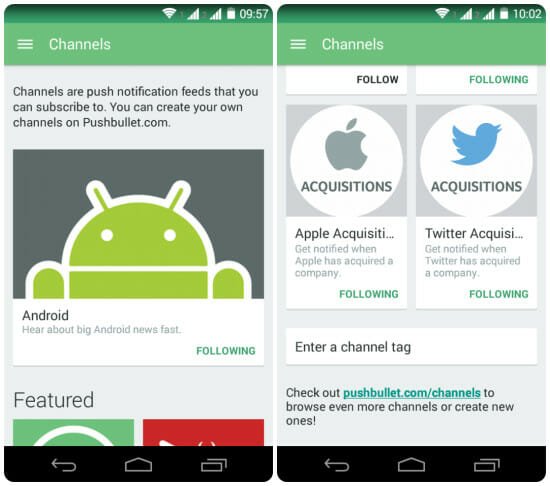 The right hand panel of the app is dedicated to segregating pushes on the basis of the source, either yourself, your contacts or the channels you have subscribed to. If you plan to use the app through multiple devices, you can also access pushes of every device under the Devices option. This wraps up the Android tutorial of the app. Move on to the next section to set-up Pushbullet on your computer.
How To Use PushBullet On Your Computer
If you haven't done it already, install the browser extension of PushBullet on your computer from the previously mentioned link. When the task is done, a dedicated app icon will be added to your browser for easy accessibility.
Clicking on the icon will prompt you to either sign up on the app's website or sign in with an existing account. Since we have already set up Pushbullet on our phone, you can go ahead and simply sign in with your Google account. Be sure to use the same email which has been used for the app.
Once again you will see an overview of the service in the next screen. Continue with the sign in process and get started. PushBullet will now sync your phone with your computer and immediately take you to the personalization options. You can go about the settings as per your preferences and finish the PC set up.
For more settings to choose from, you can click on the extension icon and go to options under in the settings menu. Now every time you click on the PushBullet browser icon, you can immediately send the current tab's link to a particular or all of your connected devices at once with the 'Push It!' button. Additionally, it can even be a note or a file and the receiver can be an email contact or a connected pushbullet friend.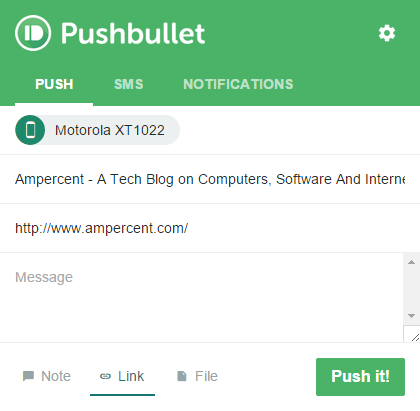 The link (note or file) will be received as a notification on the device in a flash. Furthermore, your device contact list is available on your computer and smses can be promptly sent without even picking up the phone.
At the same time, every time your phone receives a message, it will instantly pop up as a notification on your computer as depicted.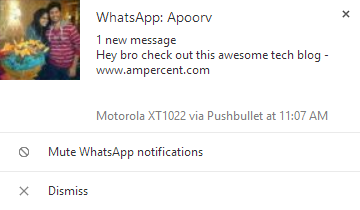 Conclusion
This concludes our tutorial for today. I am a regular user of PushBullet and it surely makes life easy when you regularly use your android and pc or have too many gadgets to handle. You can also go ahead and check out some of the other awesome Google Chrome extensions as a bonus : 9 Chrome Extensions You Must Have.