Best 5 Mobile Wallets for Online Payments in India
"I like to shop online and earn good discounts" is fast becoming a trending statement from many smartphone users in India. You will agree that India is fast becoming a country of mobiles (with more than a billion mobile connections) and internet (with around 200 million internet users). With the trend of online shopping fast catching up in cities, Indian e-tailers (popular e-commerce portals) have grown up to provide the option of 'Cash on Delivery' to lure more customers as till date majority of Indians still don't own a credit or debit card. However, with time, there has been an increase in people taking up to different digital payment platforms or mobile wallets that have made it easy to carry out online shopping payments, online utility bill payments, mobile recharge online, DTH recharge online, online bus / movie ticket booking, etc.
The rate at which different mobile wallets (or m-wallets) are being introduced and embraced in India is stunning. Mobile payment is a great idea for start-ups and young entrepreneurs, be it Indian mobile wallet companies or mobile wallet apps. It has been realized that the payment trend for online services and products needs to shift slowly from COD (Cash On Delivery) to 'Payment On Delivery' or 'Payment On Order'; and this payment has to occur using a mobile phone. Hence, the huge paradigm shift towards mobile wallet space in recent times.
In this article, we shall go through a list of top mobile wallet apps suitable for online payments (or digital payments) in India. We will have a look at how these digital payment wallets aim to provide all possible mobile payment alternatives to the common query most Indians have 'How do I pay online?'
How to Use Mobile Wallet Apps for Online Payments?
Before we discuss about the best mobile wallet companies (and apps) in India, let's try and understand the steps to use mobile wallet to make online payments for a variety of things. You can register for free with your favorite mobile wallet app using an email id and password. Once you are logged into your account, you can simply select a suitable payment method among various popular alternatives like net banking transfer, debit card, credit card, ATM transfer, etc. Then, you can add money to your mobile wallet for making online prepaid mobile payment (and postpaid), DTH recharge, datacard bill payment, electricity bill payment, gas bill payment, landline phone bill payment, etc.
Many e-commerce sites and ticket booking sites like Bookmyshow, Groupon, Redbus, MakeMyTrip, Snapdeal, Flipkart, Amazon, etc. allow online consumers to make use of mobile wallets to complete payment during checkout. The mobile wallets are now also helping to make payments for top cab rental services from Ola, Uber, etc. Thus, you can enjoy secure online transactions using any of your preferred mobile wallet service. On top of it, most mobile wallets offer some cashback for making online payments once in a while and you can make the most of these cashback offers by searching for relevant promo codes or coupon codes before making any mobile wallet payment.
Types of Mobile Wallets
As per RBI, mobile wallets (or e-wallets) are of 3 different types – closed wallets, semi-closed wallets and open wallets. Closed mobile wallets can be used only for that particular company (or online merchant) goods and services. No redemption or cash withdrawal is possible with such wallets. Examples of closed wallets would be the ones offered by MakeMyTrip, Jabong, etc. where your respective MakeMyTrip or Jabong account gets credited with the refund amount in case of any order cancellation or product return. You can use the refund amount only to make purchases from that merchant itself.
Semi-closed wallets also do not allow redemption or cash withdrawal. They can be used to transact for goods and services (inclusive of financial services) at several different merchant locations that have the required tie-up (contract) with the wallet issuing company to accept payments. For example, Paytm, MobiKwik, PayUMoney, Oxigen, etc. are all semi-closed wallets and they are perhaps the most widely used mobile wallets in India currently.
Open Wallets are those that allow redemption as well as cash withdrawals (from automated teller machines / business correspondents) in addition to the other features offered by semi-closed ones. A perfect example is the Vodafone powered M-pesa wallet.
Top 5 Mobile Wallets
1. Paytm (Semi-closed wallet)
This is easily one of the most popular mobile wallet app in India. As a mobile payment service platform launched not so long back in 2014, Paytm has become known to be the only mobile wallet provider in India that also offers a mobile marketplace for online shoppers. This digital wallet is run by One97 company (supported by Alibaba). According to Paytm founder and CEO, Vijay Shekar Sharma, they have become the largest e-commerce transaction platform in India after having easily crossed the magical figure of 50 million customers. In fact, the company aims to cross the 100-million customers mark by 2016. It has gained in popularity and the Twitter tag #PaytmKaro has been trending quite a lot, especially since the Paytm TV advertisement has been showcased.
In addition to the normal online payment benefits (as discussed earlier for general mobile wallets) offered by Paytm, it also gives tonnes of shopping options to users from more than 3 million products. It also provides a 'chat to bargain' feature that enables you to have a virtual chat with a real person and bargain for product prices as well as any freebies. With a user-friendly order history page, you can keep track of all past transactions with Paytm and repeat any transaction order quickly with utmost ease. You can anytime avail Paytm's 24×7 customer care facility by writing to care@paytm.com.
A new big feature introduced by Paytm earlier this year is the ability of users to transfer money to their bank accounts. You can easily transfer funds to your bank account or your friend's bank account using Paytm on mobile. This method known as IMPS (Immediate Payment Service to make payment through bank account using your mobile) offers more reliability than cash. There is a possibility of having more than 50,000 Paytm physical outlets opened across India to enable users to physically load money into their online Paytm wallets.
You can get a first-hand experience of Paytm services at Paytm official website. To download the Paytm mobile app, you can use the below mentioned links:
Paytm App Free Download on Android
Install Paytm App for iOS
Windows Paytm Application Download for free
Paytm App Installation for Blackberry
2. Oxigen Wallet (Semi-closed wallet)
The Oxigen wallet (e-wallet) is powered by Oxigen Services India Private Ltd., that was founded way back in 2004 by Pramod Saxena in tie-up with Blue Label Telecom, which is a South African company, as a payment solutions provider. Though it ventured into the online mobile wallet space only in 2014, it has established itself as a leader among retail outlets for payment services with more than 1,30,000 outlets across India and more than 35 million transactions being conducted on a monthly basis.
Oxigen Wallet is a prepaid non-bank wallet that has been approved by RBI. It has emerged as India's first non-bank wallet in tie-up with NPCI for instant money transfer services. You can use Oxigen wallet to transfer money quickly from your mobile at anytime and from anywhere. The transfer can be made to any mobile phone number on any cellular network in India as well as to any bank account PAN India using IMPS (Immediate Payment Service) or NEFT transfer to most major banks like SBI, Citibank, Axis bank, HDFC Bank, Yes bank, ICICI Bank, IOB, PNB, etc. in India.
The best part about Oxigen wallet is because it is certified by RBI, it is pretty reliable, secure and bank grade. You can utilize it for all kinds of online bill payments or online recharge that any mobile wallet can be used for. In addition, it can be used to pay while shopping on online portals (as it has partnered with more than 2000+ online merchants).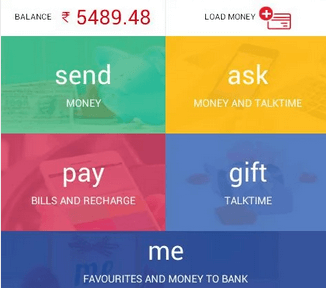 You can access the official website of Oxigen here. To download the Oxigen wallet application, you can check out below mentioned links:
Oxigen Wallet App Download for Windows
Install Oxigen Android App
iOS App of Oxigen Wallet
3. MobiKwik (Semi-closed wallet)
This is yet another very widely used mobile wallet in India powered by MobiKwik Systems Private Limited. MobiKwik founder and CEO is Bipin Preet Singh. This mobile payment solutions provider also has a payment gateway under the name 'Zaakpay'. This e-wallet serves more than 17 million customers on its online and offline platform. One can shop across more than 50,000 merchants (such as Cafe Coffee Day, Pizza Hut, Dominos Pizza, Jabong, Snapdeal, Shopclues, etc.) PAN India using this digital wallet service.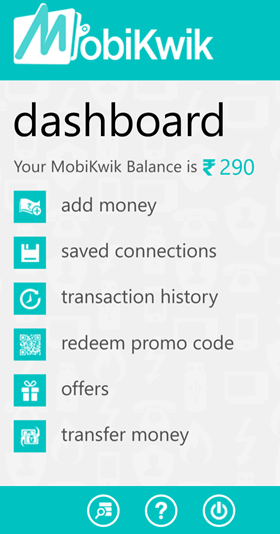 MobiKwik already owns the 'prepaid payment instrument' license from RBI, and has already applied for the 'payments bank' license to RBI in Feb'2015. One thing is sure, it is definitely a safe and secure payment option for mobile users. A new feature added to MobiKwik application is the option for people who do not wish to use credit cards, debit cards or netbanking for online payments. For such people, MobiKwik has launched an alternative (only in Gurgaon currently), where they would pickup cash from users and load it to their corresponding MobiKwik wallet. How convenient can any mobile wallet service get!
For further information, one can access Mobikwik website. To get access to Mobikwik application for your mobile device, please check the below download links:
Free Download MobiKwik App for Android
Download MobiKwik iOS App
Install MobiKwik Windows App
4. PayUMoney (Semi-closed wallet)
PayU had launched the PayUMoney e-wallet service in India. The PayUMoney wallet empowers you to make online payment via credit cards, debit cards, netbanking, etc. as well as using the PayUMoney reward points earned (as users get guaranteed rewards for every transaction). You can enjoy secure transactions at more than 65,000 websites and merchants using PayUMoney. A key feature offered is the PayUMoney Buyer Protection that ensures that you get the purchased product or service, else their dispute resolution team will sort it out with the concerned merchant for your rightful purchase and get your money refund.
You can access more details at PayUMoney website. You can download the PayUMoney Android App here.
5. Vodafone M-pesa (Open and Semi-closed wallet)
This is a unique mobile payment service (mobile-based money transfer and micro-financing service) in the sense that it is made available by Vodafone as a semi-closed wallet as well as an open mobile wallet (through its wholly owned subsidiary Vodafone m-pesa Limited [VMPL] in a partnership with ICICI bank). Due to this, M-pesa supports cash withdrawal or redemption by the user. VMPL has the required RBI authorization to setup as well as operate a payment system in India. Having been launched in Kenya and Tanzania in 2007 for mobile operators Safaricom and Vodacom by Vodafone, M-pesa has emerged as a highly advanced mobile payment system (a branchless banking service) in the world.
The Vodafone M-pesa mobile app is one of the quickest and secure ways to conduct mobile transactions, especially to send money to your friends and family. They can then withdraw or receive the money at any of the 85,000+ m-pesa agents across India. The process of money deposit (to any mobile phone across various operators) and withdrawal is kept extremely simple that any layman can handle M-pesa money transfer easily.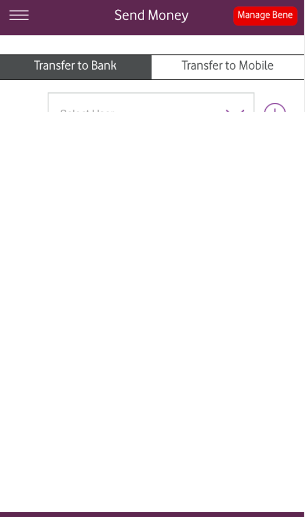 If you wish to transfer money using M-pesa app, all you have to do is enter the recipient's number, amount to be transferred, 4-digit secret pin and then press 'Send'. The recipient of your money will get a SMS which they can show to their nearest M-pesa agent along with an ID proof in order to withdraw / collect the money.
You can also use this app for other mobile wallet functions like online prepaid recharge, postpaid recharge (only Vodafone), DTH recharge (for Dish TV, Airtel, Tata Sky, Big TV, Sun Direct and Videocon), utility bill payment, broadband internet recharge, quick money transfer to any bank account or M-pesa wallet, online shopping, etc.
One can get related information at M-pesa website. You can easily download the free M-pesa Android application from Google Playstore at this link.
The above list includes the 5 most popular mobile payment wallets in India. There are many other widely used digital wallets like Citrus Pay, mRupee, Freecharge (more of a mobile recharge wallet), etc. With the growing popularity of global online wallets like Apple Pay, Google wallet, PayPal, etc., the digital trend in India has shifted gears and embraced mobile wallets with open arms. As long as they are making lives easier for people in India, no one is complaining! Have you tried any of the digital mobile wallet apps yet? Please feel free to share your experience below. Thanks for reading!