Best Extensions to Manage New Tab Page in Chrome and Firefox
Both browsers aka Chrome and Firefox have a quite good option to manage the new tab page. For instance, you can manage most visited websites, search bar, etc. in Firefox's new tab page. The same thing can be found in Google Chrome as well. However, if you are not happy with those things and you want to manage the new tab page to an optimum level, do check out these extensions. These free extensions will let you include more features in the new tab page so that you can make most out of this.
Best Extensions to Manage New Tab Page in Chrome
1] Home – New Tab Page
Home is one of the best new tab page extension for Google Chrome that you can use to utilize your new tab page to get the most out of it. It helps you to get various options such as popular websites, notifications from various websites, date-time-day, and so on. You can also get the weather forecast on the new tab page. Apart from that, the traditional search bar is also available after installing this extension. Right from the control panel of this extension, you can manage different website links, icon size, and more others.
2] Start – A Better New Tab
Start is yet another awesome new tab page extension for Google Chrome. With the help of this website, you can read recent email, check out the top or most visited websites, find Reddit posts, get Facebook notifications/messages/friend requests and so on. Apart from that, you will get a top sites list, which includes various sites with icons base don your preference. The weather forecast is also available on the same page. It doesn't matter whether you use a single app mentioned in the list or all of them, you will certainly get a beautiful wallpaper along with it.
3] Awesome New Tab Page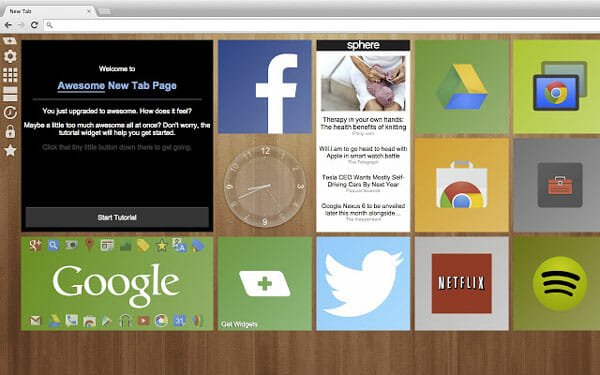 Awesome New Tab Page is very handy when you need to get everything bigger than usual. It will show lots of websites on your new tab page with a comparatively bigger icon. Talking about functionalities, you will get some features like these:
Dynamic widgets that do more than just take you places
Rearrange, add and remove tiles to fit your needs
Create custom shortcuts (just like apps) anywhere on the web
Search websites directly from custom shortcuts
Resize apps, shortcuts, and even some widgets
If you're a web developer, you can make your own widgets using HTML/CSS/JavaScript
Sphere personalized content discovery experience
4] iChrome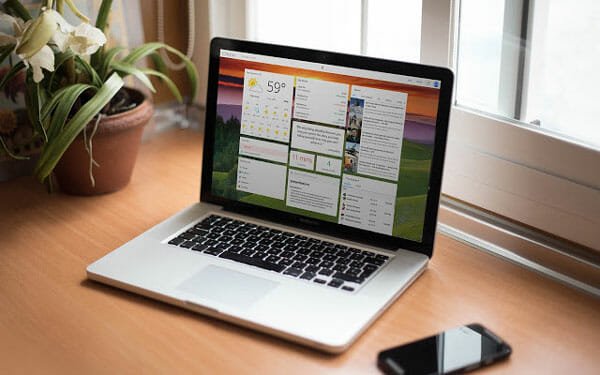 iChrome looks very modern when you need to get everything with a smoother user interface. From the latest news to weather forecast, you will get everything on the new tab page. On the other hand, you can use bookmark to place favorite websites. Apart from that, you can find maps with the remaining time to reach home or work or somewhere else. More specifically, you will get options for this tool:
Dozens of widgets including Weather, Sports, News, Stocks, RSS, Bookmarks, Gmail, Recently Closed Tabs, and more!
Drag and drop customization on 1-5 columns or a grid!
Fully featured voice search and "OK Google" hotword detection
Buy Pro and get dark and transparent themes, live backgrounds, maximizable widgets, hourly weather forecasts, and more
Navigate between an unlimited number of customizable tabs, each with their own widgets
Work completely offline anytime, everything
5] Concretely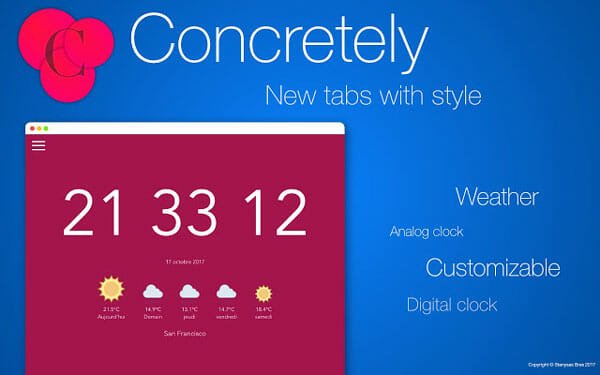 If you think that your new tab page of Google Chrome looks quite messy and instead of that, you would like to include fresh things, here is what you need to install. Concretely is one of the best tools to get rid of all the clutter you might have on your new tab page. It adds a clock (analog & digital), and weather forecast so that you can start your day with everything you need.
Best Extensions to Manage New Tab Page in Firefox
1] Speed Dial
Speed Dial is the best option for you when you need to customize the new tab page of Mozilla Firefox with custom options. You can include most visited sites, beautiful wallpapers, latest news and so on. in simple words, you will get the following options:
Speed Dial: This mode allows you to create your own Dials
Most-Visited: The Most-Visited category lists the sites that you visit most often. Each
Dial contains a group with the full list of URLs you've visited at the site in the Dial slot. You can add any Dial from the Most-Visited category to your Speed Dial.
Recently Closed" If you have closed a page by mistake and didn't know how to find it again, you can see it in the Recently Closed category.
Advanced settings for each mode
Quick Dial creation
Blocking by URL or domain
Background templates
Double-clicking on the space near the search form and search minimizes it
Four thumbnail sizes
Customizable background color
Activation/Deactivation Favicon+Title and URL under the Dials
Activate or deactivate Flash, Silverlight and Java Script when creating a screenshot for the Dial.
2] Search and New Tab
Search and New Tab by Yahoo is a good solution when you want to replace the search engine but you want to show a beautiful wallpaper in the background. Apart from getting those, you can find material type icons of popular websites such as Spotify, Yahoo, Vine, LinkedIn, YouTube, Wikipedia and so on. For your information, the search box will integrate with the Yahoo search engine, and there is no other option to change it in case you want to use Google or something else. In a nutshell, you will get these functions in this tool;
It provides default Yahoo experience for search and homepage.
It provides beautiful images on every new tab page.
And the new tab page also has a search box and frequently visited sites for easy access.
3] Moment
Moment is a simple new tab page replaces for Firefox that includes simple functionalities. If you are a Firefox user and you want to remove everything from the new tab page and replace it with date and time, that is possible with the help of Moment add-on. In simple words, you can add clock, date, and weather forecast, etc. The good news is you can personalize the font, color, background color, etc. from the given control panel.