5 Best Fitness Apps for Android to Get Better Health
Health is wealth and nobody denies it since everyone knows the truth. No matter what is your mental situation, you should always take care of your health. Days are gone when you need to go to the doctor's clinic to measure the blood pressure or body weight. Nowadays, plenty of smart devices have been launched those often help users to do different fitness related things on the go. If you have an Android or iOS mobile, this is very easy to measure daily workout and improve that day by day by professionals' experience. In this article, you are about to find 5 best fitness apps for Android to build a better health.
5 Best Fitness Apps for Android
Although there are several fitness apps for Android, these following mentioned apps are compatible with most of the Android versions, easy to use and free to download. Sometimes you may have to spend few dollars to unlock all the features but you can download them for free.
1] Google Fit
Google Fit has been launched a long time ago and since then it has gained much popularity among, all Android users. The best part of Google Fit is it is available for Android Wear and hence you will get much more flexibility while using it using a wearable gadget. You can daily work schedule along with to-do and all kind of, measurements in this app. Download it for Android 4.4 and later version.
2] Runtastic
Runtastic is probably the most preferable fitness app available for Android 2.3 and later version. You can set route and go through that while jogging, running, biking, walking etc. It comes with a nice dashboard shows every data captured by this app. The user interface seems pretty nice when it comes to the data viewing. The best part is you can listen to various music while using this app. Download (free, ₹10.00 – ₹3,700.00 per item)
3] Runkeeper
Being available for almost all latest Android versions, this app allows users to create route on an actual map, where you can run. This is basically a fitness tracker app that lets users track daily workout including running. Runkeeper can be synchronized with various fitness gadgets as well as other apps so that you can use it further. The Bluetooth facility allows it to measure heartrate with the help of other devices. Download (free, ₹53.16 – ₹2,397.60 per item).
4] Strava
Strava is another free to download Android fitness app available for Android 4.0.3 and later version. The best part of this application is you can compare the data with various people including yourself. Apart from that you are getting an informative dashboard, everyday workout measurements, click pictures and share that with others. The user interface seems to be quite good and you should not get any problem to understand the functionality. Download (free, ₹321.48 – ₹4,016.48 per item)
5] Endomondo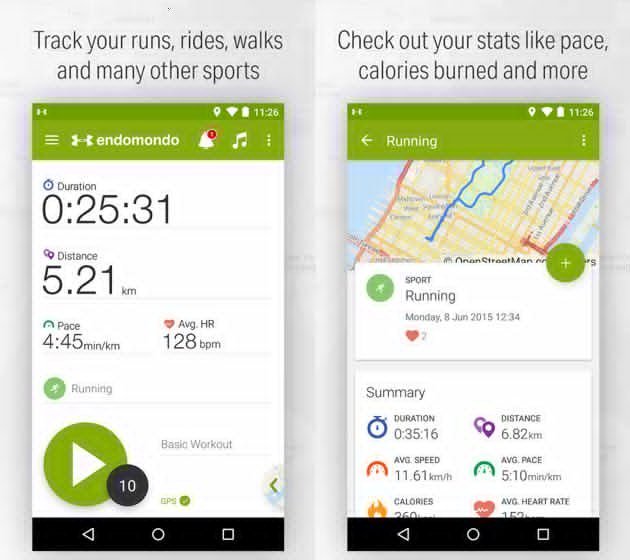 Endomondo is an editors' choice Android application comes with loads of features. Although it does require a premium subscription to unlock all the features but it worth the purchase. When it comes to the functionality, you will get custom training plan, heart rate measurement, plan analyzation, zero advertisements, and so on. This is very easy to track your daily workout performance with the help of this app. Download (free, ₹50.00 – ₹1,650.00 per item)
Like said before, there are loads of other fitness apps for Android those may help you to track your fitness on a daily basis. However, try out these aforementioned application and check whether they can help you or not.