Best Gaming Mouse That You Can Buy In 2020
If you are an avid PC gamer, you might need a fully-featured gaming mouse. You can keep playing games with a cheap $10 mouse that has only three buttons. However, you can buy a multi-functional mouse that will let you do various jobs quickly. We have enlisted some of the best gaming mouse that you can buy in 2020. Although we have not given any number based on the performance, you can check all of them out to know which one is the most suitable for you.
Best Gaming Mouse In 2020
1] Logitech G Pro – $150

Logitech is a popular brand in the computer peripherals industry, and the Logitech G Pro is one vivid example. This mouse costs around $149.99 but it worth every penny. No matter how big or small your hand size is, there should not be any problem while using it. Most importantly, it is a wireless gaming mouse, and that means you do not have to worry about any wires while playing a game. Apart from the three traditional buttons, it comes with two more keys for forwarding and back-warding. You can create various profiles and apply them to different games and apps. It also has a DPI management button that you can use to set the DPI from 200-16000. Check the deal
2] Logitech G203 Prodigy – 40
Another Logitech mouse that will help you perform different tasks quickly. The most important thing is that the price of this mouse is almost 1/4th of the first mouse. However, it doesn't mean that you will get a bad performance from this mouse. Talking about the buttons, you can get six fully functional buttons included in this mouse. DPI management is quite simple with this mouse because it offers a dedicated button for that. Apart from the wheel, right and left click, there are forward and back buttons included in this mouse. Although you can find only two variants of this mouse, the interior colour is adjustable because of RGB support. The last but not the least thing is that it is a wired gaming mouse. Check the deal
3] Razer Basilisk X Hyperspeed – $60
There are mainly three gaming mouse of this manufacturer, and this one is the cheapest that you can buy today. The mouse fits with almost any hand without any major problem. However, it is not recommended to purchase it if you have a tiny hand because that might be a problem. Talking about the buttons, it has six fully programmable buttons to various tasks. The additional buttons are for DPI adjustment, forward and back. According to the official statement, it has more than 450 hours of battery backup. The build quality of Razer Basilisk X Hyperspeed is impressive, and the wheel is smooth enough for fast scrolling. It has a texture on both sides so that the users do not face any problem related to gripping. Check the deal
4] Razer Basilisk Ultimate HyperSpeed – $170
As you are spending more money on this mouse, you should expect to get more functionalities from it. Let's get started with the number of buttons as you can find 11 programmable buttons in this mouse. No matter where you put your finger on this mouse, you can touch one button. All the buttons are smooth enough to perform a task quickly but hard enough to prevent accidental clicking. Whereas another mouse requires a wire or AA battery to charge, you can charge it using the charging dock that is provided with the mouse. It has RGB lighting and almost 100 hours of battery life. Another advantage of using this mouse is that you can have maximum 20K DPI. Check the deal
5] Corsair Harpoon RGB Wireless – $48
Corsair Harpoon has three variants – Wired, Wired Pro, and Wireless. We have decided to include the wireless mouse instead of others because it is very easier to manoeuvre a wireless mouse than a wired one. Like some other mouse, it comes with six different buttons to manage DPI, forward, and back. Talking about the DPI, you can set it to up to 10,000. It is effortless to use this mouse because of the weight as it weighs only 99g. According to the official statement, it provides up to 60 hours of battery backup. The size of this mouse is big, but you may not get issues to be used to it. Check the deal
6] SteelSeries Sensei 310 – $50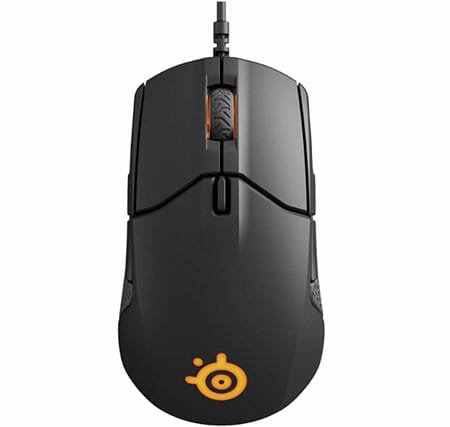 SteelSeries Sensei 310 is another fully-featured gaming mouse that you can use with any OS, including Windows, Mac, Linux, etc. However, it is a wired mouse, and if you do not like to show a wire on your modern desk, you might not want to purchase it. Before making a final decision, let's check the features. You are getting five additional buttons in this mouse so that you can set different shortcuts and use them accordingly. It allows you to set up to 12K DPI for smooth roaming. The size of this mouse is smaller than others, and that might cause issues for some, who has small hands. Creating a profile, apply them for different programs, RGB lighting, etc. are very common with this mouse. Check the deal
Things To Check Before Buying A Gaming Mouse:
Test it out at a local store. There might be a computer store in your locality, and that is the best place to check how good or bad the mouse is.
Check the size of the mouse before purchasing. Everyone has a different dimension of a hand. Some mouse gets fit with everyone whereas some people need a very small or big mouse.
Try to opt for a high DPI. It will help a lot in action gaming.
That's all! I hope you will like this list of the best gaming mouse.