Best Hair Salon Schedule Software To Manage Bookings
Hair is the only thing that people wear every day, and that is why everyone should take care of their hair. If you are about to open a hair salon and you are looking for a tool to manage your appointments, you just need to check out this article. Here are some of the best hair salon schedule software to manage your bookings. No matter if you have just started your business or you already have an existing salon, you can give these tools a look.
Best Hair Salon Schedule Software To Manage Bookings
1] Shedul
Shedul is one of the best, most modern-looking, advanced schedule services for salons and spas. No matter how big is your company, you can manage all the bookings on one screen. The best thing about this tool is the price as you can use it for free. Talking about the user interface, it comes with the best UI with a calendar view. It shows the names of all hairstylists in your business so that people can book an appointment and get the job done. All the basic features such as appointments schedule, client management, activity dashboard, etc. are available in this service. Check website
2] SimpleSpa
SimpleSpa is the second awesome hair salon software or service for your small business. Unlike Shedul, it is a paid service, but it is worth the money. Talking about the features, you can get these – multiple staff management interfaces, overlooking manager, multiple appointments by one customer, gift cards manager, automatic notification or reminder, and more. This is meaningless to talk about the user interface as SimpleSpa comes with a neat and clean UI. Regarding the price, it is quite affordable. If you have only one staff, you can opt for the Basic plan that costs $10/month. On the other hand, if you have multiple staffs, you should check out some other plans such as Standard ($20/month), Pro ($40/month), Enterprise ($80/month), etc. If you are ready to invest, this is recommended to check out the yearly plans instead of a monthly plan. Check website
3] Growthzilla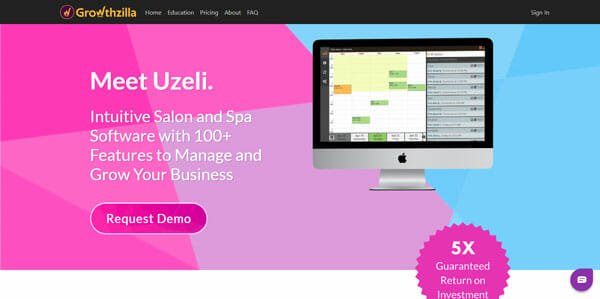 Growthzila is yet another handy software for hair salons and spas. It comes with almost all the features that you might want to have or provide to your clients. For instance, it offers appointment booking, self-check-in kiosk, loyalty rewards, referral program, membership, and more. It has several plans, and they depend on the modules or features you want to include in your plan. The Basic plan will cost you $99/month whereas the most expensive plan costs $139/month. This is suggested to request a demo so that you can know a detailed view of the features. The interface of this tool is pretty good and easy to navigate as it has a calendar-looking UI for you and your customers. The advantage of using this tool is that you can get a PC and mobile software for Windows, Mac, Android, and iOS. Check website
4] Salon Precision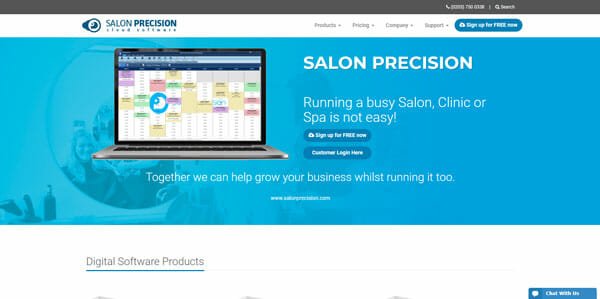 Salon Precision is for professionals only, according to the developers behind this service. This service can be used in any browser because of the cloud compatibility, and you can install the software on your Windows computer. The user interface is quite bulky, but you should not have any problem using it for a long time even when you have a lot of bookings. Before getting started with this service, you should check out the free trial. Talking about the features, you can find employee management, loyalty program, payroll management, recurring appointments, and more. Regarding the price, there are several packages. For example, you can get the Starter Package for £ 50/month, whereas the most expensive package will cost you around £110/month. For obvious reasons, the Premium Plus plan has several advantages over the other one. Check website
5] Saloinst
Shrivra is the parent company behind Saloinst, and they have made an outstanding product, undoubtedly. The main drawback of this tool is the software compatibility as you cannot find any PC or mobile software. This is possible to access this service via a web browser only. Regarding features, it offers employee management, payroll management, inventory management, recurring appointments, loyalty program, and more others. This service has only two plans, and the pricing depends on the modules or features you want to get. For example, the Basic plan that has fewer features will cost you around $49/month. On the other hand, the advance plan that has some of the best features will cost you around $99/month. The second plan has quick billing, enquiry management with follow-ups, auto service or appointment notification, prepaid, e-wallet, and others. Check website
6] NextME
NextME is a waitlist and queue management service with some exclusive features. Apart from the cloud-based application, it has the mobile app for iPhone and iPad. Therefore, this is very easy to manage all the clients even when you are travelling. The UI is easy to use since there is no complex option. On the other hand, you can manage walk-in guests, track wait time accuracy, customer retention rates, etc. As there is a mobile app, this is possible to synchronise the data with multiple devices. Also, if you are moving from one software to another, this is possible to import your old data in this tool. Check website
7] Strizly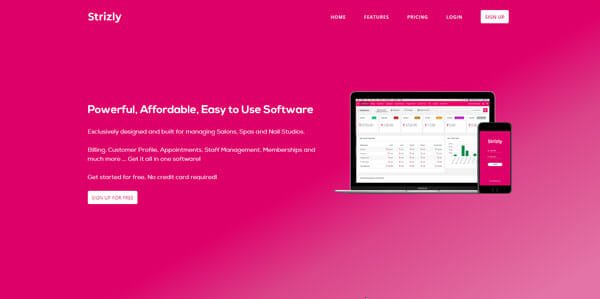 Strizly is an India-based hair salon schedule software for your business. The highlight of this tool is the price as you may not find such quality features at such an affordable price. Another important thing is the free account – it comes with some restrictions, though. However, this is the best place to get a quick look at this software so that you can know if it suits your business or not. There are no limitations in the paid version except the number of staff. On the other hand, you can get unlimited invoices, clients, etc. The clients can create a profile on your website so that he/she can manage all the bookings, payments, etc. Check website
If you are going to open a hair salon, I hope these tools will be helpful for you.