Best Home Decoration Items Under $30
Who doesn't love to decorate his/her home? It doesn't matter whether someone has a one-rom apartment or a big two-storied house; he/she certainly likes to put things in place so that it looks beautiful. You can go to a local retailer and search for some necessary items. However, if you have a tight budget, you can check out this article where we have enlisted some exciting home decoration items under $30.
Best Home Decoration Items Under $30
1] LED String Lights
If you often like to turn off the big 20W LED bulb and spend some time in a low light area, you should put some LED light strips. They are not very bright, but it can lighten up your room for sure. It will give you a different feel in your old room. There are numerous vendors that sell such light strips, and you need to go through some of them on the Amazon website to find something unique and according to your requirements. You can choose something by the number of bulbs, length, etc. The best thing is that you can hang it anywhere in your room as long as you can provide the power supply. Check the deal
2] LED Photo Clip String Lights
Nowadays, people often user mobile more than a dedicated camera to capture photographs. However, if you have a lot of images captured by your father or yourself and you want to put them in a frame, but there is not much space in your room, you can check out this category of the LED light strip. It comes with a clip that you can use to stick to your photographs. It can make your childhood photo, birthday photo, wedding photo, or any other special moment's. They do not cost a lot but is sure does look awesome in the bedroom. As usual, you need to choose the length or the number of clips you want to have in the strip. Check the deal
3] Wall Mount
A corner wall mount can help you put some photo frames, books, showpiece, etc. You can place some like that in your bedroom, dining room or anywhere you want. There are mainly two materials used to make such a wall mount – metal and wood. The price depends on the material used to build the wall mount. Also, it depends on the quality and format of mounting. For example, if you want to stick a wall mount using screws only, it won't cost you a lot. However, if you're going to have back support for your wall mount and it is made by plywood, it can cost a little bit more. In either case, you can find something under $30. Check the deal
4] Floating Shelves
This kind of shelf can help you keep your books. If you have a balcony where you are going to spend some time at the weekend, you should have some books near to your couch. Books do not harm people as long as they can understand the inner meaning. So, having a bookshelf near to your balcony can help you spend the time without having a second thought. As usual, the price depends on the material type, quality, design, etc. For your information, there are many bookshelves under $30. Check the deal
5] USB Table Lamp
Many people like to read books under the light of a table lamp. Also, some people like to have a table lamp on the table just for the decoration purpose. No matter why you need a table lamp, you should choose something that helps you decorate your room and has some unique feature. For example, this USB table lamp allows you to charge your mobile without having a proper wall outlet. In other words, you do not need to connect your phone to your charger directly because you can do that using just a USB cable. It comes with 10W charging port, which might not be sufficient for a quick charge, but it can fulfil your demands for sure. Check the deal
6] Wall Clock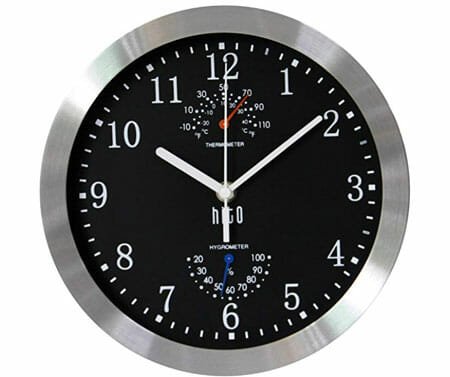 $30 is not a very big budget for a smart wall clock. However, if you need a simple and old-school wall clock, you should check out the Amazon website. It has a huge list of cheap yet premium-looking wall clock that you can purchase at $30. There are several manufacturers, and the prices depend on that too. Apart from that, it depends on the quality, material used to make the clock, features, shape, size, etc. You need to choose what you want for your room, and it is suggested to have something in simple so that. Sometimes a simple wall clock can serve the purpose and looks elegant. You can play with that psychology. Check the deal
7] Ceramic Succulent Planter Pots
Having a tree (even a fake one) can increase the beauty of your room. That is why you should have a Ceramic plant on your table – it can be a computer table, work desk or anything else. Even if you have a wall shelf where you can find some space, you should try out a ceramic plant. There are tons of options available on the Amazon website, and you can check them according to your requirements. Check the deal
8] A Rug
It doesn't matter whether you have a wooden floor or anything else, you can put a rug on it to make it look better. There are different types of rugs available on the Amazon website, and you can purchase something according to the size, colour, and shape. The price depends on the size, material, type, etc. However, you can undoubtedly find something under $30 on the Amazon website. Check the deal
There are more other items for home decoration, and the list cannot be ended here. The list depends on the person's taste. However, these are some of the most common home decoration items that you can purchase within $30.