Best Microsoft Store Apps You Can Install on Windows 10
When Microsoft launched the app store, there were not too many apps for Windows computer. However, after months of improvement and development, now Microsoft Store is a reliable, feature-rich, enhanced app store for any Windows 10 user. It doesn't matter whether you are a student or businessman or lawyer or anything else, you can easily find tons of free and paid app on Microsoft Store that you can download and start using without any hustle. Once you setup the Microsoft Store on Windows 10, it takes hardly a minute to get started with this tool. However, if you are a regular Windows 10 user and you want to install some apps to improve your productivity, you can check out this article.
Best Microsoft Store Apps You Can Install on Windows 10
1] Facebook + Messenger
Although I do not know you, I can say that you have a Facebook account. This is very easy to guess since almost all internet users have Facebook accounts. It doesn't matter whether it is one month old or eight years old, all the internet users have a Facebook account. If you use Facebook for work or entertainment or just connect with friends, you can install the Facebook app that is available for Windows 10. You can download and install the Facebook without any problem and follow the installation; you would be able to get all the notifications on one window. From new friend suggestion to newly uploaded image by your friend, you can find everything in this Facebook. The only drawback is you cannot send or receive message. For that, you need to install the Messenger app, which is also available on Microsoft Store.
2] WhatsApp
Nowadays people are using WhatsApp a lot, and that is the reason why the company has rolled out the WhatsApp for the desktop that you can download on Windows 10 version 14316.0 or higher version. With the help of this app, you would be able to connect with friends, check all the messages, get media files and so on. Previously it was possible with the help of a browser. However, after the launch of a dedicated app for Windows, you no longer have to open web.whatsapp.com in your browser. The app looks pretty cool, and you should not have any problem while using it on your Windows 10 machine. However, you must have to connect your mobile with this app. Otherwise, it won't run at all.
3] Adobe Photoshop Express
Who doesn't love to edit images to get a professional looking photo out of raw material? Adobe Photoshop is the best tool for that. It doesn't matter whether you want to adjust the color only or you want to add or remove something from the image; you can do everything with the help of Adobe Photoshop Express, which is available for Windows 10 v14393.0 or higher version. It comes with all the basic features such as crop, cut, text, and so on. The best thing is it does support RAW image formats. Therefore, if you shoot in RAW, you can edit that image with the help of this tool. Apart from that, you can get 45 different effects so that you can give your photo a different look within moments and without trouble.
4] Hotspot Shield VPN
If you are a regular internet user, who browses different websites frequently, you should have a VPN app installed in your computer. There are tons of free and paid VPN software you can find on the web. However, only a few of them have some awesome security and functionalities and Hotspot Shield VPN is one of them. With the help of this VPN app, you would be able to unlock all the regionally blocked websites. The best thing about this tool is you can find more than 2000 servers in 25 different countries. There is a couple of VPN apps those provide such high amount of servers. Talking about system requirements, you can download this app on Windows 10 version 16299.0 or higher version.
5] Evernote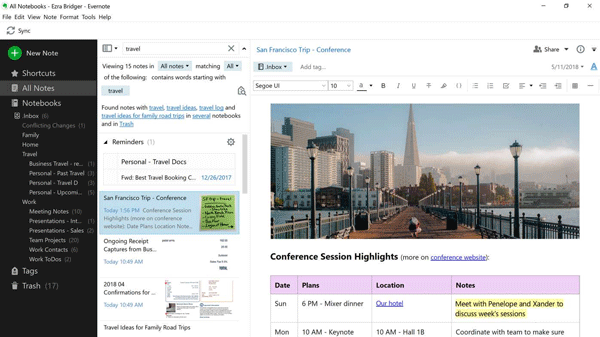 No matter how sharp your memory is, you should always use a note-taking app so that you can always keep things in mind. Evernote is such an app that helps you do everything possible with a note-taking the app for Windows 10. You can have free as well as a paid option. If you are a regular user, who doesn't do a lot of stuff, you can keep using the free version. However, if you need everything unlocked, you should opt for the paid version. Regarding the user interface, this comes with all the options, yet it is neat and clean. There is no doubt that people love the UI of Evernote so much.
6] Flipboard
In these present days, people do not read news on physical newspaper. Instead, they use different mobile apps. Although you can use the Google app or news.google.com to find the daily and latest news, you can also install the Flipboard app, which is sleek, easy to use and you can include as many RSS feeds as you want. You can include daily news websites as well as different journals so that you can read everything from one panel. The UI of Flipboard looks pretty good, and as there is no clutter, you can find a great environment for reading longer articles.
7] LastPass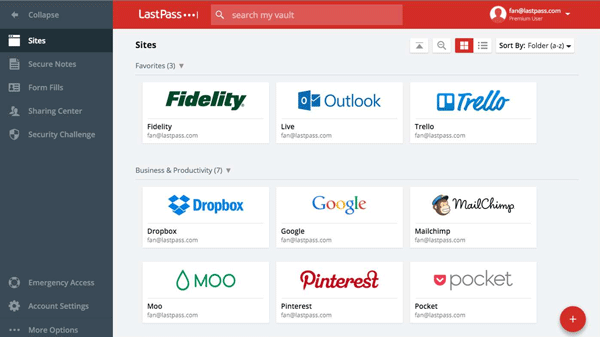 It doesn't matter if it is a Facebook account, internet banking account or email account, you should always use a strong password. A strong password helps you get rid of different attacks. However, this is quite difficult and tough to remember all the alphanumeric passwords, and that is why you should start using LastPass, which is a password manager, and you can download it from Microsoft Store. This password manager is available for Windows 10 version 14361.0 or higher. In terms of security; you might not find any other substitute for this tool.
That's all! These are some of the best Microsoft Store apps for Windows 10 that you can download right after installing the Windows 10. These will help you in different situations.