Few Best Price Comparing Apps
In present days, everything is done through online. Even shopping is done through online and it is being followed by many as the days are passing away. Due, to this there are many shopping websites offering many discounts and offers. So, it is difficult to visit each and every website and look at the prices of products. There are some apps, which would help us in comparing the prices from various websites and we will take you through them.
Best Apps for Price Comparison
PriceGrabber
PriceGrabber allows you to compare prices of many products over millions of websites. You can select any product and can compare the price of that product in various websites. It is also possible to scan the barcode of the product and can compare prices.
Most important thing about this price comparing app is, you can set an alert for specified price to notify you when a product with that price is available from any online shopping website. It is available for both Android and iOS for free of cost.
Available Platforms: Android, iOS
ShopSavvy
ShopSavvy app is the best price comparing app to find which website has more discounts. You can compare price of products by just scanning the barcode or by searching for the product. This price comparing app helps us to find best deals available without visiting those websites.
You can set an alert, whenever your matching deal is found in any shopping website. It is for free of cost and is available for both Android and iOS users.
Available Platforms: Android, iOS
MySmartPrice
MySmartPrice helps you to compare prices of products over 100 websites. These websites include Amazon, eBay, Flipkart and many more. This is one of the best Indian apps to for price comparing. Just on your finger tips, you can get product with the maximum discount by comparing the price over many websites.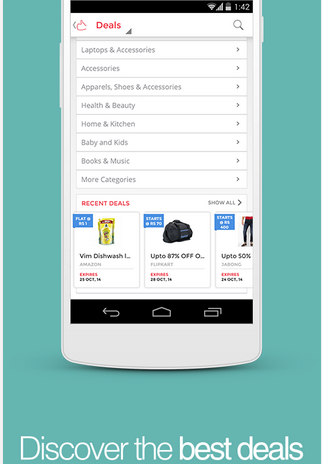 It gives information regarding shipping cost, cash on delivery service and more. It is available for only Android users and is free of cost.
Available Platforms: Android
These are apps which can compare prices of products from various websites, on your finger tips with just few taps. If there are any more price comparing apps, please do share with us through comments.