Best QR Code Scanner for Android
Nowadays, most of the people use QR code to send any link or any text to someone. This is an advanced yet not much secured way to send anything. You can easily create QR code using any software hat is available for Windows or any platform. On the other hand, you can use various web apps to do the same.
On the other hand, you can find Barcode in every product you purchase. Each product has a unique Barcode. By making use of this barcode, you can easily check the price of any product. Therefore, today I am going to introduce some great and free QR code scanner for Android so that you can use your mobile and scan any QR code on the go.
QR Droid Code Scanner
This is one of the best free QR Code scanner for Android, which is obtainable for Android 2.0 and later version. This is very and very easy to use scanner, which can scan any type of QR code from any physical document, webpage, newspaper, banner or from anywhere. It requires an account to get started. However, this account will help you to gather all your scanned codes along with a log file. On the other hand, you can also create QR code for any text, URL or anything else.
QR Code Reader
This awesome free QR code scanner will let you scan QR codes from anywhere to do anything. Suppose, you are watching a QR code on a magazine. Just use this QR code reader on your Android 2.3.3 or later version. The most beautiful thing is you can get all your scanned QR codes in your Camera Roll or Photo Gallery.
ReadLaser Barcode & QR Scanner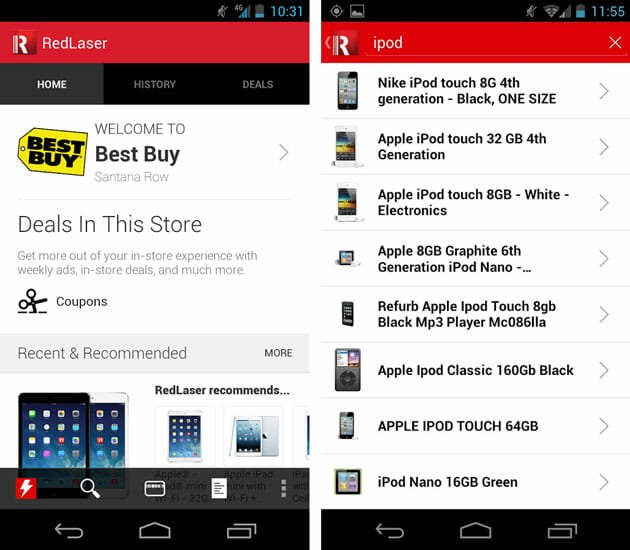 Although, there is no information about required Android version on Google Play Store, but I think you can install it on Android 2.3 or later version at free of cost. You can scan QR code as well as Barcode by making use of ReadLaser Barcode & QR Scanner. This awesome application helps you to find out an exact price of any product from thousands of retailers across the globe.
QR Code & Barcode Scanner
It comes with maximum features for you. You can scan various things including apps, email ID, phone number, bookmark, clipboard using your camera and turn them into a QR code so that you can send them to anybody via email or message. On the other hand, this is obviously possible to scan any QR as well as Barcode from anywhere using your mobile's camera. Alike ReadLaser Barcode & QR Scanner, you can find the price of any product from any retailer out there using this simple barcode scanner and reader app for Android.
Download
Norton Snap QR Code Reader
This is something you may want to use. This QR code scanner has been developed by Norton itself. That means, this is the most secured QR code scanner for Android. The most brilliant feature of Norton Snap QR Code Reader is it can scan your scanned QR code link for any spyware or malware. Hence, you will get virus-free QR code on your screen everytime. In addition, you can check a detailed log of scanned QR codes in the app.
Bottom Line
There are also more other QR code and Barcode scanner or reader apps for Android. However, all of the aforementioned apps are tested personally. Hence, I can give you the guarantee that these apps won't disappoint you.