Best Road Trip Planners To Plan Your Next Trip
If you love to travel by car, road trips are probably the best thing in your life. No matter whether you are planning for a road trip with your wife, friend, or family members, you can check out these road trip planners. These tools will help you book hotels, find a map for better locations, tourist places, and so on. Some of them are web apps, and some of them can be installed on your mobile.
Best Road Trip Planner Apps And Websites
1] GoUSA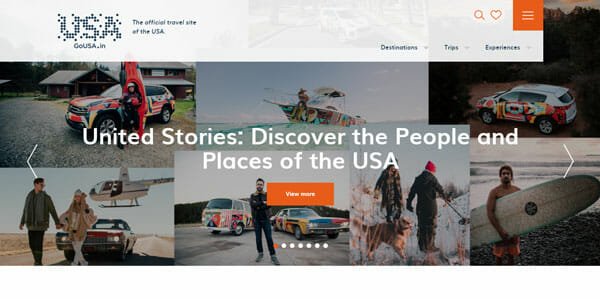 If you are planning for a road trip in the USA, you can check out this website to find information instantly. This website shows a possible itinerary so that you can visit the country and travel as much as possible with your friends, family, etc. The best thing about this website is that you can select a part of the USA where you want to travel, travel period, what you want to experience, etc. After that, you can find a possible itinerary on your screen with all the details. They will let you book your tour, but if you want, you can fetch the road trip details and use that manually. Visit website
2] Road Trippers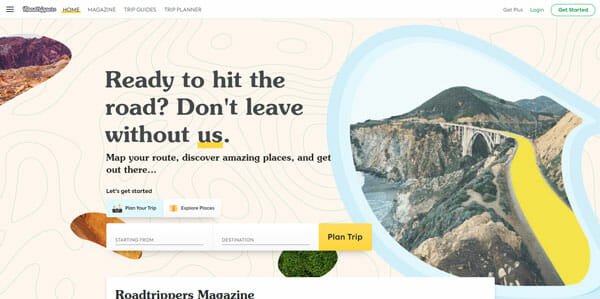 As the name suggests, this website will let you plan your road trip with ease. No matter whether you are going to do that in the USA, UK, India, or anywhere else, you can find this website pretty handy. After opening the site, you need to enter your start location and destination. Following that, you can find all the details so that you can start your journey. For instance, this is possible to get details about hotels, restaurants, camping information, cultural places, etc. No matter whether you like nature or an art museum, you can find everything on this website. After getting the map and route, you can select an option, and it will show the location on your screen. This is recommended to note them down before starting your journey. Visit website
3] GasBuddy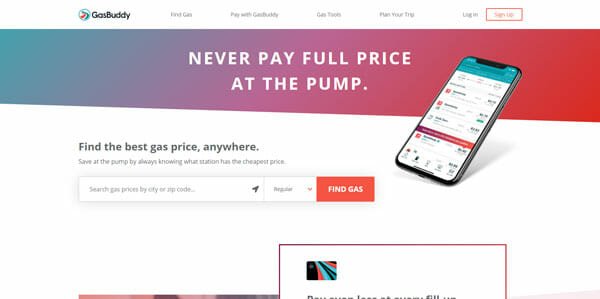 Car trip without gas or fuel – although it can happen, it is not possible all the time. Therefore, you should take note of gas stations before starting your journey. Otherwise, you may face some issues on a beautiful trip. For that, you must know the mileage of your car and the tank capacity so that you can determine the location where you need to search for the gas station. Although the in-built gas indicator helps drivers a lot, this is also recommended to note them down and calculate everything manually. GasBuddy is such a website that lets you find a gas station if you enter a zipcode or location. It is also possible to filter the quality by Regular, Midgrade, Premium. Visit website
4] GoIbibo
Goibibo is such a website that lets you book hotels so that you can find a place to spend the night or take some hours of rest. If you are with your kid and you do not know the roads pretty well, this is not recommended to travel at night, according to some famous travel lovers. If so, you should take a look at this website so that you can find a hotel quickly and spend the night with a good sleep to start your journey the next morning. This is a beneficial website as it offers countless hotels at any location. On the other hand, you can book flights as well. To get started with this hotel booking website, you need to enter mandatory details such as your name, email ID, phone number, location, check-in/out dates, etc. Visit website
5] Instagram
Days are gone when Instagram was used to upload some random pictures. Now you can follow some fellow travellers on Instagram, and check their photos so that you can know the tourist places, restaurants, etc. There are countless people on Instagram who upload pictures and videos every day. You need to gather some information manually or ping them on Instagram so that you can know some of the important and attractive locations that you can visit during your road trip. Visit website
6] Waze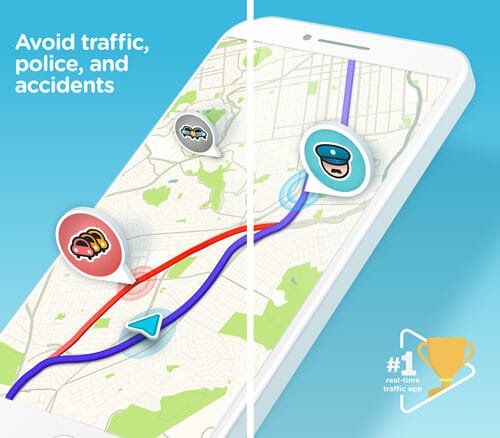 Waze is a mobile-based map application that you can download on iOS and Android mobiles. When you are going by road in a car, you should know the traffic information, possible road closure, etc. If you use Waze, you will be able to get such information within moments. Tons of people use this Waze navigation application on their mobile, and they can help you obtain the information. As this is a navigation app, you can find the best route, hotels, gas stations, restaurants, ATM, etc. The user interface of Waze is pretty good, and you should not have any problem using it even for the first time. For your information, you must have iOS 10.0 or later version and Android 4.1 or later version to download them from the respective app store.
7] Google Maps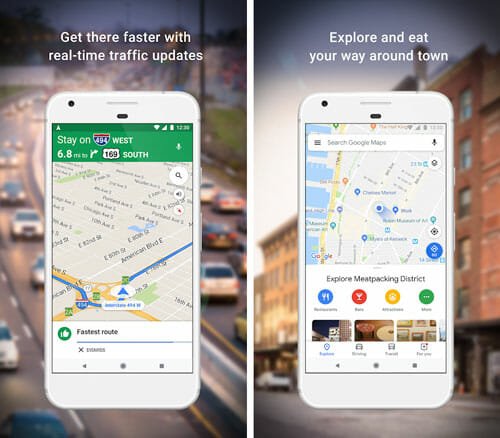 If you need everything under one roof, Google Maps can be the solution. From finding a gas station to get a hotel, you can do everything with the help of Google Maps. This is one of the best websites and apps that you can utilise for various purposes. This is very easy to use this app, and if you are an Android user, your mobile might already have this app on your phone. You can find multiple routes to go from one place to another. No matter what you want to see, you can get that information on Google Maps. Google Maps can be accessed from mobile as well as computer. If you are making a road trip, this is recommended to download the mobile app and get the location offline so that you can use it without internet.
These are some of the best road trip planner websites and tools that you can use for planning your next trip. I hope you will like them.