5 Best Shopping Apps for Android to Save More Money     
Who doesn't love to do shopping? We all like shopping. Specially, when we can save more money, we like it even more. Nowadays, most of the people go for online shopping instead of going to a shopping mall or supermarket. You can get almost everything online and right from being on your favorite couch. However, many people claimed that they had wasted money by purchasing something online. This is because of the sudden rising of an online scam. To solve this kind of problem, here is a simple solution. You can opt for these best shopping apps for Android those will let you save more money and get rid of scam. Although these apps may not help you to avoid fraud you can certainly know which is genuine and what is not.
5 Best Shopping Apps for Android
1] AliExpress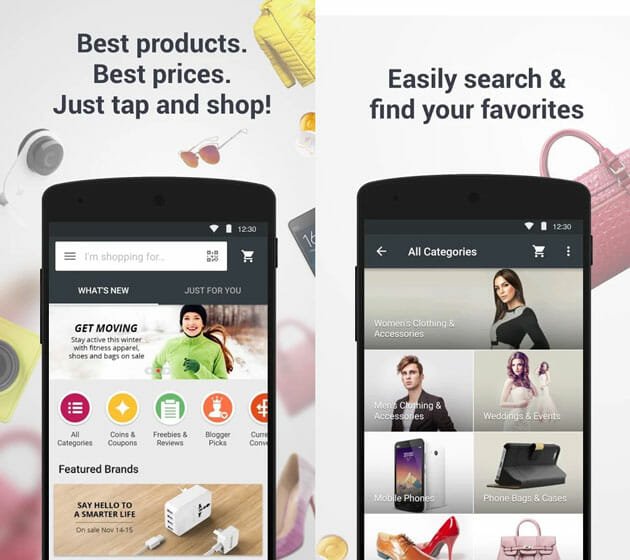 AliExpress is one of the most popular shopping apps for Android and the biggest online shopping portal of China. You can purchase any product from being anywhere in the world. In most of the times, you can get free delivery. But sometimes, you may have to spend few dollars to get the product. Products are comparatively cheaper, genuine and easy to get. It is available for Android 4.0 and later version. Download
2] eBay
eBay is yet another excellent shopping portal, where you can from everyday stuff to high tech computers or home appliances. I won't say that the products are cheaper, but you can find genuine products on eBay. However, you should always check the review section for any scam since many people have been scammed several times on this portal. Navigate through various categories and get the best product for you. Download
3] Groupon
Groupon is undoubtedly the best coupon website to obtain various coupons and save money while buying something online. However, you need to find a deal before opting for that. Also, you may not get the exact deal on an exact product. Therefore, you should check that carefully. Talking about the app, this is fully functional, and you can get up to 70% off on various purchases. Brose all the categories and find the best deal for you. Download
4] Walmart
Walmart is such a company, where people wait to buy products from. Walmart is one of the best shopping portal for any kind of buyers. It doesn't matter whether you want to buy daily stuff or mobile or computer, you can find everything on Walmart. The app is completely free and you can get excellent deals on the app that is available for Android 4.1. Talking about the UI, it comes with probably the minimalist UI. Download
5] Amazon
Amazon is yet another shopping website and app that is available for multiple platforms. Based on the region you are browsing from, you will get customized deals. Regarding the app, you will get a very neat and clean UI. This is possible to get a closer look into any product enlisted on the website. Following that, you can check review, images, videos etc. while navigating through different products. Amazon often launch app-only deals those will let you save even more money. Download
There are many other shopping apps for Android. However, these are wisely popular among any kind of buyers. There are also some other apps such as Flipkart, SnapDeal those work in country basis.