Best Smart Plugs For Home For 2020
When you can turn off the power supply of your mobile charger from mobile, why do you go near to the wall outlet? Wondering how? Here is a simple solution that will let you perform this kind of job without any issue. Introducing smart plugs that will help you do various tasks wirelessly or without touching it physically. Here are some best smart plugs that you can buy for your home in 2020.
Best Smart Plugs For Home
1] Kasa Smart WiFi Plug Mini – $17.95
TP-Link has made this smart plug for your home, and that says everything about the quality of this product. It is a neat and clean smart plug that you can purchase within $20. It doesn't matter whether you want to use it in the kitchen or bedroom; it will look fancy everywhere. It offers an application so that you do not need to make changes physically. Instead, you can do everything via the mobile application. On the other hand, it works flawlessly with various smart home hubs and voice assistants, including Alexa, Google Assistant, Cortana, etc. Check the deal
2] WeMo Insight Smart Plug – $40
The best thing about Belkin WeMo Insight Smart Plug is that it can show power usage data so that you can know how much power a device is consuming. Although the mobile application is quite different, it works smoothly with different smart homemakers. For instance, it is compatible with Amazon Alexa as well as Google Assistant. On the other hand, you can set up IFTTT recipe and apply that to this smart plug. It doesn't take a lot of place in your wall outlet so that you can plug in another device simultaneously. Check the deal
3] Wemo Mini Smart Plug – $19.99
It is the 'mini' version of the second smart plug mentioned on this list, and the price is lower than usual. This smart plug requires an active Wi-Fi connection so that you can establish a connection between mobile and this device. Following that, it features Alexa, Google Assistant, and Apple Home Kit support so that you can work using voice command. Talking about the Wi-Fi network, it is mandatory to have a 2.4GHz connection in your home. The overall appearance of the Wemo Mini Smart Plug is fancy, and it will attract users for sure. To install the mobile app, make sure that you have Android 4.1 or higher and iOS 9.1 or higher. Check the deal
4] ConnectSense CS-SO-2 Smart Outlet – $59.95
ConnectSense CS-SO-2 Smart Outlet offers two outlets so that users can use multiple chargers to charge mobiles, laptops, etc. That is the main advantage of using this smart plug instead of others. As usual, it includes two buttons so that you can turn off/on each outlet at a time. Like other smart plugs, you can control it via the mobile app as well as Google Assistant, Apple HomeKit, Alexa, etc. If you are looking for IFTTT support, you might be disappointed. However, it has some other handy functionalities such as power usage report, USB charging port, etc. You do not need to spend much time to set it up as you can plug it in and allow it to access your Wi-Fi network. Check the deal
5] Samsung Smart Plug – $17.99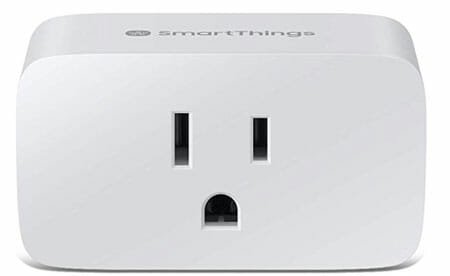 It is quite cheaper than others, but it does the same job as other smart plugs. As Samsung made it, this smart plug is compatible with Bixby as well as SmartThings. Even if you do not have these two things, you can control it using Amazon Alexa and Google Assistant. As it is a wireless smart plug, you need to provide a Wi-Fi network so that you can connect and control it wirelessly. It offers an energy usage report, has IFTTT support, but it doesn't have Apple HomeKit support. In other words, if you are using the Apple ecosystem in your home, you might have to opt for something else to give it some voice commands. Check the deal
6] iDevices IDEV0004ANP5 – $144.88
Although it is expensive, it comes with some additional features that worth every penny. For example, you can install it in your home without any Hub. That means, it doesn't matter whether you have Appel HomeKit and anything like it or not, you can use it without any problem. The next big thing is scheduling. If you install and setup the mobile app, you will be able to schedule the power supply. For example, you are going for a small ride in the night, and you do not want to keep the light on in your front door in the daytime. At such a moment, you can schedule the power supply of that light with the help of this smart plug. Check the deal
7] Lutron Caseta Smart Home Plug-in – $54.95
This specific smart plug works with lamps only so that you can dim the light whenever you want. If you want to dim the lamp at a certain point of time in day or night, but you want to do that wirelessly, you need to install a smart plug like this. It costs more than a regular smart plug, but it does the job without any issue. As usual, you can use it with Google Assistant, Apple HomeKit, and Amazon Alexa. It has three buttons and two outlets so that you can manage the lighting of your lamp effortlessly. The scheduling and all the other features can be accessed from the mobile application. Check the deal
Before purchasing a smart plug for home, make sure you are not buying a big one because that will consume a lot of space. If a smart plug holds the word "mini" in the name, it means it is smaller than others.