Best Spotify Alternatives for Android, iOS, Windows, Mac
No doubt that Spotify is one of the best music libraries out there, which is being used by millions of people from around the globe. You can choose various categories based on your taste and start to listen to songs within moments. However, if you are done with Spotify, and you want to try something else, do check out this following list. These are the best Spotify alternatives that you can use on various platforms including Android, iOS, Windows, and Mac. Some of them have Web version as well that you can use even if you are using any Linux distribution.
Best Spotify Alternatives
1] YouTube Music
Although YouTube Music is not available in India and most of the countries in the world, you can utilize this option if you live in the USA. YouTube Music is a simple yet very compact Spotify alternative, which comes with a huge collection of music that you can listen to by spending just $9.99 per month. There is a Family Plan as well that costs around $14.99 per month and you can share that subscription with up to six different family members. Talking about the collection, you can certainly find your favorite singer and their albums in this music streaming service. From old folk to new rock – you can find every kind of music in this app, and that is the specialty of this service.
2] Apple Music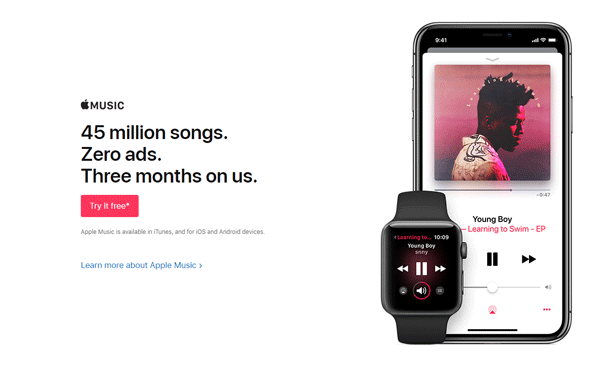 The main difference between Apple Music and YouTube music is Apple Music is available for almost all the countries across the globe. From India to the USA to the UK, you can be anywhere and enjoy the beauties of Apple Music. Although the base plan of those two services is the same, you can get a huge discount by being a student. The STUDENT plan costs around $4.99 per month when the INDIVIDUAL plan costs you around $9.99 per month. On the other hand, the FAMILY plan is priced at $14.99 per month. As the official website, you can find more than 45 million songs. Being a comparatively new Spotify alternative, this is a huge collection you can expect. This is also possible to download songs to your library. Another useful feature is you can listen to your stored music with the help of Apple Music app.
3] Google Play Music
The pricing of YouTube Music and Google Play Music is same, and that means you have to pay $9.99 per month for a single person and $14.99 per month for the FAMILY plan that you can share among six people. Google Play Music is a simple app that is available for iOS as well as Android mobiles. The FREE version users can enjoy up to 50k songs. However, if you purchase a subscription, you can enjoy up to 40 million songs. The best thing is if you purchase Google Play Music subscription, you can get YouTube Music subscription as well. It only requires a Google account to get started, and that is simple since almost all the people have at least one Gmail account.
4] Amazon Music
Amazon Music is probably the newest member of this group since Amazon launched after a few months of launching Amazon Prime subscription. If you already have Amazon Prime subscription, you can enjoy Amazon Music without any problem and for free. However, if you do not have such a thing already, you can purchase a subscription for just $7.99 per month. This is the advantage of using Amazon Music since this is cheaper than Apple Music, Google Play Music, as well as YouTube Music. Also, the collection of this service is huge, and you should not find any issue while using it. The app looks pretty cool, and it comes with all the options you might need to get started with music streaming app. As this is available in India, you can enjoy various regional songs right from one app.
5] Tidal
When you need a different collection of music, and you want to listen to various songs on various platforms including Android, iOS, Mac, etc. you can opt for Tidal. Apart from having a great collection of awesome music, you can get very high-quality sound from this app, and that is the benefit of using this application. The subscription type of this service is pretty different, and you can find a lot more options than other apps.
Normal Premium: $9.99/month
HiFi: 19.99/month
Family Premium: $14.99/month
Family HiFi: $29.99/month
Student Premium: $4.99/month
Student HiFi: $9.99/month
Military Premium: $5.99/month
Military HiFi: $11.99/month
However, you can start a trial so that you can know whether you need the standard or HiFi quality.
6] Gaana
Gaana is an India music streaming service that comes with a lot of features apart from streaming songs. You can download the corresponding apps on Android as well as other platforms. Also, you can stream music as a Web player. The price of the subscription is comparatively lower than other apps included in this list. Being said that, you can enjoy the awesome service of Gaana for just $3.99 per month. However, if you purchase a subscription for more than one month, you will get a huge discount as well. The disadvantage of this tool is there is no FAMILY package. Therefore, if you have five family members and all of them want to listen to Gaana music, you need to purchase a separate subscription. Talking about the music collection, you can find soft, rock, jazz and all the possible others. You can browse by movie name, album name, singer name, category and so on.
7] Saavn
https://youtube.com/watch?v=PKFqtQn_6zw
Saavn is yet another India music streaming company that is managed by an awesome group of developers. As this is an India app, you can find a lot of different languages, and that will let you listen to some unknown songs. From old music to new rock, you can get everything in this app. Like Gaana, you can search for a song by album, movie, singer, category and so forth. The price of Saavn is not then high as well since you have to pay just $4.99 per month for unlimited music.
There are some of the best Spotify alternatives available for Windows, Mac, Android, and iOS. You can listen to your favorite songs using the Web player of those tools as well. Do check them one by one to know which one is the best for you.