Best To Do List Software For Windows And Mac
In your busy schedule, you often forget to do some crucial tasks every day. You are not alone if that happens with you. To solve that issue partially, you need to use a tool where you can write down all the tasks. It can be a notebook, but the main problem is that you do not carry it all the time. If you take your laptop or you work from home on your desktop computer, you can check out these tools. Here are some of the best to-do list software for Windows and Mac that you can use to get your jobs done fluently and without forgetting.
Best To Do List Software For Windows And Mac
1] Microsoft To Do (Windows)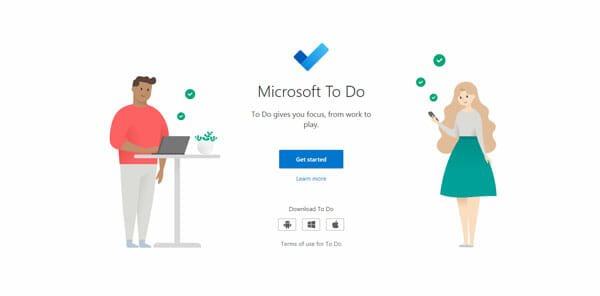 If you are using Windows 10, you should check out this software from the Windows owner, also known as Microsoft. Microsoft To Do is one of the best to do list software for Windows, Android, and iOS. Unfortunately, this is not available for Mac, as of now. However, you can access the web version of this tool from any computer. To have a Microsoft To Do account, you can use your Microsoft account (@outlook/hotmail.com). This is entirely free to use, and you do not have to pay money to unlock any feature. Visit website
2] Reminders for Mac
If you are using iPhone, iPad, or Mac computer, you can try out this in-built to do list generator called Reminders. You need to have an Apple ID to synchronize all the tasks across multiple devices. Talking about the features, it allows you to add/change/group/delete reminders, sort reminders, mark them as completed, add a location-based reminder, share reminder list with friends, etc. It offers some keyboard shortcuts so that you can perform tasks quickly. As all the reminders are synchronized with iCloud, you do not have to worry about accidental delete. Check more about Reminders from here.
3] Wunderlist (Windows, Mac)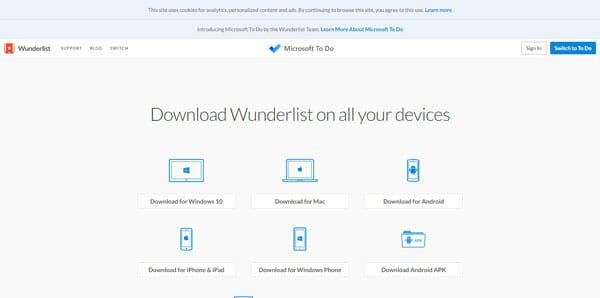 Although the official website promotes Microsoft To Do, Wunderlist is not bad to do list manager either. It is compatible with almost all the standard computer and mobile platforms, including Windows and Mac. Apart from that, you can install the browser extension in Google Chrome and Apple Safari browser as well. Feature-wise, Wunderlist is quite fruitful. You can find subtasks, set reminders, due dates, recurring tasks, prioritize tasks, assign tasks, etc. Like Reminders, you can share the list with some other people. You can use Wunderlist on multiple devices, but you need to have the same account on all devices. Download
4] Todoist (Windows, Mac)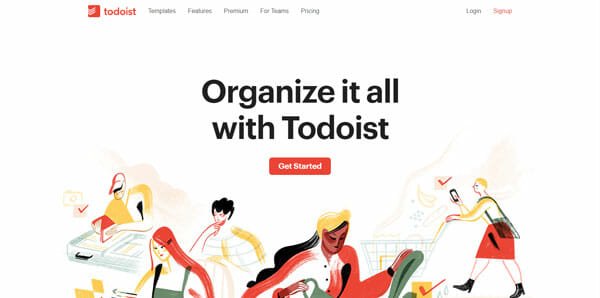 Like Wunderlist, Todoist is compatible with Windows as well as Mac computers. It is a modern-looking to do list generator with all the essential features included. Some tasks need to be prioritized, and this tool helps you do that with ease. On the other hand, you can mark tasks favorite so that you can finish them according to your requirements. This is also possible to filter tasks by category to complete them based on time and priority. Another essential feature is the sharing option. It helps you share the task with friends so that you can release some workload or do something simultaneously. Although Todoist is available for free, you need to pay $3/month to get some premium features, as mentioned earlier. If you own a business and you want to use it for your small team, you need to pay $5/user/month when billing annually. Download
5] Things (Mac)
If you own a Mac computer and you do not have to synchronize reminders with another Windows device, you should take a look at Things. It comes with a minimalist user interface, but it contains all the essential features that you might need to organize your tasks. You might not want a complex UI when looking for something, and this app excels in that situation. It has a two-column interface while having the task list on your right side and the categories on the left side. You can set tasks by date, time, location, etc. As it is possible to create a checklist, you won't find any problem to prioritize tasks in Things. Download
6] TickTick (Windows, Mac)
TickTick is another very useful to do list management application for Windows and Mac. The highlight of this software is the Voice Input. In other words, you can create notes using your voice as well as typing. It can integrate with Siri so that you can create a task without opening the app as well. You can set recurring tasks, due date, task duration, multiple alerts, location reminders, and so on. Also, you can create tags to categorize tasks and manage them effortlessly. Another important feature is the calendar view, which allows you to check all the tasks on one screen. You can download and use the free version, but you need to pay $28/year to unlock all features. Download
7] Trello (Windows, Mac)
Trello is yet another to do list manager for Windows and Mac that you can download for free. The best feature of this tool is that you can find two-factor authentication to lock down your reminders. In the free version, you can find unlimited personal boards, cards, lists, 10MB per file attachment, ten team boards, one power-up per board, and more. On the other hand, the paid versions do not have any limitations. There are two paid versions, and the Business Class costs $9.99/month/user when billed annually, and the Enterprise version costs $20.83/month/user for 100 users. Talking about the user interface, Trello can help you get your job done with minimum UI. Download
There are more other to do list software for Windows and Mac. However, these are some of the best tools in this category. No matter which utility you choose, you should take a look at the user interface, compatibility, and features before opting for it.