Best Tools To Create Your Online Portfolio
When everyone is going online in this inherent digital era, a list of works on paper will not do as good as an online portfolio does.  It does not matter whether you are going for an interview for any online job or offline, your portfolio should be strong and should be presented in such a way, which can be seen by anyone at anytime from anywhere. To fulfil this particular assertion, you should really go for an online portfolio instead of traditional printed paper portfolio.
Problem begins when you try to create your online portfolio on your own. You may encounter countless problems while creating a simple portfolio. That is the reason, why you should look for a tool that will help you to create your online portfolio without any expert knowledge and in less time.
Best Tools to Create Your Online Portfolio
Now, here are several tools and websites along with some resources, from where you can get some inspirations and get the best thing to create your own portfolio.
1] PortfolioBox (Free, $6.9/month)
This is one of the easiest way to create your online portfolio. No matter whether you are an artist, photographer, designer or model, PortfolioBox will let you create your own portfolio within minutes. Obviously, you should spend time to do so but this is something, what makes everything easier than others.
The free edition of PortfolioBox has less features than the premier version. However, you can use the free version for life time.
Free edition features:
Host 50 images
Host 10 products
Host 10 pages
All premier themes for 30 days
Domain with .portfolio.io (ampercent.portfolio.io – here "ampercent" is username)
Premium edition features:
Custom domain (yourname.com)
Host 1000 images
Unlimited page, product and blog post
Add Flickr and Instagram page
Parallax effect
Custom CSS/JS
Google Analytics integration
All the aforementioned features are available at just $6.9 per month. The user interface looks pretty awesome and uncluttered. Hence, you can easily create your portfolio in less than an hour.
You can check out some examples here.
2] Carbonmade ($6/mo & more)
More than 900k portfolios have been made using Cabronmade, which is available at various price with different features. Just like PortfolioBox, any type of people including Copywriters, Character designers, Fashion designers, graphic designers, motion designers etc. can create their portfolio with a little bit of effort.
CarbonMade has three different plans and no trial edition is available for testing purpose.
$6/month: You can do the following things using this plan,
10 projects
100 pages
Audio uploads
Embed video
Custom navigation
Support
$12/month: The following features are available in this plan,
50 projects
500 pages
Great personalization
Custom navigation
Custom domain
Audio upload
Password protection
Project archiving
Support
Visitor statistics
$24/month: The following list of features is included in this plan,
Unlimited project
Unlimited page
Great personalization
Custom navigation
Custom domain
Audio upload
Password protection
Project archiving
High quality support
Visitor statistics
Priority Talent Pool Placement
If you want , you can check out some examples here.
3] All You (Free, $8/mo, $15/mo)
All You is another great online portfolio builder. However, you need little bit of development and designing skill to unlock the power of All You. It has some bootstrapped templates, which let users get better view. Users can create their portfolio as per their need. They do not have to depend on the given features.
All You comes with three different plans.
Free: When something has the premium edition, the free version must not has all the features. Anyway, let's take a look at the features.
Unlimited page
Template selection
Customization
Typekit font collection (more than 1000)
50MB disk space
$8/month: It has some more features than the free edition.
Unlimited page
Custom template selection
Full customization
Typekit font collection
5GB disk space
Custom domain (yourname.com)
Custom landing page
Custom mobile template
If you want, you can pay yearly as well. Generally, you have to pay $12 per month from the second month. However, if you pay yearly, you need to pay only $96 per year.
$15/month: It has all the previous editions' features. Some additional features are as follows,
10GB disk space
Custom CSS customization
Considering all the features, All You seems reasonable. You can check out some template here.
4] FolioDrop (Free, €5/mo)
FolioDrop is yet another useful online portfolio builder that assists every kind of people to create their own portfolio. Although, the free version has some great features, yet, you can try the premium edition, which costs only €5 per month and it comes with more options to build better portfolio.
It has templates for different fields of people i.e. web designers, graphic designers, fashion designers, writers, photographers and so on. On the other hand, FolioDrop provides responsive template so that you do not have to use any secondary template to provide better appearance to mobile users.
Free: The free version of FolioDrop has some restrictions.
Custom domain
80 images
Custom favicon
Only one template
Professional or €5/month: It has really cool features.
Custom domain
Host 2k image
Custom favicon
Video streaming support
Print as PDF support
Password protection
Visitor statistics viewer
Dynamic templates
It has one more plan, which generally known as Agency and it is available for large businesses. This particular plan provides all those aforementioned features along with unlimited image upload.
5] Portfolio Lounge (Free, $7.99/mo, $16.99/mo)
Portfolio Lounge provides more flexibility to different type of people. All the aforementioned portfolio builders usually help designers, photographers, writers etc. Nevertheless, Portfolio Lounge assists more people. You can create your online portfolio for Art direction, Architecture, website branding, cinematography, typography, Fine arts, furniture design, product design, sculpting, tattoo and more others.
Portfolio Lounge is available in three different versions.
Free:
Custom logo
Six projects
20 image uploads
$7.99/month:
500 image uploads
30 projects
Custom template
Google Analytics integration
Custom logo
$16.99/month:
2000 image uploads
100 projects
Custom template
Custom logo
Google Analytics integration
Portfolio Lounge is very easy to use and not much noisy. This is why it is so popular.
All the above-mentioned tools and websites are standalone online portfolio builder. However, you can also use various CMS to do the same. For example, you can use Tumblr, WordPress etc. If you use them, you must have some development and designing skill. For those CMS, you need a beautiful portfolio theme.
If you use Tumblr, you can check out this article to get top rated portfolio theme for Tumblr. If you use WordPress, the following themes will help you to build a better portfolio.
Free Portfolio Themes for WordPress
Lucy (Download)
SKT Black (Demo & Download)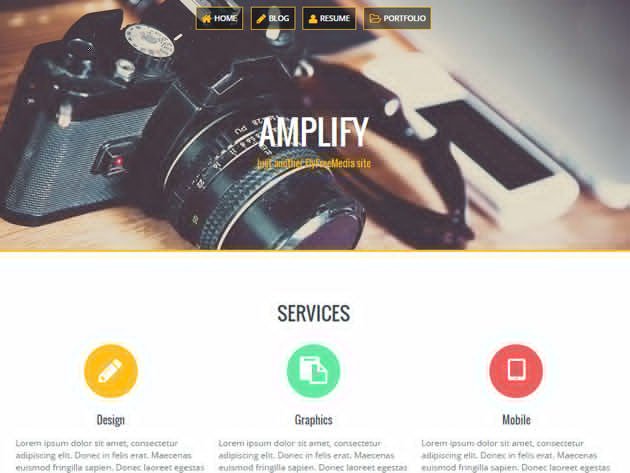 Premium Portfolio Themes for WordPress
Zerif Pro ($67 | Buy)
RokoPhoto ($67 | Buy)
Alona ($48 | Buy)
Vulcano ($43 | Buy)
HalfCreative ($43 | Buy)
There are more other portfolio themes for WordPress. But, these are the top rated themes and these are very easy to use as well. You do not need to be a theme developer to use these themes. But, a little bit of designing skill will surely help you.
Final Word
If you want to use portfolio builder, you can surely head over to anyone of those above mentioned tools. They are easy to use and not too expensive as well.