Best Tools To Remove Watermark From Photos
If you have added a watermark to your image, but there are some spelling mistakes or any other problem with the watermark, you can check out this article. Here are some of the best tools to remove a watermark from photos so that you can add it differently or so. In this article, you can find some free and paid online tools and apps to hide the watermark.
However, the watermark should not be under a text or paragraph. In that case, this is near to impossible to remove the watermark, no matter how hard you try. To remove such watermark, you must have a good knowledge of burn, blur, etc.
Best Tools To Remove Watermark From Photos
1] Adobe Photoshop CC – Best Watermark Remover
Nothing can beat Photoshop when it comes to editing a photo. It is probably the best tool for this purpose as removing the watermark is an image editing method. Talking about using Photoshop to remove the watermark from photos, you need to have a good knowledge of some tools like blur, burn, content-aware, etc. If you know how to use them, this guide is nothing but a two-minute job for you. However, Photoshop is not available for free, and that's why people often try to ignore this genuine tool. Purchase link
2] GIMP – Free Watermark Removal Tool
When you need free software to do some Photoshop-like jobs, you should try out GIMP. This is a cross-platform photo editing software available for Windows, Mac, Linux, etc. Although this software is available for free, you must have some photo editing knowledge except you want to end up wasting your valuable time. Talking about features, you can find almost everything that is available in Photoshop. Download
3] Lunapic – Online Watermark Removal Tool
Lunapic is a feature-rich online tool to remove the watermark from images. The only problem with this web tool is that it reloads the whole page whenever you make any change on the image. Right after changing the tool from the menu, you need to wait for a couple of seconds to get the page refreshed. Otherwise, this is one of the best fine-tuned online software for them who do not want to spend a dollar to hide the watermark from an image. As this is online, you need to upload your image first before making getting options. Visit website
4] The InPaint – Free Online Tool To Remove Watermark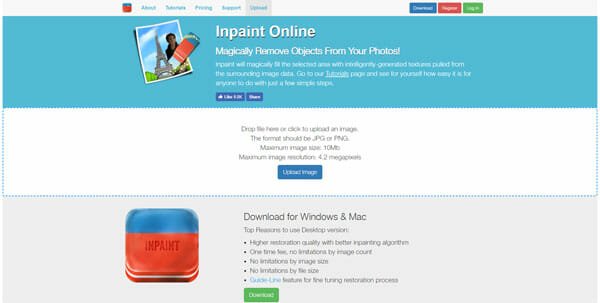 InPaint is an online tool which is accessible from any device including Android and iOS mobiles. It doesn't change the options much despite having such a narrow user interface. Even after being an online tool, it gets the job done quite faster and efficiently. Although there is a desktop version of this app, you might not want to use that because of the lengthy download and installation process. You can upload JPG and PNG files to this website to remove the watermark. The only limitation is that the image must be lower than 10Mb. Visit website
5] Remove & Add Watermark – Watermak Removal Tool For Android
As the name suggests, it lets you remove the watermark, and as the title suggests, you can download this app on your Android mobile. Add & Remove Watermark app is compatible with Android 4.2 or later version, and it does the job well. It can remove logo, text, etc. from an image. Alternatively, if you want to add your watermark, you can do that as well. The only drawback is that you can find some advertisements in this application. Download
6] Photo Healer – Logo Watermark Remover For Android
Removing the watermark from a picture is very easy if you install Photo Healer application. It looks like old-school because of the user interface, but it comes with all the essential functionalities to get your job done. No matter whether the watermark is there in text or image form, you can make than vanished instantly with the help of this software. Not only watermark but also you can remove a person from an image using this tool. Talking about compatibility, you need Android 4.1 or later version. Download
7] Unwanted Object Remover – Free Watermark Removal App For Android
Unwanted Object Remover is a free Android application that lets you remove any unnecessary objects from your image. No matter if you want to remove a watermark, faulty object, or anything else, you can do that with the help of this typical Android application. The user interface of Unwanted Object Remover is pretty good, and you should not find any problems using it for doing that same job with multiple pictures. To install this app, you should have Android 4.0.3 or later version. Download
8] Photo Eraser – Watermark Removal Tool For iOS
If you are using an iOS device and you want to remove the watermark from an image, you should try out this free application called Photo Eraser. It doesn't offer countless features like some other tools, but you can do the job as mentioned earlier. All the options are well-managed, and that's why you should not get any problem while using this app even for the first time. It offers some modes like Intelligent, Advanced, Extract Color, etc. and you can utilize them according to your photo. The best think about this tool is that you can remove a watermark from videos as well. Regarding availability, you must have iOS 8.0 or later version to download this app on iPhone and iPad. Download
9] TouchRetouch – Remove Watermark From Image On iPhone
When it comes to the best photo editing apps for iOS, TouchRetouch comes to mind for sure. Although this is a paid app, it worth the money. By spending only $1.99, you can download the best iOS application to remove the watermark from images within moments. Not only watermark but also you can hide unwanted objects like wires, or something like that. The user interface looks friendly and well organized. Before downloading this app, make sure that you have iOS 12.0 or later version. Download