Different countries have different laws, and Netflix has been following that law. As a result, you are not getting many shows in your country those are being streamed in the USA or India or UK. For example, the popular TV show F.R.I.E.N.D.S. is not available in India, but you can watch it being in the USA. If you do not want that barrier and you want to unblock region restricted Netflix shows on your mobile or computer, do check out these VPN apps and services. Not all the VPN apps can help you watch Netflix shows. But these following apps would be helpful for you.
Best VPN to Unblock Netflix
If you think that you can unblock Netflix and watch region-restricted content using any VPN app, you are wrong. You can try. There is a high chance of getting a different error message regarding proxy or VPN while trying out. Instead of wasting your time, you can check out these following VPN services.
1] NordVPN
NordVPN is probably the best VPN services out there. It doesn't matter whether you want to unblock nation wise content on Netflix or just want to be anonymous on the internet, you can try out this VPN service. There are many cheap VPN services those have a lot of servers. However, quality always beats quantity. In this case, NordVPN comes with a huge number of servers, and you can access them all. The best thing is you will get quite the same speed irrespective of using any server. According to the official statement, it has 4952 servers in 62 different countries. Another useful thing about this service is you can get dedicated IP address that will be non-shared IP and only you can access that to browse the internet. Apart from that, you will get double-VPN servers, obfuscated servers, Onion over VPN servers, P2P servers, standard VPN servers, and so on. Talking about the availability, you can install NordVPN app on almost any platform including Windows, Mac, Linux, etc. Apart from that, you will get an extension for Google Chrome, Firefox, etc. Regarding price, it looks quite cheap when you buy one year plan, which costs around $6.99/month when billed annually.
2] ExpressVPN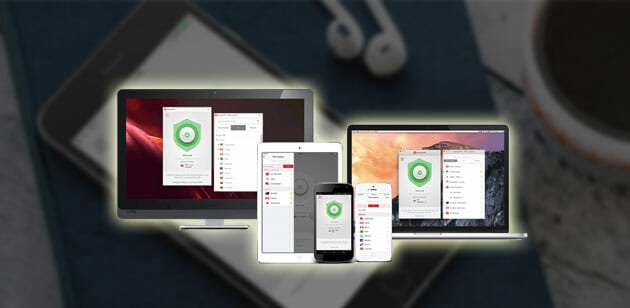 With AES-256 bit encryption, ExpressVPN has proved itself one of the best (if not the best) VPN services out there, which is being sued by millions of people from across the globe. Like NordVPN, you can use ExpressVPN for any purpose. For example, you can unblock website like Spotify, browse internet anonymously or you can watch Netflix USA being in a country like the UK, India or so. Although it doesn't have as many servers as NordVPN, you can still get a world class service from this app. According to the official statement, you will get 148 server locations. Regarding availability, you will be able to install the app on Windows, Mac, Linux, Android, iOS. The best thing is you can install it on routers as well. Regarding the user interface of the app, you will get a neat and clean UI, which has very few options to manage your connection without any problem. There are many VPN services those comes with a bandwidth cap. However, you won't get anything like that in this VPN app. Regarding price, you can purchase the monthly pack, which costs around $12.95/month. However, if you can purchase the yearly subscription, you need to pay $8.32/month.
3] VyprVPN
Although VyprVPN is not that popular among people, who want to be anonymous on the internet, it is quite popular among them, who want to unblock regionally blocked content on Netflix. This is one of the best solutions out there, which is being used by thousands of people. This is popular since it is quite cheaper than others and it has a very easy to use interface. The performance of the servers is quite good, and you do not need to worry about the lag or anything like that. It offers a 3-day trial that you can use to decide whether VyprVPN is perfect for you or not. Like other VPN services, this company offers apps for Windows, Mac, Android, iOS, etc. Like other VPN apps, you can install it on the router as well. Therefore, you do not have to worry about the apps or number of devices you will connect to the router. Regarding pricing, you can find it quite competitive. It is priced at $12.95/month or $6.67/month when billed annually.
4] Hotspot Shield
When it comes to a great user interface, affordable pricing, a huge number of servers at different locations, you can install Hotspot Shield. No matter whether you have a computer or mobile, you can certainly install this VPN app. You can find the app on Windows, Mac, Android, iOS and so on. Apart from that, you can install the browser extension in Google Chrome as well as Firefox. There are thousands of people who are using this VPN app. However, there is a very less percentage of people, who have claimed regarding speed. While testing, I didn't find limitation at all. Also, I successfully unlocked Netflix US from being in India. Talking about price, you can purchase a monthly subscription for $12.99. You can also purchase a yearly subscription for $5.99/month (billed annually).