Best Websites To Check Your Internet Speed
Many people claimed that they are not getting the internet speed what was promised by their internet service providers. If you are one of them, you should test your internet speed and ask the ISP if there is any significant difference. In this article, you can find some of the best websites to check your internet speed so that you can use it further.
How Does Internet Speed Test Website Work?
Although the front-end looks fancy, the back-end is entirely opposite. A lot of things happen in the background before displaying the internet speed. The most common technique used by almost all the internet speed test websites is as follows.
Whenever you go to check your internet speed, the website's client pings your internet server over port 8080. It measures the ping time, which is step one. After that, it uses your server to download a binary file via the client and measures the download speed. Then, the user gets the download speed on the computer or mobile speed. The same thing happens with the upload speed as well and in a reverse process. For displaying the upload speed, the client uploads a binary data to the respective server and measures the time.
Best Websites To Check Your Internet Speed
1] Speedtest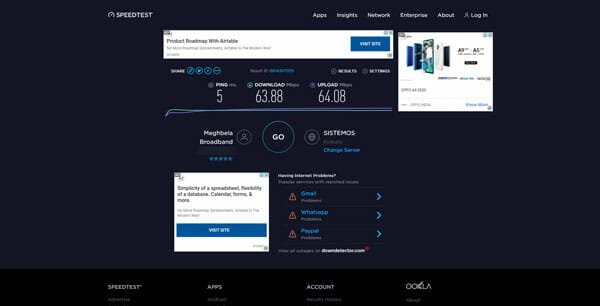 Speedtest is probably the best website to check internet speed. No matter where you live in the world and which internet service provider you are using, you can check your download and upload speed with the help of the Speedtest website. This is very easy to measure the speed as it has a straightforward user interface. Head over to the official website, and click the GO button. It should select show your internet company name and choose a server to check speed. Following that, you can find the ping time, download, and upload speed on your screen. The best thing is that you can download the mobile app and test it without opening any website. Visit website
2] Fast.com
This is a comparatively new website, but it does the job pretty well. This website has probably the simplest user interface with minimum and only essential features so that users do not need to spend a lot of time to comprehend everything. This website is a product of Netflix, the popular video streaming website, and that is why it has a different user base. By default, it shows only the download speed. However, if you want to check the upload speed, ping time, etc., you can expand the MORE INFO panel. In terms of settings, you can test parallel connections, change test duration, etc. Visit website
3] Open Speed Test
Open Speed Test is the fanciest website you can find in this category. The user interface can certainly attract more users. Talking about the functionalities, you can find all the essential options that are required to measure the internet speed. Although it doesn't let you change the server like Speedtest.net, you can find all the other details on your screen regarding the test. Apart from the download and upload speed, it shows ping time, jitter latency, etc. Also, you can find the server it used to test your internet speed, a unique link to share your results with friends or anybody else. Visit website
4] Century Link
If you like the features of Speedtest.net website, but you do not like the user interface of that website, you can head over to this neat and clean website. Apart from changing the server, you can do everything on this website as you can do on the Speedtest website. That said, you can find the ping time, download speed, upload speed, jitter latency, and others. For your information, it shows your internet service provider's name, public IP address, and server used during the test. Visit website
5] Meter
Meter is a simple website with all the information you need to test your internet speed. That means you can find the ping time, download speed, upload speed, server name, etc. It creates beautiful graphics with each test result, and you can share that with friends via email, social media etc. Meter is available on Android mobile as an app. You can download the official application on Android 5.0 or later version. If you have an app, you can save results and check them later. The user interface is uncluttered, but it comes with advertisements. Visit website
6] Spectrum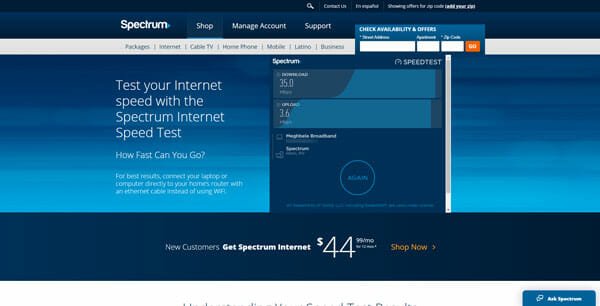 Spectrum is something like Century Link. That means it uses a third-party speed test tool also known as Speedtest.net to show the internet speed. However, the user interface of Spectrum is much better than the official speedtest.net website, and that is why most of the people often visit this site to check their broadband speed. The only problem with this website is that it doesn't show the ping time. If you need to report a problem to the internet service provider, you may not find this website useful. Visit website
7] AT&T Internet Speed Test
If you need a fancy looking interface while checking the internet speed, you should give this website a try. It shows every possible information alongside a beautiful UI. Although it has so many features, you cannot find any clutter, or you do not have to spend a lot of time to understand all the options. To check the speed, visit the website first, and click the START button. Visit website
Why Do Different Sites Show Different Speeds?
If you have used all these websites, you can find a difference between the speeds. That happens because different websites use different server and client to measure the download and upload speed. If a website is using low-quality server, you cannot expect a very good result even if your ISP is providing a 100Mbps connection.
No matter which website you use, you should check your internet speed multiple times and then calculate an average speed.