Best Wireless Chargers For Your Mobile
Nowadays, you do not need to connect your phone directly to a power outlet via USB cable to recharge the battery. There is a gadget called a wireless charger that does the job pretty well. If you are building a modern computer desk and looking for a wireless charger for your mobile, this article might be helpful. Here are some of the best wireless chargers for your mobile.
Before getting started with this list, make sure that your mobile supports wireless charging. Otherwise, it will be a waste of money.
Best Wireless Chargers For Your Mobile
1] Google Pixel Stand – $79
If you have a wireless charging phone, and you want to get a standing wireless charger, you should find Google Pixel Stand very handy. It looks fancy, and it does the job without any issue. If you have a Pixel 3 later versions, you do not have to worry about the compatibility. However, if your phone supports Qi wireless charging, it should not be a problem for you. In the box, you can get an 18W power adapter, 1.5m USB C-to-C cable, etc. alongside the actual charger. You can place your phone horizontally as well as vertically. Check the deal
2] Anker Wireless Charger – $18.99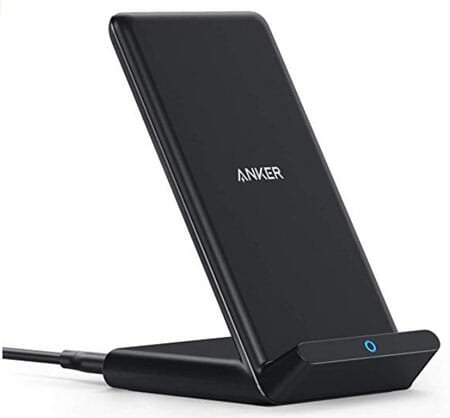 If you do not need a fancy stand like Google Pixel Stand, you can try out Anker wireless charger. It is very cheap, and it does everything perfectly. No matter whether you have Samsung S9 or iPhone 11 Pro Max, you can charge all of them wirelessly using this charger. This is a Qi-certified charger, and that means all the wireless charging supported mobiles are compatible with it. The only problem with this charging station is that it doesn't come with a fast charger, and it is not recommended to use a third-party fast charger along with it. Check the deal
3] Yootech Wireless Charger – $10.95
It is a cheap wireless charger that sits flatly on your desk. In other terms, you must put your phone horizontally to start charging. Luckily, it has two cables – USB A-to-C and USB C-to-C. You can use either one to provide power sully to your charger. It is compatible with the 10W charging mode. It is safe to use this charger to charge any supported mobile as it is Qi certified. There is a reason why this charger is so cheap, and that is the lack of an adapter. You have to buy the charging adapter separately so that your wireless charger gets connected to a wall power outlet. Check the deal
4] Upwade Wireless Charging Station – $39.99
If you are thinking about the high price, it should be changed after checking out all the facilities it offers. As the name suggests, it is a charging station or hub, which you can use to charge most of your Apple products. To be precise, it is possible to charge an iPhone, AirPods, as well as Apple Watch using the same charger and simultaneously. The essential part is you get a Quick Charge 3.0 adapter along with the wireless charger. If you rely on the Apple ecosystem, you should have to worry about the charging anymore after installing this wireless charging station on your desk. Check the deal
5] XDODD Wireless Charger – $39.99
If you like the idea of Upware Wireless Charging Station, you should check out this wireless charger. It does the same job as earlier, and it looks fancy as well. The black-colored wireless charger has three charging facilities that you can use together. For instance, if you have an iPhone 8 or later version, AirPods, and Apple Watch, and you want to charge them simultaneously, you do so with the help of this wireless charger. A Quick Charge 3.0 adapter is also included in the box so that you do not need to buy anything separately. Another important thing about the AirPods charging socket is that you can use it to charge a second iPhone, but that won't be a wireless charger. Check the deal
6] Seneo Wireless Charger – $28.99
It is a black platted wireless charger that you can use to charge two devices at a time. These two devices should be among an iPhone, Apple Watch, and AirPods. There is no limit on using any combination you want. This charging dock comes with Qi certification, over-voltage protection, short-circuit protection, etc. so that users do not have any worry while charging their expensive gadgets. The primary setback of this charger is that it doesn't come with an adapter. That means you can use any 18W adapter to provide electric supply to the wireless charger. Check the deal
7] Fuse Chicken Gravity Touch Wireless Charging Base – $39.95
If you do not need a wireless charger for all your gadgets, and instead, you want to buy something that can charge only a mobile, you should be happy to see this charger. It has a wooden finish that will give your desk a different look, and you can carry it in your backpack without feeling the weight. It can charge any Qi wireless charging supported mobiles, including Samsung S9, S8 Plus, iPhone 8 and newer versions. In the box, it has everything you need to charge your mobile wirelessly. Check the deal
No matter which wireless charger you choose, you need to take the mobile case off. If your charger supports charging with the case, good! But the chances are that is not possible in most cases. Therefore, before complaining about the faulty wireless charger, do remove the cover or case from your mobile and put it onto the charger.