Best Calorie Counter Apps For Android And iOS
According to some reliable sources, an adult male needs more than 2000 calories every day to stay healthy and fit. Although a moderately active adult female needs quite less calorie than a male, there is not a huge difference. It doesn't matter whether you want to gain or lose weight, to stay fit you must work on your calorie level. Also, let's assume that you have a kid and you want him/her to be healthy. Obviously, this is recommended to consult it with a nutritionist and get a diet chart. However, if you're going to start today, you should know how much calorie a particular food or vegetable has. You can seek help from the following apps to help you monitor and calculate the calories of the meals you are going to eat.
Best Calorie Counter Apps For Android And iOS
These following apps may not contain all the foods that are available across the globe, but you can find some of the most popular and common foods with proper information.
1] MyFitnessPal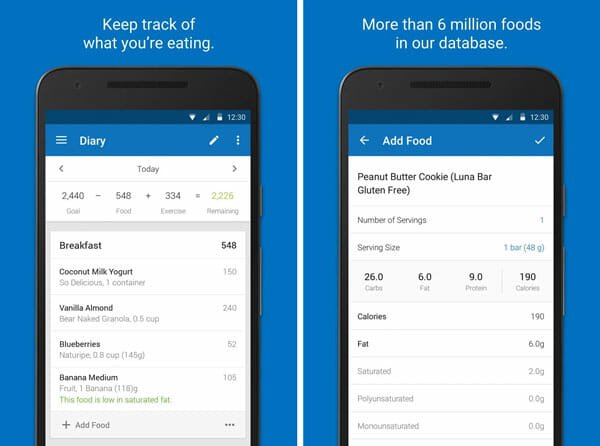 When we talk about health related apps MyFitnessPal is the top rated app for both Android and iOS. This app allows you to make a diet chart, keep check and balance on your calorie intake, in short, it allows you to do all the task to monitor your calorie consumption. You can enter your goal, and it will let you calculate how much calories is remaining for the day or if you have consumed more than your target. You can find an option to enter your weight loss/gain progress. You can also add your water consumption as water is an essential element for every human body, MyFitnessPal has both options so that you can manage every aspect of your diet.
This app is compatible with Android 4.2 or later version and iOS 11.0 or later version. Although it is available for free, you need to purchase a monthly/yearly subscription to unlock all the functionalities.
2] ControlMyWeight
ControlMyWeight is not available for Android, but you can download it on any iOS running device including iPad. It looks pretty promising since it offers almost all the options you might need to lose, gain or maintain your weight. Not only just calories but also you need to work on fat, carbs, sugar, etc. if you want to lose or gain weight. The best thing is this app allows you to maintain all those things from one panel. Being said that, you can enter all the data while setting up the account and it will keep showing you how many calories or anything else you need to consume to burn or gain weight or stay fit all the time. Another important feature is that you can search for food and check the whole alimentary compositions within moments. The user interface of this app is pretty good, and it is available for free. However, you must have iOS 9.0 or later version. Download
3] Calorie Counter – MyNetDiary
As the name of the app predicts, you can calculate your daily calorie intake with the help of MyNetDiary app, which is available for Android as well as iOS. Before getting into the common features, you should know about the best one. If you have a Google Fit account and you install this app, this is possible to synchronize all the data between those two apps. Therefore, it will be very easy for you to access all the information, create a diet chart, and work on your fitness.
As usual, you will be able to check how much calorie food has, how much you need to consume today and many more. Also, there is an option that will let you check how many calories you can burn if you take a run or walk or go for a ride on your bicycle.
4] MyPlate
Although you can start using all these three aforementioned apps without creating an account, you must have to create an account to use MyPlate application. This is available for free but you need to purchase a subscription to use all the functionalities. It costs very less. You need to spend $9.99/month to get the subscription.
Talking about the features, you can find almost all the essential options so that you can manage your fitness report with ease. While setting up the account, you need to enter some personal details like age, height, weight, etc. After that, it will ask you to set a goal. Once you set a goal, you can find several ways to achieve that in a particular time span. If your goal is quite big, but you have less time, you need to opt for Extreme. On the other hand, if you do not have a big goal or you have a good amount of time to achieve that, you can choose Ease method. Like MyNetDiary, you can connect your Google Fit account with MyPlate account.
5] FatSecret
Like other calorie counter apps, FatSecret also has the option to check how many calories you are going to take in breakfast, lunch or dinner. You can enter your food name to get the details on your screen. Talking about achieving a goal, you will be able to use that function in the FatSecret app. Obviously, it requires some personal information such as weight, height, age, gender, activity level, etc. After setting those up, it will let you find out how many calories you have taken today or yesterday. The best thing is it shows a graph of calories so that you can know how much more or less you need to gain or lose your weight in a given time span.
There is not a huge difference between health apps and calorie counter apps. If you want, you can check out these health apps for Android and iOS.