How to Capture Scrolling Page Screen on iOS
When it comes to stability, iOS becomes first one to choose. No matter what kind of problem you have, most of them can be solved using given functions or by using a simple third party app. Although, iOS doesn't support apps from outside of the App Store but the App Store contains hundreds of free and paid apps those are really good in quality.
Sometime, we need get a screen where scrolling is available. Which means, you cannot capture screenshot of the whole page at once. If you press the power button and home button together, it will capture only the current screen. But sometime we like to send the whole screen to show something to our friends. Or, suppose, you are a technology blogger, who wants to write a tutorial on something where you have to show the whole page. But like said before, this is not possible to capture scrolling page on iOS using predefined functionality.
However, this is certainly possible to capture scrolling page screen on iOS. That implies, you can show the whole page without any issue. However, that is not possible without any app. There is an app called Tailor.
Capture Scrolling Page Screen on iOS
Tailor is a free iOS app available for iOS 7.0 and later version. Although, it has not updated since last one year but still this is a pretty good app that has not produced any problem on iOS 10 as well. You can download Tailor on iPhone, iPad as well as iPod Touch.
However, the functionality of Tailor is pretty different other similar apps. Generally, other full page screen capture tools capture the whole screen at once. But, Tailor doesn't do that. You have to capture all the screens manually and then Tailor will stich those screenshots once after one. Eventually, you will get the whole page screenshot that can be embedded to anywhere or shared on social networking sites.
But, one thing you should keep in mind that you must have to capture all the screens one by one. Otherwise, Tailor would not be able to detect those screenshots and hence, you will not get the result what you should get.
This is very easy to use on any iOS device. At first, download and install Tailor on your iOS device. After installing, you do not have to do anything like setup. Just capture all the screenshots one after one. After that, open Tailor app on your iOS device. You should get a screen something like this,
As a result, you will get the following screen. The screenshot given in the image is actually a stitched screenshot and all the parts can found in the above image.
If you do not like this app, here are some more tools that you might find useful.
Picsew – Screenshot Stitching
As the name suggests, it lets you stitch screenshots one after one to make a scrolling page screenshots. In simple words, you need to capture the whole page manually and import them in this app. After that, Picsew will combine them and make a single image as per your need. The good thing is it allows you to stitch screenshot horizontally as well as vertically. If you do not have that much time to choose vertical or horizontal axis, you can find the automatic method quite useful. Another useful feature of this tool is you can add watermark, which is quite important when you are making photos for your brand and you do not want others to use them without credit. Picsew is available for iPhone as well as iPad and you need iOS 10.0 or later version to install this app. Last but not the least, you need to spend $0.99 to purchase this app.
Long Picture – stitching photos
This is a great alternative to Picsew. That means you can capture a long scrolling webpage with the help of this tool. You need to set all the screenshots according to the number. Following that, Long Picture will stitch them vertically. It doesn't allow you to stitch images horizontally. However, if you are capturing webpages, there is no need of that feature. It is available iPhone and iPad. All you need is iOS 9.0 or later version. All the available features are very handy and you need them to make a better scrolling page screenshot. The user interface of this app is good enough and you should not find any problem using it even for the first time. All the options are well managed. Therefore, you should not find any clutter.
Stitch It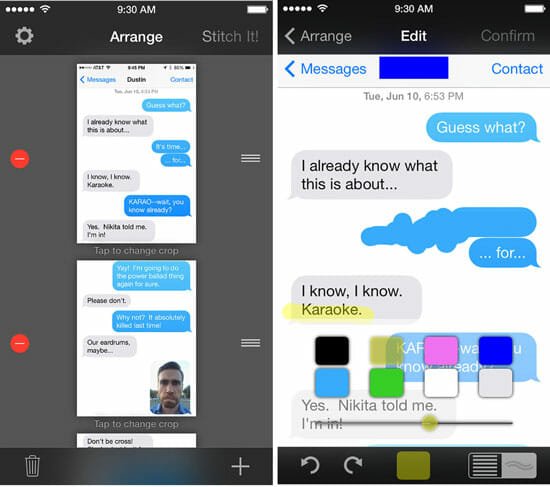 Stitch It is available for free and you can install it on iPhone as well as iPad. The workflow of this app is similar to other aforementioned apps. In other words, you need to capture all the parts of a webpage or something else manually. After that, you can stitch them one by one with the help of Stitch It application. You can create a long screenshot of settings page, WhatsApp conversation, Messenger conversation, webpages, etc. You need iOS 11.0 or later version to install Stitch It for free.
Read More: How to Take a Screenshot of a Long Web Page?