Clean Up Your Facebook Timeline Using Facebook Activity Log
Managing the privacy settings for each and every post on your Facebook profile can be really confusing, if not impossible. This is because Facebook introduces newer features and privacy rules every 6 months and you have to re-check all the privacy options from scratch.
If you are using Facebook for the last three years, the situation is even alarmic. There is a high chance that some of your old photos or status updates are marked as "Public" and anyone can access that information, provided they know the profile URL of your Facebook account. On rare occasions, this can lead to severe consequences such as profile impersonification, spam and social embarrassment.
Another problem is that you have to invest a lot of time in checking the privacy settings of old Facebook posts, photos and status updates. Cleaning up your Facebook timeline, which has been living for the last 5 years, is certainly not that easy or straight forward.
Here are some ways to clean up your Facebook profile from junk status updates, links, tagged photos, videos and control who can view your profile information and specific posts on your Facebook profile.
Use Facebook Activity Log to View All Your Facebook Posts In One Page
Thankfully, Facebook has released an activity log feature which allows you to view all your Facebook posts in a single page. The activity log feature in Facebook is enabled by default and it works for newer Facebook profiles ( aka Timelines) as well as the older ones.
To view all your Facebook updates in one page, go to your Facebook profile and click the "Activity log" button on the top right corner.

This will open the Facebook activity log page where you can control the privacy and visibility of old Facebook posts, videos, photos as well as find hidden posts on your Facebook timeline.
The activity log page is record of your entire Facebook activity, which includes the following things
Your status updates.
The links you have posted, including YouTube videos or Facebook videos.
Your photo uploads and photos where you have been tagged.
Your comments.
Posts on your timeline.
Posts from Facebook applications, games and other third party websites which you are using with Facebook connect.
Please note that only you can view your entire Facebook activity log and there is no way anyone else can view all your Facebook activity. Here is how the activity log of your Facebook profile should look like: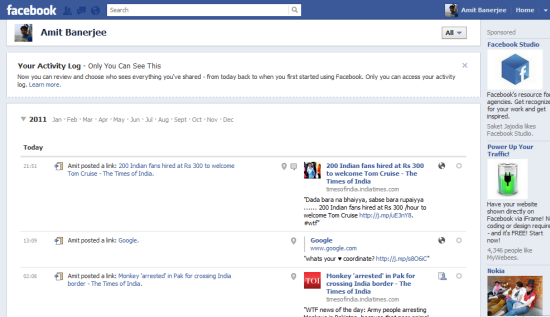 Filter Status Updates, Links, Videos And Photos On Your Facebook Profile
Similar to Facebook news feed, the activity log has a "Filter updates" feature, which can be used to find all the status updates, photos uploads, links and videos that have been posted by you. Hit the tiny drop down menu at the top right corner and you can filter the following items on your Facebook timeline:
Your posts along with their privacy settings.
The date when you added someone as your Facebook friend.
Your Facebook updates which have a "Location" tag attached to them, this is handy when you want to find out updates that were sent from a specific location.
A complete record of all your Facebook comments, this is useful when you want to remove older comments.
Groups joined, Likes made, Subscriptions and Events where you have been involved or invited to.
Application specific updates. For example: Filter all the updates of Foursquare and mass delete all of them, in case you do not want to share your location with anyone on Facebook.
Manage The Privacy And Visibility Of Older Facebook Updates
To control the privacy setting of older Facebook posts, hit the dropdown menu on right and select whether the update should be publicly available or whether you want only specific people to see it. Past status messages and posts, that are archived on your Facebook timeline may be embarrassing sometimes and you definitely don't want your boss or Employer to have a peak within your life.
The general rule of the thumb is to hit the "Feature" button on posts that you want to keep while hide older posts from all friends and contacts on Facebook. Your friends are more interested in the events and happening stories of your life ( e.g birthday, engagement, marriage, education, promotion and so forth).
While it is a trend and common posture to share YouTube videos, FourSquare checkins, Tweets and other random stuff on your Facebook timeline, there is no point in archiving them and keeping them stagnant on your timeline.
The sad part is that there is no way to bulk delete old stuff and clean up everything. Manually deleting old status messages and links is the only way around, but you can also hide them from your timeline, change the visibility to specific friend lists or choose "Only Me".