How to Completely Back up Your Blog in WordPress and Blogger
Back up is an important job every blogger or webmaster is concerned about. In case of a disaster, only a backup can save you and reinstate your site. Learn how you can completely back up your blogs in WordPress and Blogger.
If you have a Blog on Self hosted WordPress
If your blog is on a self hosted WordPress platform then backing up your website is simple. Just follow the steps mentioned below :
1. First you need to back  up your blog's database.The My-SQL database is the heart and soul of your blog and if you do not have a solid back up of your database, your website or blog back up is not complete. You can back up your WordPress blog database using a database back up plugin or from PHPmyadmin of your webhosting panel.
2. After you have backed up the database, it's time to back up all the files in your website. Use an FTP program(e.g Filezilla) and log in to your FTP account. After that download the entire www directory  in your computer.(e.g create a local folder in your computer and drag and drop all the contents of the www directory)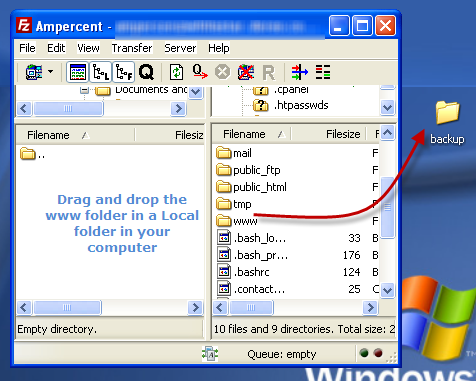 3. If your hosting provider gives you C panel access then backing up your blog is also easily achieved. Just login to the C panel and follow the steps mentioned below :
– Go to the Files tab and select "Back ups"
– Some web hosts provide a Full home directory backup and also a backup of your database. As for us, we are using Doreo and they provide a one click backup of the complete www directory along with the databases.
– There you go. Just click that button and you will have a zip file download containing all the files in your www directory. Then you can download the database in a similar way and keep it in your computer as a backup measure.
That is it. You have a complete back up of your website including all the core WordPress files,Plugins, Themes as well as all the media and images used. If something goes wrong and you are unable to restore your site to your current hosting provider you can switch to a different hosting provider and reinstate your site.
If you have a Blog on Blogger
1. Back up your Blogger template : To back up the design of your blogger blog you need to back up the blogger template that you are using. Login to your blogger account and go to the Layout tab. After that select "Edit HTML" and copy the entire code in a text file. Your template is kept safe and can be restored in any blogger blog at a future date. (Note that this does not restore and back up widgets).
2. After you have backed up the template its time to back up the contents of your blog.
You can export all the posts of your blogger blog from the settings tab of your blogger dashboard as shown below.
Just click on "Export Blog" and you can save an XML file containing all the posts of your blog. Save this file and you can restore your blog on another Blogger blog at a future date.
Blogger Backup Utility to backup Blogspot blogs
Blogger Backup is a desktop application to backup all the posts and comments of your Blogger blog in just a few mouse clicks. Just install the application and sign in with your Google username and password
All the posts and comments are exported in Atom format and you can easily restore the blog later on.
What tools have you used to backup your blogs in WordPress and Blogger? Do let us know through a comment.