How to Disable Word Suggestion on Android and iOS
Android and iOS both of them are great platforms intended for mobiles and tablets. You may have countless free and premium apps and games for both of the platforms. Nonetheless, some built-in apps and features of those above-mentioned platforms are much beneficial.
For example, if you buy a high-tech Android phone, you're going to get NFC, good camera quality and a lot more other stuff. Conversely, if you buy an iPhone or iPad, it's going to offer so many things including high quality camera, amazing video recording, stability, apps and more others.
In case you have used both platforms and tried to find some resemblances, you might have got a feature, which is known as Word Prediction or Word Suggestion. This great feature is included in both platforms' keyboard.
You can find nearest word recommendation while typing using the default keyboard. Even though, third party keyboard apps for iOS and Android offer good word suggestion, but the in-built one is much better than almost all of the third party apps.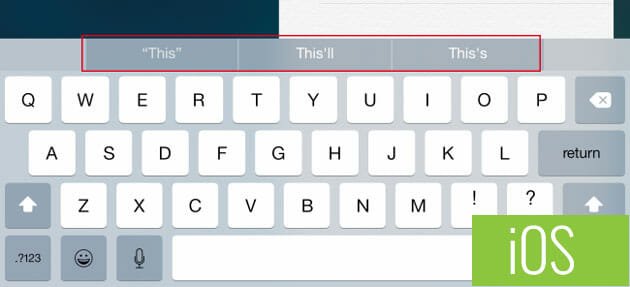 It is always good. However, when you have a smaller display or you might like to do multitasking, this word suggestion toolbar can take some place and may destruct you a lot. Hence, if you think that this word suggestion isn't aiding you and it should be disabled, this is actually the solution.
These subsequent methods would help you to disable word suggestion on Android and iOS in a few minutes. The exciting thing is that you don't have to install another third party software, jailbreak or root your device to turn off word suggestion.
How to disable word suggestion on Android?
This is very easy and not much time-consuming.
Step 1: Open Settings and go to Language & Input.
Step 2: Tap the Settings icon that is located after Android keyboard (AOSP) on your screen.
Step 3: Scroll down and you can find an option called Show Correction Suggestions. Tap on that.
Step 4: Now you will get a popup. To disable word suggestion on Android keyboard, you just have to select Always hide and save the settings.
That's all! Now the word suggestion or next word prediction feature would be turned off on your Android keyboard.
How to disable Word Suggestion on iOS?
Alike Android, the procedure to disable word prediction is quite simple on iOS. Nevertheless, on iOS, you have two ways to hide or disable the word suggestion toolbar from above the keyboard.
The first solution is very simple and better than the second solution. Just open your keyboard to type anything. Then swipe from top of the keyboard layout to the bottom. This trick will help you to hide the corresponding toolbar instantly and you can get that back by swiping from the bottom to top.
The second solution will help you to disable the word suggestion on iOS permanently.
Step 1: Open Menu drawer and go to Settings.
Step 2: Tap on General and select Keyboard settings.

Step 3: Now, pick out Predictive and turn it off.
That's it! Now, the word suggestion toolbar will be vanished immediately.
Hope this tiny tutorial will help you a lot.