Multi-task in Android with Simple Gestures – Sidebar and Swipe App Screen
Smartphones of today have grown incredibly powerful that now multi-tasking has become one of the key criteria in choosing an ecosystem. iOS users will know that though the interface is silken smooth, multi-tasking is a major pain. In fact iOS does not support true multi-tasking. You can switch apps from any other app by double clicking on the home button, which is not intuitive.
Earlier versions of Android required the users to long-press on the home button to get the list of open apps. This is somewhat made easier with the dedicated app list in Android 4.0 and above. None of these though makes switching easy. Recent iterations of other manufacturers have come up with great solutions multi-tasking, often involving gestures to switch between apps. Blackberry, for instance, needs a simple swipe from left to right to get to other apps. Ubuntu for smartphones and tablets have similar swipe gestures to easily switch apps. Gesture based multi-tasking is indeed the future, and that's where the two multi-task android apps we are going to review today have in common.
Sidebar
Taking inspiration from the Unity gestures in touch optimized Ubuntu OS, the developer of Sidebar app has implement a fast and fluid way to switch between apps. Sidebar in a sense is not a true multi-tasking app in that it does not only list the apps open. Instead it displays the apps that are manually added by the user, such as most frequently used app.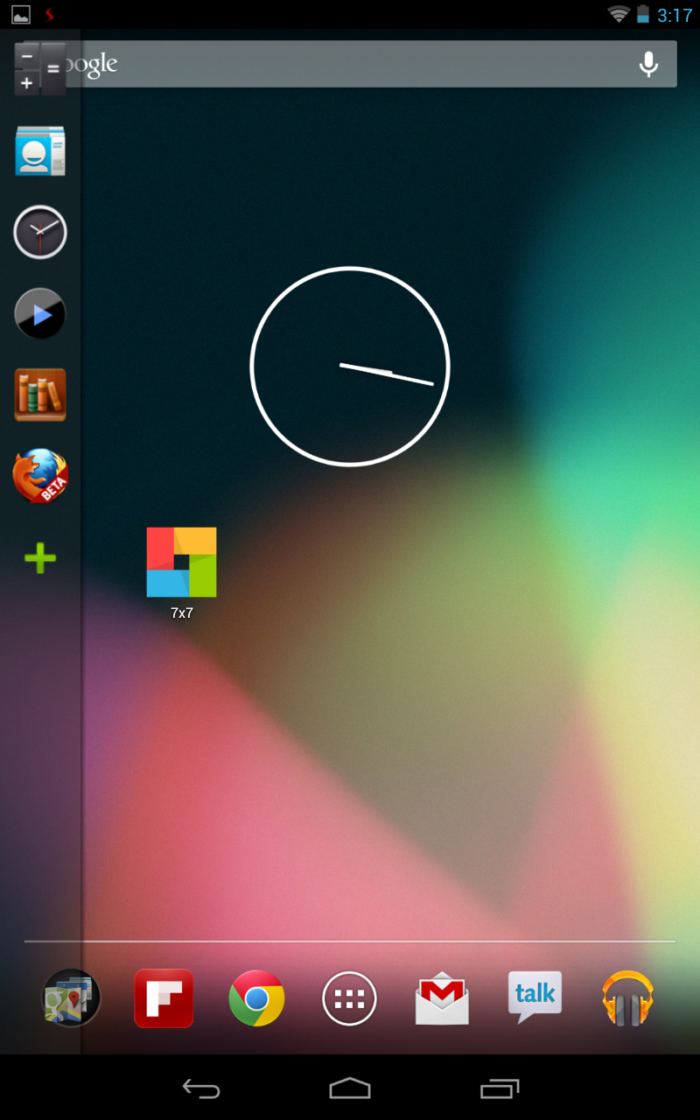 The interface is fast and extremely fluid, mirroring the same slickness found in the original sidebar of Ubuntu's Unity interface. In the Pro version, you can add as many apps as you like to the list. Sidebar also provides widgets that act as toggles to basics functions of your device, such as toggle Brightness, Torch, even music controls.
You can customize the app like the position of the sidebar, sensitivity etc.
The app is available for free on Google Play, though it limits the number of apps you can put in the sidebar to 8 and 2 toggles. The pro version does not have such restrictions and also provide customization options.
Swipe App Screen (Swapps!)
Swapps is another app sidebar which, like Sidebar, lists the apps on the side after gesture swipe. Contrast to Sidebar, Swapps shows the recently opened apps and also displays all the apps in the app drawer. You can also choose to add 3 or more favorite apps the sidebar list, which can be changed from the settings.
Swapps doesn't have the same flourish and fluidity as Sidebar has, but it makes up that it shows the recently used apps, which will come in handy. It also shows by default all the apps in the apps drawer.
Customization is part of this app, where one customize even the size of the sidebar, width and height and the position.
Swapps is available for free on Google Play.
Conclusion
In the end, it is a matter of personal choice. You can choose either to have a slick interface as in Sidebar or choose one that offers more multi-tasking capabilities in Swapps  Both these apps occupy minimum footprint on the phone memory, so you are guaranteed that these apps will not slow your phone nor drain the battery. If you can't choose either, you can have them both in the same screen, just like I did!
Sources: Sidebar for Android, Paid [via Lifehacker], Swapps! [via Lifehacker]