DU Speed Booster – Boost Performance Of Android Phone
Many Android users install various applications in mobiles, tablets and in every android device. These apps may be games, mobile managers, notes taking apps and more. Based on their interest, users install different apps. These apps take up the memory and processing speed on the device. Along with them, the main problem would be the battery. Some apps easily drain the battery and will affect the performance of the device, even though they are not used regularly. This is because we are not aware of what apps are running in the back ground and which needs to be stopped and closed.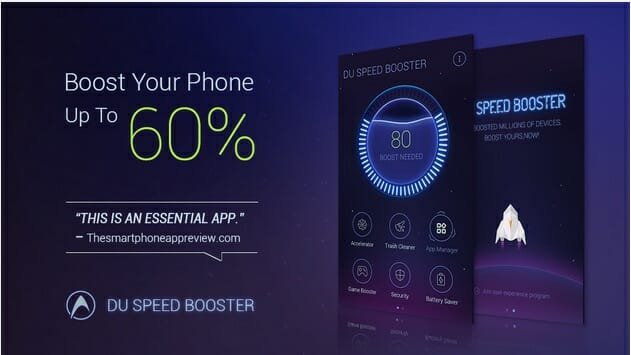 To help you in this, there is an Android app by name DU Speed Booster which can detect these apps and will show you, when you are in need. This shows you the list of apps taking more battery and processor that are responsible for reducing the performance of the device. DU Speed Booster app will help you in taking necessary actions on such apps to boost the device.
This android app mainly deals with cleaning unnecessary apps and increases the free storage. This in turn frees up memory which can be used by the device to boost itself. When compared to the day it was launched, many features have been added to it till date. Just launch the app and tap on "Detect Now" and the DU Speed Booster does the job for you. Here we go!
Most important features of DU Speed Booster:
Accelerator:
This feature plays an important role in DU Speed Booster. It is responsible to clean small portion of RAM, by giving the processes which you need a high priority. This shows all the processes as a list which are running and any decision can be taken by you. This is same as Task Manager with three new features.
1. Process Manager:
It shows the running tasks which are mostly in the back ground. You can remove which you do not want them to run and kill them. It even helps you in mentioning the number of processes to be removed to boost your device.
2. Auto – Start Manager:
Most of the devices start many apps on the start of the device. This creates lots of problem to the battery, memory and the performance regarding the device. This feature helps you allow and disallow the apps on the start up. But, this is available only for rooted devices.
3. Freeze App Manager:
This will let you freeze certain apps which you do not want to use for long time. This reduces the battery usage and in turn increases the performance of an Android device.
Game Booster:
Android devices give the best gaming experience. But some games take most of the memory and keep running in the background even after we stop using them. DU Speed Booster app detects those game apps automatically and kills them without making them to run in the background. You can also manually set apps which can be detected by DU Speed Booster.
Trash Cleaner:
Apart from games and other applications, temp files and cache files are the main reason to reduce the performance of an android device. This helps you cleaning those unnecessary temp and cache files with the following 3 features.
Cache Cleaner looks for internal memory and removes all the cache files of all applications from your mobile which are useless.
Residual Cleaner looks for such cache and temp files in the SD Card. Most of the mobiles have the option to move apps from internal storage to SD Card. So, this would be very helpful.
Large Files remover identifies all unnecessary zip files in internal storage and SD card and removes them to boost your Android Device.
Security and it is must:
DU Speed Booster has come up with the inbuilt antivirus feature by name AV-TEST. Many apps are being installed on the Android Device and it is must to have an antivirus to be on the safe side. It also helps while surfing through your browser, to not get your device affected by the virus. Advanced feature of this is, it also allows you to block SMS and calls.
App Manager:
Organizing apps in a device also shows some impact on the performance. Apk Manager allows you to uninstall unnecessary apps from both internal storage and SD Card and remove them to free up some space. It also shows the required apps which can be downloaded with just a tap on the button.  Feature of Move2SDCard allows you to move some apps from internal memory to SD Card, hence creating some free space in the internal storage.
Battery Saver:
Du Speed Booster allows you to turn ON the Battery Saver by just tapping on the "Start to Saver" button. Saving the battery also has an impact on the performance of the device. So, it is advisable to turn ON this option always.
There are many other apps to boost the performance of a device, but DU Speed Booster is the one which is easy to use and can access all of it's features with just a tap. It also got good User Interface and manages everything which is must to boost the device. Install this app in your Android device and experience using the device which works faster than before. Hurry up!
Download it from Play Store.