FreeCommander – Free and Better File Manager for Windows
Every operating system comes with a basic file manager by which users can navigate through various folders and open their files according to wish. However, sometime, we need to do something more other than just navigating through different options and all. Generally, different people wish to do different things and hence, Windows File Explorer comes to an end.
FreeCommander is a free file manager for Windows, which is available for all trending Windows OS including Windows 7, Windows 8 and Windows 8.1. FreeCommander has some great features, what are not available in default Windows file explorer.
Let's check out the features and advantages of using FreeCommander
This software is consisted with so many features. Alike any file explorer, it has options such as Cut, Copy, Paste, Rename etc. but, you can do more with FreeCommander except those basic things.
Split Window
Suppose, you have to compare two different folders side by side. Generally, Windows has the option to open multiple folders at once, but the Window becomes cluttered after opening more than two or three Windows. This is where FreeCommander comes in. FreeCommander helps users to splits window either by horizontally or by vertically. By default, FreeCommander's window is divided vertically. But, you can change the appearance easily. To change the split-appearance, just click on View >> Split horizontal.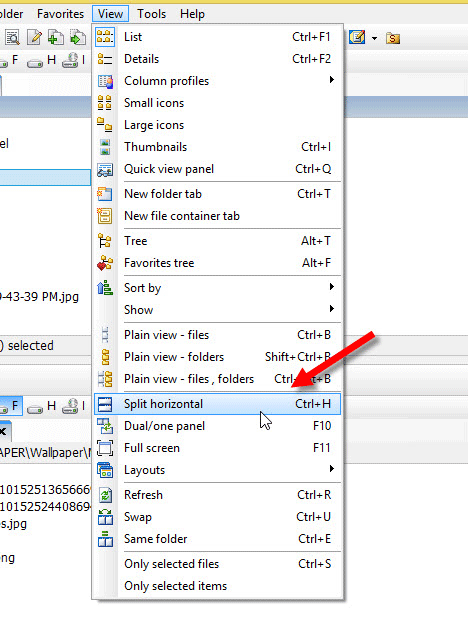 That's it.
Read Also: Daminion – All in One File Manager for Windows
Rename Multiple Files at Once
There are a range of software to rename multiple files at once. On the other hand, Windows can also do the same thing. However, FreeCommander does it is a different way, which is much better than anything else is. To rename multiple files at once, just select them, at first. After that, click on File >> Multirename.
Alternatively, you can press Ctrl + M as well. Then, a window will be appeared, where you can select old file name and replace that with new file name.
Create ZIP File
Although, Windows has the same option, but FreeCommander does it in simpler way. You can do it by making use of keyboard shortcut. To do so, just select some files, what you want to put into your ZIP file or Compressed file. Then, click on File >> Pack.
Alternatively, you can press ALT + F5 together. After that, you will get a popup window, which looks just like the following picture,
The first thing you need to set is Destination Path. Rest of the options are optional. But, there is a great option, which is called Encrypt. That implies, you can password protect your Compressed folder. This feature is not available in Windows as long as you are not using any third party software such as WinRAR, 7ZIP etc.to encrypt the folder, just make a tick next to it and it the Configure button.
Now, select AES 256 bit key from the ZIP packer tab. After that, you will be able to enter the desired password.
Open Administrative Apps
If you open Desktop using FreeCommander, you would be able to open some Administrative Tools as well from the Control Panel option. Windows lets users open these things but, they are not available along with regular files. But, FreeCommander has the option to open essential Control Panel apps or features right from the file management window.
Redirect This PC to FreeCommander
If you press Win + E together, This PC would be opened on Windows 8 and Windows 8.1. At the same time, My Computer will be opened on Windows 7. If you love to use FreeCommander and wish to set it as default File Manager, just click on Tools and select Redirect Win + E to FreeCommander.
That's it. Now, users can open FreeCommander using Win + E hotkey.
Bottom Line
Being a free software, FreeCommander provides a lot of useful features. You can do all these aforementioned things as well as more others. You need to use this tiny free software to manage your files in a better way.