Daminion – All in One File Manager for Windows
Just like "Power Brings Responsibility", Memory Brings Files. This is a common fact or myth in today's high-end computer or mobile era. Few years ago, people had mobiles with only 2GB or 4GB memory support. However, now, most of the mobiles come with minimum 4GB of internal storage. That is where file management plays a vital role.
Introducing Daminion
Daminion is a great file management utility that has support to deal with almost all types of files including image, audio, video, document and so on. This Windows software is available at free of cost. You can get it on Windows 7, Windows 8, and Windows Vista etc. On the other hand, you must have minimum 1.5 GHz processor and 1GB of RAM.
Alike other operating systems, Windows also has an in-built but not-so-good File Explorer that lets users explore across partitions. If you have a 1TB of hard drive full of files, you will get into trouble – just like many other people. Whenever, you try to find something important in your PC, you will have to confront to tons of other useless files instead of important documents. People face this problem as the in-built Windows Search is not up to the mark.
Features of Daminion
This freemium tool has huge number of useful features. But, the following list contains only most useful features among them.
Daminion creates a catalog (Or, help you to create catalog) to organize your files. When you launch it for the first time, it will create a catalog itself. After that, you can create your own. This Catalog helps users to organize different types of file formats. Suppose, you do not want to consolidate documents and pictures or images and mp3 songs. At this moment, you can use various catalogs to unify your files at a micro level.
Daminion can organize all types of file formats. Generally, most of the file managers give support to manage particular type of files i.e. image, document etc. But, Daminion has no such barrier. In fact, you can use this tool to manage your folders too.
Duplicate File Finder is another great feature of Daminion. Sometime, we have the information that our hard drive has duplicate files but we cannot find them. Although, there are some techniques to pick them out but Daminion works really great and fast. You do not have to make use of Windows search option to find out duplicate files. Just head over to Catalog >> Find Duplicate.
If you delete any duplicate file from the catalog, it will not be erased from the original location or your hard drive. To delete any duplicate file from original location, just right click on that and select Locate in Explorer. Alternatively, you can press Ctrl + Enter.
Compare Multiple Files: Let's assume that you have two images and both look quite same. If you want to compare them, head over to Daminion instead of Windows Photo Viewer. But, you should note that Daminion has no such option to compare other files except image.
Filters: Daminion has so many filters to find out something faster. You can find all those filters in your left pane.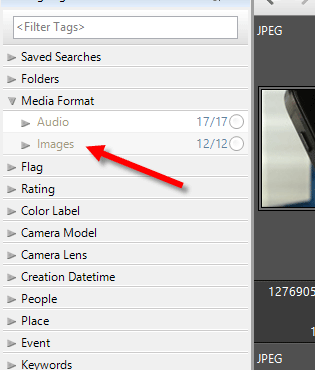 You can search imported files by Folders, Media Format, Rating, Color Label, Camera Model and many more.
Just like Mac OS X Mavericks and later version, you can use color tag to quickly find files.
To add a tag, just select any file and click on Tag After that, select any tag.
You can do the same with multiple files as well.
Alike Color Tag, you can also use Rating and Flag to organize important files.
Image Viewer: Although, Daminion doesn't have any other file support but you can open any image using Daminion. The Zoom in and Zoom Out facilities of Daminion are much better than Windows Photo Viewer.
Exif Data Viewer: This Windows software has an organized EXIF data viewer, which is located in your right hand side. You know that EXIF data shows everything about any file. You can check that Meta data in Daminion as well.
This is also possible to customize that EXIF data. However, this is not recommended for a copyright material.
Check Location in Map: If you have captured a photo from such a camera that gathers Geo location, you can easily find that place automatically in –in-built Map of Daminion. The Map is located in the right side of your screen. This feature is really awesome and useful.
Export to PDF/CSV: If you want to convert an image into PDF format, there is no need to use any other third party software when you have Daminion. This tool would help you to convert your images into PDF as well.
On the other hand, if you have any Excel file, you can easily convert it into CSV format.
Daminion has more other useful features but you should use it to know more. After features, this is the time to confront to visual design because without having an attractive look, no software will let success.
User Interface of Daminion
Nowadays, most of the mobile and PC apps have Flat UI. But, this utility has no such design. Daminion has old gradient type of visual design, which is not bad at all. All the features are well-managed in four different sections.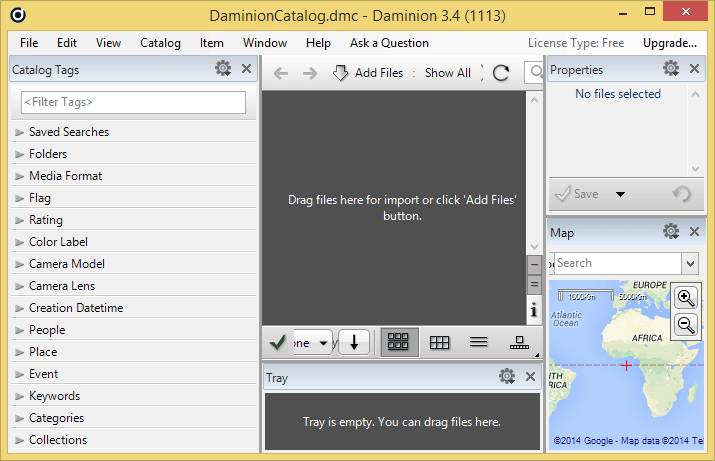 First is Navigation. Alike other software, it has a navigation, which can help you to manage all its features. You can find File, Edit, Catalog, Window, Item etc. in the top navigation menu bar.
Second is Catalog Tags aka Filters. You can find the Catalog Tags in your left hand side. Even if, it has tons of options or filters but still they are managed. You can use these filters to find any file faster,
Third is the main UI. You can find all your imported files in this main window. This is easy to find any file because imported files come with a large thumbnail.
Fourth is EXIF Data Checker. The right hand side is covered by EXIF Data Viewer and a Map. You have seen what they do.
Drawback
Nothing is perfect. Every computer program has something awesome and some useless. Daminion has a Search option, which is not up to the mark. When you compare search option with other included features, you will find it useless. For testing purpose, I imported some files. 90 percent of those files have "Windows" in their names. Rest of the files had random names.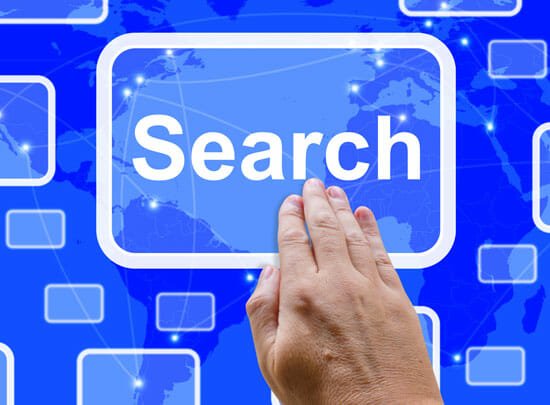 When I made a search for "windows", I got one file that has Windows in name and some other random named files. Therefore, I think; Daminion should be updated with a fix to provide better search result.
Conclusion
Being free software, Daminion is really great file management utility. All its features including import, viewer, and Meta data checker etc. work without any issue. You should give it a try to know its advantages.