How to Get Spotlight Image in Windows 10
Although, Microsoft tried to ditch the traditional user interface of Windows 7 through Windows 8, but they failed to do it completely. After almost 3 years, they launched such an OS that is now readily available for multiple devices like Windows PC, tablet and mobile. Windows 10 is probably the best operating system of Microsoft. Millions of people are opting for this OS since Windows 10 comes with loads of new features those can certainly aid different types of people to do different things.
If you have been using Windows 10, you may know that Microsoft has recently launched an update, which is the first major update for existing Windows 10 users. This software giant has brought plenty of new features through this November update. If you are using this version of Windows 10, you will find a great lock screen feature named Windows Spotlight.
Windows Spotlight was actually in beta version in Windows 10 Preview Build. But, now it is available in stable version of Windows 10. Spotlight is a unique feature that will let you to customize your lock screen without beautiful images from Bing Image Search. That means, Windows 10 will display various selected images on Lock Screen if you select Windows Spotlight from the new Settings panel of this OS.
We all want to set a gorgeous image as desktop wallpaper and lock screen background. Therefore, sometime, Windows 10 shows some really beautiful wallpaper (mainly nature) on lock screen. There are many people, who often want to save those images to use them as desktop wallpaper or other places.
However, Windows lock screen or Spotlight has no such feature that may help you to save Spotlight image in of Windows 10. But, this is certainly possible without even using any third party software.
Windows 10 stores all the Spotlight images in a specific place, where you can them easily. Although, those images do not come with a user-friendly name and extension but this is obviously possible to utilize them. You just need to change the file extension of those images to make them ready for doing anything.
Use Spotlight Image as Desktop Wallpaper in Windows 10
Windows 10 stores Spotlight images in C drive. Before going to anywhere, you need to show hidden files. To do so, just expand the Windows Explorer or File Explorer Ribbon, go to View tab and tick in the check box that is named Hidden items.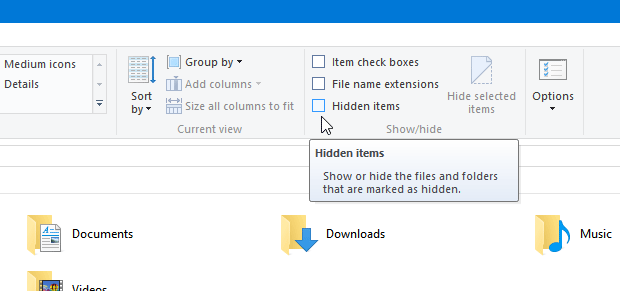 Therefore, just head over to the following path,
C:\Users\user_name\AppData\Local\Packages\ Microsoft.Windows.ContentDeliveryManager_cw5n1h2txyewy\LocalState\Asset
Don't forget to replace user_name with your actual user name. Here, you will get lot of files without a unique name. Right click on any file and select Rename. Therefore, add an extension like .png or .jpg etc. at the end of that file name.
Now, you can open that image using any photo viewer like Windows Photo Viewer, Photos etc. If you have got the exact image, you can use that as desktop wallpaper.