The New Google Keep Chrome Extension Lets You Save URLs and Images
Google recently released a new Google Keep extension into the Chrome app market to make saving stuff from the web easier.
To use this extension, all you need to do is to go to the Chrome web store, install the extension to your Computer. From then, whenever you came across any important webpage, you can click the keep icon sitting next to your address bar to save it for later. This extension also supports saving images, so you can make use of that as well.
Recommended: How to Grab Text From An Image Using Google Keep
First and foremost thing is this extension is fully in sync with Google Keep service. That would imply everything you save will be stored in your Google Keep as an individual note for future access. And, you can open that image/url in Google Keep and apply all the operations which are supported on it depending on your needs. For example, my junior asked me some mini project ideas yesterday. All I did was I went to a site which suggests some topics for student projects that I happened to know, saved that link to my Google Keep using the extension, opened that in Google Keep, suggested my own topics along with a checklist of items that would help him to pick one and some information regarding how to prepare a manual and shared that note with him using note sharing feature. Pretty quick and easy.
Even though it's not like the Pocket extension where you can save compressed version of a web page, but being from Google, this Google Keep extension could be useful in many ways. For example, you can also save a URL(s) to your Google Keep and add a reminder for a later visit. This would be pretty handy many times because we come across many useful sites, save them and forget about them. This extension supports adding text below the saved URL right then and there. So you can also add some information regarding what a URL contains to get a quick glance later without actually opening it.
After installing the extension in your browser, you can save image/URL by simply right clicking on them as well. The good thing about this extension is if you found more than one interesting image in a single page, you can save them to a single note by right clicking each of image and selecting save current image to Google Keep option. Since the URL which they belong to is same, instead of creating different notes, Google Keep would add them to a single note.
Another feature that is supported by this extension is the ability to add tags while saving. These tags would help in organizing your notes like a champ on Google Keep. Also, those can be used for filtering notes as tags can be used to search notes belonging to different categories. And don't worry, no need to remember all the tags, this extension has an auto-complete feature as well, so it would suggest tags while you are typing. You can also create new ones or add one or more tags for effective isolation.
If you are running Android, you can save URL by simply selecting Google Keep from options present on Share via window.
Hat Tip: You can use this extension to create a normal note and save to your Google Keep repository as well. To do so, navigate to a web page, click on the Google Keep extension. When the window appears with the saved link and notes fields, just click the button besides the URL which would remove the link from the saved Note.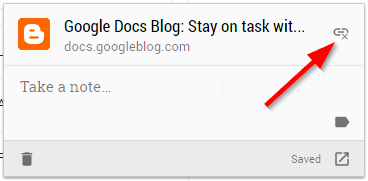 Now you can simply type a title, and information in the text box. Even though you cannot use all the options present in Google Keep here like adding a checklist or a reminder, this would be useful many times when something quick strikes to your mind and you want to save it for later. You can also add a tag which would differentiate it from the remaining and open it later in your Google Keep account.