Best Google Photos Alternatives for Android and iOS
Google Photos is one of the best apps for that allows users to manage all your images without any major problem. All the photos are being saved in your very own cloud storage. The most useful feature is there is no need to worry about the privacy since they are being managed by Google, the web giant. However, some people may not use this tool on their mobile. If you are one of them and want to use another third-party app for the same purpose, here are some Google Photos alternatives for Android and iOS that you can download and use further.
Best Google Photos Alternatives for Android and iOS
1] Flickr
Flickr is probably the best Google Photos alternative for Android as well as iOS. The best part of using Flickr over other tools is you can get 1000GB of free storage on Flickr server where you can upload images automatically and privately. Unless or until you share them, all the images will be saved as a private photo. However, you must have to enable automatic uploading. Flickr is available for Android 2.3 or later and iOS 8.0 or later version. This is needless to mention that the user interface of Flickr is awesome and you may not get any problem while navigating through various images. Download: Android, iOS
2] OneDrive
OneDrive is a cloud storage. However, it works smoothly to store images and share them based on the requirements. The best thing about OneDrive is you can get free storage upon doing various things and one the other hand, you can get upgrade your storage at a very affordable price. There are many Samsung mobiles those often offer free 200GB of storage to upload images. In that case, you should have enabled the automatic upload feature to obtain that. The minimum user interface would let you browse all the images without any issue. Download: Android, iOS
3] Prime Photos (trial, $59.99/year)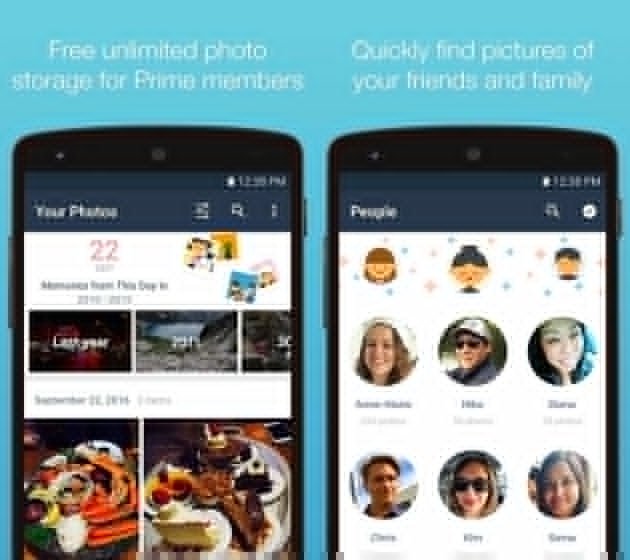 Prime Photos is being managed by Amazon, which allows users to get unlimited storage to store photos. You can get a free trial for first three months. Following that, you need to purchase the unlimited storage for $59.99/year. Talking about the security, you can get complete encryption so that you can create storage image privately on your cloud storage. Based on the requirements, you can also share your stored images on Facebook, Twitter, Instagram or anywhere you want. The user interface is quite similar to Google Photos, and some of the features are also same as the core app called Google photos. Download: Android, iOS
4] QuickPic
Being available for Android 2.3 and later version, QuickPic comes with a huge list of functionalities those will enrich your user experience. The best feature of this app is you can password protect your photos using pin so that others cannot be able to reach your images. Apart from that, it comes with a very minimum user interface to manage all the pictures. This is needless to mention that it has a material design. Except storing images, you would be able to edit your pictures and save both versions of this app. Unfortunately, QuickPic is available for Android only. Download: Android
There might have more other similar apps or Google Photos alternatives you can download. However, these are probably the best when it comes to functionality, price and ease of use. Do let us know your most favorite Google Photos alternative.